BLOG ARCHIVE: MARCH 2005


VACATION WEEK OPEN THREAD. I'm going entirely off-line for a week of vacation time. No postings. Not even checking emails. So -- while I'm away skiing in Utah -- you folks can take a short break ... or "talk amongst yourselves" in this open thread. I'll be back online around April 6th. See y'all soon.
Posted by Ron Gunzburger - 3.28.05 |
WEEKEND OPEN THREAD. No coverage of politics from me today -- although you folks can use the open thread for that. Instead, I wanted to acknowledge the loss late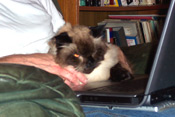 Friday night here at our home of my writing "partner" on Politics1. Amusing as it sounds, my cat Ally (short for Alexander) would sit in my lap whenever I sat down in the den with the laptop to work on site updates (or he'd flop himself across the desk when I previously used an old desktop system in our home office). When I failed to devote at least one hand to petting him for a gap of over 60 seconds, he would reach out with his paw to tap my hand on the keyboard and remind me he was still sitting there. When Ally learned he could get even more attention from me -- or make a "clicking" sound -- when he reached out to push keys or run his paw on the mousepad (see photo), he frequently did this. What was great about him -- and the hundreds of hours he spent sitting with me here at the keyboard -- was that he had all the self-sufficiency of a cat but with the sweet, playful, devoted disposition of a happy puppy. He lived a good long life -- as Ally was nearly 18 years old -- and his physical demise fortunately came on very quickly (it started less than two weeks ago). So today, instead of politics, I'm simply offering this eulogy to Ally. He made all the hours working on Politics1 more enjoyable ... even when the world of politics itself was at many times less than enjoyable.
Posted by Ron Gunzburger - 3.26.05 |
FRIDAY OPEN THREAD: A CALL TO ARMS. The Federal Election Commission has proposed new restrictions (PDF file) to regulate free speech on websites. While they seem to proudly boast that that is a curtailed version of what they originally envisioned [translation: think of it as a boast that they are now "only" requiring us to drink half the amount of cyanide-laced Kool-Aid as they had originally proposed], the proposed new regs still constitution an odious and unconstitutional attempt to limit free speech.

Here are the public comments I submitted today to the FEC:
I am the publisher of Politics1.com, a sole proprietorship website I have operated since late 1997. I strong oppose any proposed regulation of political free speech on the internet -- including the scaled-back restrictions set forth in the proposed rules. Except possibly for those websites explicitly published by or majority funded by a campaign committee or PAC, all other websites should be exempted from any further regulation. Free speech is invaluable to our political system. The internet has enabled many people -- including myself -- to voice our views in a 21st Century version of the proverbial "soap box" in the town square.

The fact that I -- and thousands (if not millions) of others -- am able to do so more effectively than in the past should not cause the FEC to clamp down on this opportunity for us to effectively communicate our views. The fact that I would want to directly advocate the election (or defeat) or a candidate, or solicit contributions on behalf of that candidate or cause, should not be viewed as anything different than if I placed a bumper sticker on my car advocating the election of a candidate. Essentially, a bumper sticker of several years ago is an equivalent to a free banner ad placed on a website today.

Likewise, my editorial writings -- including my advocacy of the election of candidates -- should be afforded the same first amendment journalism protections afforded to major newspapers when they do likewise. In my case, I have a viewership equal or greater to that of many community newspapers (well over 100,000 unique readers per month) even in our slowest of seasons -- and over 800,000 in our busiest months during heated election seasons. Yet, through it all, my website is not incorporated as a business and I own 100% of it. How is my website different (in a 21st Century manner) than the original political broadsheets of the 1790s by Matthew Lyon, James Callender, and others, that paved the way for our existing first amednment protections?

In the end, I say: Keep your hands off bloggers and keep your hands off the internet. Bloggers and independent websites promote the most healthy and unfettered form of political debate in our nation's 229 year history. Any action contrary to this would serve to unconstitutionally silence the voices of individuals while unfairly protecting and promoting the rights of the corporate media giants to dominate the political debate in our nation.

Sincerely,
Ron Gunzburger
Publisher, Politics1.com
If you are as outraged as I am, you can submit your comments to the FEC to: internet@fec.gov. Whether you come from the left or right, please speak out today to protect the freedoms we enjoy online.
Posted by Ron Gunzburger - 3.25.05 |
WEDNESDAY OPEN THREAD. Today is a Schiavo-free posting. In politics, two new independent polls in NYC -- a Marist College poll and one conducted for Newsday -- both show incumbent Mayor Mike Bloomberg (R) trailing likely

Dem nominee Fernando Ferrer by a several points. In Rhode Island, Congressman Patrick Kennedy (D) is apparently reconsidering his earlier decision to pass on the '06 race against maverick GOP US Senator Linc Chafee. In directly related news, Congressman Jim Langevin (D) said Tuesday that he would not challenge Chafee. In Colorado, recently retired Congressman Scott McInnis (R) is inching closer to a formal entry into the open race for Governor. Congressman Bob Beauprez, State Treasurer Mike Coffman and wealthy university president Marc Holtzman are also likely to join the GOP fray. Dems have, thus far, failed to recruit a top-tier candidate. Finally, The Hotline put together a fascinating list of state histories related to the retention of incumbents. Some of the findings: An incumbent US Senator has never lost for re-election Vermont or Hawaii. Likewise, incumbent elected Governors have never lost for re-election in Hawaii, Indiana, Kentucky, North Carolina, Pennsylvania, Tennessee or Virginia (note: until recent years, incumbents in a few of these states were limited to one consecutive term). Interesting food for thought.
Posted by Ron Gunzburger - 3.23.05 |
TUESDAY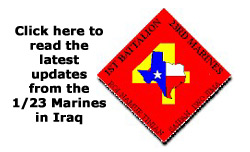 OPEN THREAD. The highly-politicized personal tragedy of the sad Terri Schiavo case continues to dominate headlines. Congressional politicos and President Bush wade in and change the law just to create an opportunity for a federal judge to block the husband's desire to let his wife die after 14 years in a persistent vegetative state. According to the National Institute of Health, a person in a persistent vegetative state "cannot think, speak or respond to commands and are not aware of their surroundings." Here is how Terri's husband bitterly responded on Monday: "Come down, President Bush. Come talk to me. Meet my wife. Talk to my wife and see if you get an answer. Ask her to lift her arm to shake your hand. She won't do it." As for me -- editorializing for a moment here -- but I don't know if there is any clear right or wrong side here. I just don't like it when Congress (or any other politicians) want to step into the middle of very personal decisions between patients/families and their physicians. From my perspective, I cannot think of a single illness that was cured or major medical decision that was improved upon by the interjection of politicians. In other news, correspondent Lt James Crabtree and the 1/23 Marines have just arrived back stateside and we've got his latest report on the trek home.
Posted by Ron Gunzburger - 3.22.05 |
MONDAY OPEN THREAD. Lots of folks already testing the waters for a run at Congressman Rob Portman's (R-OH) soon-to-be-vacant US House seat (including a former Congressman, the son of a US Senator, and a bunch of local politicos). Click here to view our Ohio page and see the list of names in play for the '05 special election. According to US News & World Report, add the name of Mississippi Governor Haley Barbour -- a former Republican National Chair -- to the lengthy list of those considering making a run for President in 2008. Likewise, Time magazine is reporting that Senator John Kerry is already gearing up for another run for President in 2008. He apparently blames his campaign advisors for his defeat (rather than, say, blaming it on himself for being a haughty, unlikable, waffling, blow-dried candidate without backbone who failed to articulate any alternative agenda to that offered by President Bush). If you want to know why I think Russ Feingold is a better option, click the Feingold ad in the left column. Finally, in Connecticut, ousted former Governor John Rowland (R) was sentenced Friday to one year in prison on assorted corruption charges.
Posted by Ron Gunzburger - 3.21.05 |
FRIDAY OPEN THREAD. President

Bush nominated Congressman Rob Portman (R-OH) to be the new US Trade Representative. That move will end speculation that Portman was interested in a top House Leadership spot or the Ohio gubernatorial race. Portman had also made visits to NH in recent months, prompting speculation he was even looking at a White House bid in '08. Look for a quick Senate confirmation. The USTR job is pretty low profile -- so it won't be much of a launching pad for a Presidential run. [Trivia question: Name the former US Trade Rep who made a failed run for President? Click here for the answer.] In other P2008 news, the Manchester Union-Leader reports that Senators Chuck Hagel (R-NE) and Sam Brownback (R-KS) are already busy scheduling visits to NH. The Boston Globe reports that Governor Mitt Romney (R-MA) is giving increasingly vague answers about whether or not he will seek re-election next year. "I love the job and plan on keeping it," said Romney -- before adding that he would not say whether or not he would run again, only stating he will make "a formal announcement" of his decision this fall. Also, retired Army General Wes Clark relaunched his leadership PAC -- WesPAC -- this week. It is unclear whether the move is intended to help him make a second White House run or to return him to the political stage for a possible run for Arkansas Governor next year.
Posted by Ron Gunzburger - 3.18.05 |
THURSDAY OPEN THREAD. In DC, President Bush won a narrow US Senate victory on Wednesday in his quest to allow oil drilling in the Alaska National Wildlife Refuge. The area had been protected from oil industry drilling ever since 1960, when President Eisenhower -- a Republican -- set aside 8.9 million acres of tundra and mountains in the northeastern Alaska as a protected wildlife refuge. Also, the President named neo-con Deputy Defense Secretary Paul Wolfowitz -- a leading architect who planned the invasion of Iraq -- to be the next President of the World Bank. While it doesn't come with a military, expect Wolfowitz to somehow use the job to aggressively declare war on ... well ... some country, or something. In New Jersey, a new Quinnipiac University poll shows that US Senator Jon Corzine (D) is a heavy favorite to win the open gubernatorial race this year. Corzine leads wealthy businessman and '02 US Senate nominee Doug Forrester (R) by a 50%-33% vote. Corzine also led former Jersey City Mayor and '01 Gov nominee Bret Schundler (R) by a 50%-34% vote. As for the crowded GOP primary, Forrester had 32%, Schundler had 31%, and none of the five other Republican hopefuls broke the 3% mark.
Posted by Ron Gunzburger - 3.16.05 |
WEDNESDAY OPEN THREAD.

Well, for now, I guess I'll keep posting updates at this more leisurely pace. In politics, the Chicago Sun Times reported that veteran Congressman Henry Hyde (R-IL) -- the current House International Relations Committee Chair and former House Judiciary Committee Chair -- will announce next month that he will retire in 2006. Hyde, 80, has been a rumored retirement candidate for months and the district's history favors the GOP in the open seat race. In Maryland, former Congressman and former national NAACP Chair Kweisi Mfume (D) announced his candidacy for the open US Senate seat. Mfume is the instant frontrunner and his quick decision already prompted Congressman Al Wynn (D) to take a pass on the race. In legal news, former Congressman Gary Condit (D-CA) settled his lawsuit -- in an apparent victory -- against Vanity Fair magazine columnist Dominick Dunne. The scribe had written a series of wildly gossipy columns in which he claimed that Condit had played a role in orchestrating the murder of congressional intern Chandra Levy, who was apparently engaged in a private relationship with Condit. As part of the settlement, Dunne will pay Condit an undisclosed sum and write Condit a formal apology. In 1/23 Marine news, our correspondent Lt. James Crabtree should already be in Al-Asad (or possibly even Kuwait) by today ... so we look forward to his first report from stateside within a few days.
Posted by Ron Gunzburger - 3.15.05 |
MONDAY OPEN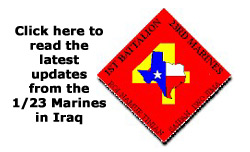 THREAD. Speaking on NBC's "Meet the Press," Secretary of State Condi Rice made it very clear that she will not be a candidate for President in 2008. "I do not intend to run for, no, I will not run for President of the United States. How is that? I don't know how many ways to say 'no' in this town. I really don't," she said. In Arkansas, former Congressman and former US Homeland Security Undersecretary Asa Hutchison (R) announced his candidacy for Governor in 2006. He'll face a costly GOP primary against Lieutenant Governor Win Rockefeller III for the open seat. And, in Florida, Orlando Mayor Buddy Dyer (D) was indicted on absentee ballot fraud charges and immediately suspended from office by Governor Jeb Bush (R). Also, there were conflicting news reports over the weekend that Florida Lieutenant Governor Toni Jennings (R) -- Jeb's designated successor in next year's election -- may soon quit the race for Governor. Polls show Jennings lagging behind her two likely GOP primary opponents. Finally, we have a new report and some great pix from Lt James Crabtree and the 1/23 Marines in Iraq. James is hopeful that this may be the last report he writes home from Iraq -- because it is "homeward bound" for 1/23.
Posted by Ron Gunzburger - 3.14.05 |
WEEKEND OPEN THREAD. Low-key veteran US Senator Paul Sarbanes (D-MD) announced Friday that he will not seek

re-election to a sixth term in 2006 -- even though he was a safe bet to win next year. Sarbanes, 72, was first elected the Congress in 1970 and to the US Senate in 1976. Except for his initial win in '76 -- when he defeated a GOP incumbent -- Sarbanes has won all of his subsequent runs by landslide margins. The longtime DC insider said he simply decided this was a good point at which to end his many years of service in public office. The decision had been rumored about for months. With Sarbanes out of the picture, expect a crowded field of candidates in both major parties. Five of the state's Congressmen confirmed an interest in the race -- but click here to view all of the names currently being floated. In Massachusetts, a new Boston Globe poll doesn't look good for Governor Mitt Romney (R). Only 32% of voters said they would support him for re-election next year. Romney may ultimately decide to pass on the race in order to focus on an expected run for President in 2008. In Pennsylvania, a new SurveyUSA poll shows State Treasurer Bob Casey Jr. (D) already leading incumbent US Senator Rick Santorum (R) by 7-points ... and has incumbent Governor Ed Rendell (D) leading challenger and former pro football player Lynn Swann (R) by just 6-points.
Posted by Ron Gunzburger - 3.12.05 |
FRIDAY OPEN THREAD. Conservative firebrand Congressman J.D. Hayworth -- the leading GOP contender who was expected to challenge

Arizona Governor Janet Napolitano (D) next year -- surprised everyone by announcing this week that he will intend seek re-election. Hayworth's unexpected move leaves the Republicans with no first-tier candidate to take on a Dem incumbent in this "red" state. In New Hampshire, former State Republican Party Executive Director Chuck McGee was sentenced to seven months in federal prison for his role in a dirty tricks effort on election day in 2002. McGee organized an effort to have people constantly call and jam the Democratic Party's phone numbers set aside for requesting rides to the polls for an 85-minute period that morning. The prison sentence came even after a plea for leniency by the State Chair of the NH Dems, McGee's intended victim. In Illinois, state Democratic legislative leaders decided they would not follow national Dem calls to retaliate for the federal "re-redistricting" engineered by US House Majority Leader Tom DeLay in Texas last year. They will not redraw Congressional lines this year to increase Dem seats in the state. In DC, US Senate Republicans pushed through a bill that will tighten bankruptcy laws to make it harder to discharge debts -- essentially ensuring that a person can be too poor to file for bankruptcy (and, even if they do file, ensures they will remain in debt afterwards).
Posted by Ron Gunzburger - 3.11.05 |
THURSDAY OPEN THREAD. Former State Assembly Speaker Antonio Villaraigosa (D) finished first on Tuesday in the non-partisan race for Los Angeles Mayor with 33%. Incumbent Mayor James Hahn (D) -- burdened with corruption scandals in City Hall and a

wooden image -- placed a distant second with 24%, narrowly edging out former State Assembly Speaker Bob Hertzberg (D). The centrist Hahn and the liberal Villaraigoisa faced off for LA Mayor in the run-off four years ago. In California's CD-5, lobbyist Doris Matsui (D) rolled to an easy victory in the special election for the congressional seat left vacant by the January death of her late husband. Some Connecticut Dems -- from the liberal wing of the party -- are trying to encourage a primary challenge to US Senator Joe Lieberman (D) next year. They believe Lieberman is too conservative and too friendly to the Bush Administration. In Nebrasha, Attorney General Jon Bruning (R) announced he's passing on both the US Senate and Governor races next year and will instead seek re-election. Bruning, 35, explained that he's young and in no real rush to move up right now. However, Bruning encouraged Congressman Tom Osborne (R) to challenge Governor Dave Heineman in next year's GOP primary. And -- an aside -- for someone who has largely retired from blogging, I inexplicably still seem to be posting fairly frequently.
Posted by Ron Gunzburger - 3.10.05 |
TUESDAY OPEN THREAD. MSNBC's Chris Matthews had an "exclusive" Monday night, as he disclosed that former Vice President Al Gore will not challenge Senator Hillary Clinton for the Democratic nomination for President in 2008. Matthews said that Gore wanted to "end speculation about a campaign that will never occur." Also on Tuesday: voters in California CD-5 are expected to elect Doris Matsui (D) to fill the congressional seat left vacant by the January death of her late husband. Voters in Los Angeles will also select two candidates in the crowded mayoral field to advance to the run-off. Former State Assembly Speaker Antonio Villaraigosa (D) is expected to finish far ahead of the pack -- while incumbent Mayor James Hahn (D) is struggling to capture the second spot against several aggressive challengers.
Posted by Ron Gunzburger - 3.8.05 |
MONDAY OPEN THREAD. Pennsylvania

Dems clear the deck for State Treasurer Bob Casey Jr. (D) in his 2006 race against US Senator Rick Santorum (R). Former State Treasurer Barbara Hafer, at the urging of Governor Ed Rendell (D), aborted her candidacy and threw her support behind Casey. His only remaining primary opponent is a little-known college professor. Congressman Mark Kennedy (R-MN) received some good news in Minnesota, too, when Congressman Gil Gutknecht (R) announced Friday that he will not enter the open US Senate race. Kennedy still faces a likely primary challenge from former US Senator Rod Grams. Conservatiuve pundit Robert Novak reported that former Senate Majority Leader Trent Lott (R-MS) is one of those seemingly helping former NYC Mayor Rudy Giuliani to prepare for a 2008 Presidential run. However, Lott has advised Giuliani that he may want to distance himself from his lenghty pro-choice record on abortion and his support for gay civil unions. And, from Iraq, we have a new report -- again upbeat -- from Lt. Crabtree and the 1/23 Marines.
Posted by Ron Gunzburger - 3.7.05 |
WEEKEND OPEN THREAD. '04 US Senate nominee Betty Castor (D-FL) decides against making a '06 run for Governor ... and so does Congressman Mark Udall (D-CO). Instead, Udall plans to make a run for US Senate in 2008.
Posted by Ron Gunzburger - 3.5.05 |
THURSDAY OPEN THREAD. We've got a new update (just good news, this time) from Lt. Crabtree and the 1/23 Marines in Iraq. On the political front, two incumbent US Senators appear to heading for tough re-election fights in 2006. In North Dakota, state newspapers report that Governor John Hoeven (R) is now actively considering President Bush's recruitment effort that he oppose US Senator Kent Conrad (D) next year. Hoeven and Conrad are probably the state's two most popular politicos. In Pennesylvania, State Treasurer Bob Casey Jr. (D) is expected to announce his formation of an exploratory committee today or tomorrow against US Senator Rick Santorum (R). Recent polls show Casey would likely defeat Santorum. Finally, some very scary news: The Federal Elections Commission is thinking of ways to start regulating blogs, links on blogs, etc. What ever happened to the concepts of free speech, an unfettered media, and the first amendment? And -- before the FEC bans me from doing this -- I wanted to mention (yet again) that I'm supporting US Senator Russ Feingold (D-WI) for President in 2008.
Posted by Ron Gunzburger - 3.3.05 |