Paid Advetisement. Click here for more information and rates.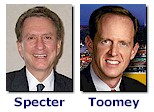 US SENATE UPDATES.Here is the latest on three US Senate races. In Pennsylvania, a latest Keystone Poll shows US Senator Arlen Specter (R) still in a competitive re-nomination fight against conservative Congressman Pat Toomey (R). Specter holds a 50% to 28% lead among registered GOP voters, but the race narrows to a 46%-33% contest when only likely GOP primary voters are polled. Meanwhile, a new University of Cincinnati/Ohio Poll shows US Senator George Voinovich (R) comfortably leading State Senator Eric Fingerhut (D) by a 54% to 38% vote. In South Dakota, US Senate Minority Leader Tom Daschle (D) got some bad news yesterday when newspaper publisher and Native American activist Tim Giago announced he will oppose Daschle as an Independent. Giago had been planning to run against Daschle in the primary as a Dem. With Daschle locked in a tight contest against former Congressman John Thune (R), most votes Giago draws are likely to come at the expense of Daschle.
Posted by Ron Gunzburger - 03.31.04 |
MORE NADER NEWS.

Independent Presidential candiate Ralph Nader this week seemed to again shoot down the draft movement on his behalf within the Green Party. In an open letter to party leaders, Nader said he would accept the party's endorsement, but would refuse to accept the Green nomination. "If you do not choose a Presidential candidate in Milwaukee, I would welcome your endorsement and have said the same to other third parties as well ... Should the national Green Party decide to endorse my candidacy and have its members focus their efforts on state and local races, then State Green Party ballot lines and the participation of Greens in a variety of ways would be mutually helpful," wrote Nader. Translation: Give me your ballot line in various states, but leave me alone because I still won't identify myself as the Green candidate. Nader is also engaged in discussions with the remnants of the Reform Party to secure their ballot line in Texas, Mississippi and a handful of other state. Elsewhere, Nader said he will either seek ballot spots as an Independent or under the banner of his newly named Populist Party. Nader says the Populist Party is only intended to be a vehicle for ballot access, and will not become a permanent party.
Posted by Ron Gunzburger - 03.31.04 |
NEWS FROM THE FILING FRONT. Candidate filing closed this week in Arkansas, Missouri and South Carolina. In Arkansas, the Republicans lost their only US Senate candidate with the resources to finance a serious run against incumbent Blanche Lincoln (D). Wealthy health care executive Tom Formicola (R-AR) quit the race just before filing closed, leaving just a few vastly underfinanced challengers in the race. Republicans were also unable to field any opponent to Congressman Mike Ross (D). Voters in Missouri will see lots of hotly contested races. Governor Bob Holden (D) faces a tough primary challenge from State Auditor Claire McCaskill (D), and the Dem winner will then face an equally competitive challenge in November from Secretary of State Matt Blunt (R). US Senator Kit Bond (R) still looks favored to hold off a feisty challenge by State Treasurer Nancy Farmer (D). There are also open seat congressional races in Missouri's CD-3 and CD-5, where two Democratic incumbents are retiring. The two hot races in South Carolina are the open US Senate race and the open CD-4 seat. The favorites in the crowded US Senate race are State Superintendent of Education Inez Tenenbaum (D), former Governor David Beasley (R) and Congressman Jim DeMint (R). Republicans, meanwhile, should easily retain DeMint's open House seat.
Posted by Ron Gunzburger - 03.31.04 |
TRACKING THE BATTLEGROUND STATES. Bush is up, Kerry is up, Bush is up again ... and none of it matters. In response to some email inquiries, let me explain why I don't bother reporting on all the national Bush-Kerry polls. Simply stated: because they don't matter. Not a month ago when Kerry was up. Not now when Bush is up. Not in October when which ever is leading. The only thing that truly matters are the state-by-state polls, because that's how electoral votes are awarded. If national polls -- and national numbers -- really mattered, Al Gore would be President because he got more total votes nationwide than did Bush in 2000. But they don't matter, and Gore isn't President. That's why we'll generally stick to reporting just the state numbers: because that's the only way we can see what is really happening at the level that will actually determine our next President. That said, let's check out a new state poll. In Washington State, the latest Rasmusson tracking poll shows Kerry-50%, Bush-44%, Other-4%. That snapshot is identical to the Gore-50%, Bush-44%, Nader-4% actual finish in the state in 2000.
Posted by Ron Gunzburger - 03.30.04 |
THE LINE FORMS TO THE RIGHT. Well, to the right of former Congresswoman Cynthia McKinney (D-GA), that is. McKinney -- an outspoken liberal who served a decade in the House -- was already seeking a 2004 rematch against the woman who ousted her from Congress in the primary two years ago. Then, yesterday, Congresswoman Denise

Majette (D-GA) unexpectedly jumped into the open US Senate race. That suddenly left McKinney as the only Dem in the House race. While McKinney compiled a solid progressive voting record, controversy dogged her during her political career -- particularly as relates to two issues: the 9-11 terrorist attacks and Israel/Jewish issues. McKinney created a firestorm of controversy by allegedly suggesting that the US government had advance knowledge of specific details of the 9-11 attacks but allowed them to occur to justify a massive US military build-up and global adventurism. Her support for the Palestinian cause and strident criticism of Israel over the years also earned McKinney the opposition of the Jewish community. Jews around the nation contributed heavily to Majette's 2002 campaign. In the closing days of the campaign, McKinney's father (State Rep. Billy McKinney -- who himself lost in 2002) actually told TV reporters that he could explain why his daughter was in trouble: "Jews have bought everybody. Jews. J-E-W-S." Since then, McKinney argues that she lost because of crossover primary voting by Republicans. A university analysis later showed that even without the GOP votes, Majette still would have won because of her wide 20-point margin of victory. McKinney even briefly flirted last year with seeking the Green Party's Presidential nomination in 2004. With that record, it is not surprising that McKinney will likely draw much Democratic primary opposition. Atlanta City Council President Cathy Woolard -- who is also openly gay -- wasted no time and immediately announced her candidacy. Majette is believed to favor State Rep. Teresa Greene-Johnson as her successor. Other potential candidates include State Senators Liane Levetan and Nadine Thomas, and DeKalb County CEO Vernon Jones. One Republican is already running, but the CD-4 seat is among the most heavily Democratic and liberal in the South. Candidate filing closes April 30.
Posted by Ron Gunzburger - 03.30.04 |
KERRY, NADER TO MEET IN APRIL. John Kerry and Ralph Nader have been friends for over 30 years, and Nader has reportedly told people he likes and generally agrees with Kerry on many issues. So what is the story with the purported Kerry-Nader meeting set for next month? Will Nader quit and endorse Kerry? Will Nader agree to run a "Safe States" strategy of only seeking votes in states that don't endanger a Kerry electoral vote victory? The Kerry folks aren't talking -- probably in order to keep expectations low. Nader, however, is dropping clues. Nader told CNN on Monday that he and Kerry "have a common objective, and that's to defeat the giant corporation residing in the White House masquerading as a human being." Nader also said his candidacy was merely a "second front against Bush, however small." Our guess: Don't look for Nader to quit the race anytime soon but -- if Kerry is respectful towards Nader over the next few months, doesn't openly pressure him to quit, and talks about more social programs for working families -- Nader would then either exit the race or offer to run a Safe States strategy by early fall.
Posted by Ron Gunzburger - 03.30.04 |
THE CLARKE BOOK, THE HUGHES BOOK, THE GOOD BOOK, AND MORE. The Richard Clarke news stories about 9-11 are not fading away yet. In fact, Clarke has proven to be a skilled politician with his own telegenic soundbites, attacks, and counter-attacks. The week of stories already seems to be having at least a short-term effect. According to the latest Newsweek poll out Sunday, the amount of Americans who now approve of the way President Bush is handling the war on terror has dropped sharply. The new numbers show 57% approve and 38% disapprove -- which is an 18% narrowing of the gap since their last poll a few weeks ago. In some good news for the President, his trusted former top aide Karen Hughes is set to return to the national scene. First, she launches a book tour this week promoting her new tome in praise of President Bush. Then -- after the six-week tour -- she will return to the Bush political inner circle for the duration of the campaign. Hughes and Bush political advisor Karl Rove have long had a rocky professional relationship, but it still has resulted in the three consecutive Bush electoral victories. Bush loyalists hope Hughes will help return Bush to the political style he showed in the 2000 race. In other campaign news, Kerry used Biblical Scripture to criticize Bush on Sunday during a speech at a black church. Citing to James 2:14, Kerry spoke of the Bush Administration and said: "The Scriptures say, what does it profit, my brother, if someone says he has faith but does not have works? When we look at what is happening in America today, where are the works of compassion?" A Bush spokesman sharply responded that the Kerry's remarks were "beyond the bounds of acceptable discourse and a sad exploitation of Scripture." Finally, Kerry is leaving the campaign trail for a few days starting Wednesday to have shoulder surgery for a minor injury that has been nagging him for a few weeks. Kerry will also be required to keep one arm in a sling for a little while following the surgery.
Posted by Ron Gunzburger - 03.29.04 |
SURPRISE

SENATE CANDIDATE IN GEORGIA. Freshman Congresswoman Denise Majette (D-GA) unexpectedly jumped into the open US Senate race on Monday. Majette -- then a state court judge -- made national headlines when she defeated controversial Congresswoman Cynthia McKinney by a 59% to 41% vote in the 2002 Democratic primary. McKinney was already challenging Majette in a rematch this year, although Majette was favored to win re-election. Before today, the field of Democrats in the US Senate race consisted of just two little-known State Senators and some other unknowns. By contrast, the GOP contest for the seat features three major candidates: Congressmen Johnny Isakson and Mac Collins, and wealthy businessman Herman Cain. Majette's entry gives the Dems a more viable candidate for the seat being vacated by retiring incumbent Zell Miller (D), but the Republicans are still favored to win here. Majette acknowledged she was making a late entry -- and did so without seeking support from party leaders -- but said she did so because her party needed a stronger candidate to fight the Republican candidates who "keep trotting out their right-wing rhetoric on God, guns and gays in an attempt to divide the electorate and distract from the serious problems they're not addressing." In the race for Majette's open and safe Democratic seat, McKinney is likely to now draw heavyweight primary opposition.
Posted by Ron Gunzburger - 03.29.04 |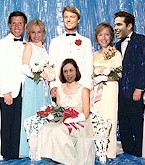 "CONGRATS TO JOHN, STEPHANIE ... AND THE REST OF OUR POLITICAL PROM COURT!" Just like in our women's contest last week, our online poll to determine the Most Attractive Man in US Politics also drew over 1,300 participants. Unlike the women's poll, there was no landslide winner this time. The men's winner -- by a fairly close vote -- was US Senator John Edwards (D-NC) with 21%. He was followed fairly closely by two Floridians: Presidential nephew George P. Bush (R-FL) with 16.5% and Congressional candidate Jim Stork (D-FL) with 16%. San Francisco Mayor Gavin Newson (D-CA) drew 52 write-in votes (4%) ... and two jokers even cast write-in votes for me. Thus, Politics1 is proud to present you -- in our poorly PhotoShopped pic -- with our King, Queen and the rest of our Political Prom Court. Click here to see the full results (and pix) for all the male contestants.
Posted by Ron Gunzburger - 03.29.04 |

SO, WHAT DO WE POLL ON NEXT? These two recent polls we conducted produced a great response from you folks. I'd like to continue holding these fun polls once every week or two. Someone suggested that the next one could be "What politician has the worst comb-over?" Personally, I'd suggest former US Senator Bob Smith as a nominee (see pic at left) if we go with that one. What other topics would you like to see in these polls? Use the Comments section and let me know.
Posted by Ron Gunzburger - 03.29.04 |

TRACKING THE BATTLEGROUND STATES. Ohio -- one of the top battleground states in the nation -- remains a virtual deadlock. The new Ohio Poll (University of Cincinnati) shows Kerry-46%, Bush-44%, Nader-5%. The Ohio numbers also show a huge gender gap: Kerry leads among women by a 17% margin, while Bush leads among men by an 11% margin. Bush carried Ohio by a 3.5% margin in 2000. In Wisconsin, a new American Research Group poll shows Kerry-46%, Bush-43%, Nader-4%. Without Nader on the ballot in Wisconsin, the poll shows Kerry-48%, Bush-44%. Bush lost Wisconsin by 0.2% in 2000.
Posted by Ron Gunzburger - 03.26.04 |
MONTANA FILING CLOSES. Candidate filing closed Thursday in Montana and the open gubernatorial contest drew the biggest crowd. Four Republicans, two Democrats, a Green, and a Libertarian all filed in the race for the seat being vacated by unpopular Governor Judy Martz (R). Secretary of State Bob Brown (R) and wealthy farmer Brian Schweitzer (D) are favored to win their respective nominations and set what is expected to be a very competitive general election. In an interesting move, Schweitzer selected a senior GOP State Senator as his Lieutenant Governor runningmate on the Democratic ticket. Meanwhile, Brown -- a popular GOP centrist -- is facing primary opposition from the more conservative wing of the party. Congressman Denny Rehberg (R) drew two general election opponents, but he appears fairly safe.
Posted by Ron Gunzburger - 03.26.04 |

HERSETH WINS! We used your comments to develop a list of the some of the most attractive women in US politics ... and then we put it up for an online vote. The question: "Who is the most attractive woman in US politics?" Your answer -- by a landslide -- was Congressional candidate Stephanie Herseth (D-SD) with 44%. Herseth currently leads in the polls for the June special election to fill the vacant seat left open when Congressman Bill Janklow (R-SD) resigned to begin serving a jail sentence for manslaughter. Second place in our contest was recently defeated US Senate hopeful Nancy Skinner (D-IL) with 11.9%, followed closely by Congressional candidate Virginia Johnson (R-NC) in third with 11.4%. Am I crazy, or does Johnson -- from her pic -- look like a near twin of actress Annette Benning? Click here to see the full results (and pix) for all ten female contestants. Amazingly, nearly 1,400 of you voted in the poll in a period of less than 24 hours.
Posted by Ron Gunzburger - 03.26.04 |
... AND NOW PICK THE SEXIEST POLITICAL GUY.

You folks had lots -- and I mean LOTS of suggestions -- for the most attractive male in US politics. Some I never heard of, but I went and looked them all up. With a max limit of ten, we simply couldn't include everyone -- but that's why we allow write-in votes. Talk about diversity: the guys we selected include contestants of four races, three parties, and varying ages. So, view them all ... you be the judge ... and cast your ballot in our entirely meaningless poll to determine who is the most attractive guy in US politics. Click HERE to vote in the Politics1 Poll. Voting for this one will end by Monday morning.
Posted by Ron Gunzburger - 03.26.04 |
TRACKING THE BATTLEGROUND STATES. West Virginia to a dead heat, according to the new American Research Group poll: Bush-46%, Kerry-46%. Bush carried WV by 6 points in 2000. In Washington State, the new KING-TV/SurveyUSA poll shows Kerry-47%, Bush-43%. Bush lost the state by 5 points in 2000. In Minnesota, Kerry leads Bush by a 47% to 44% vote, accordig to the latest Rasmusson poll. Bush lost MN by 2 points in the last election. In Missouri, Rasmusson's new poll shows Bush-49%, Kerry-42%. Bush won MO by 3 points in 2000. In Iowa, a new Rasmusson poll shows Kerry-51%, Bush-41%. Bush lost Iowa by just 0.3% in 2000.
Posted by Ron Gunzburger - 03.25.04 |

DELAY PREPARES FOR POSSIBLE INDICTMENT. US House Majority Leader Tom DeLay (R-TX) is already engaged in "quiet discussions with a handful of colleagues about the possibility that he will have to step down from his leadership post temporarily if he is indicted by a Texas grand jury investigating alleged campaign finance abuses," according to Roll Call. Republican Conference rules would mandate that DeLay -- as an elected member of the House GOP Leadership -- would have to temporarily step aside if he is indicted on a felony charge. If he is later acquitted, Conference rules would allow him to return to his leadership post. Travis County District Attorney Ronnie Earle's investigation appears to be focusing on allegations that DeLay's political committee -- Texans for a Republican Majority -- reported to the IRS hundreds of thousands of dollars in ostensibly political expenditures that were not reported in the PAC's political finance disclosure reports filed in Texas. Earle is also reportedly investigating whether the group improperly used corporate funds to pay for political expenditures, and seeking to determine the true source of the group's funding.
Posted by Ron Gunzburger - 03.25.04 |
FROM WYOMING ... TO A BEAUTY CONTEST?? Yesterday we ran a story about Congresswoman Barbara Cubin's re-election contest in Wyoming ... and that somehow quickly evolved in the blog Comments section into a lengthy debate on who were the most attractive women in politics. In fact, it drew more comments than nearly any topic we've ever written about. Thus -- to be fair and non-sexist -- we want you (well, at least you women, gay men, and straight men who are comfortable with your sexuality) to use today's Comments section to debate who are the best looking men in US politics. Emailed reader nominations already include Congressman Paul Ryan (R-WI) and Dubya's nephew George P. Bush. We'll post the male finalists Friday afternoon.
Posted by Ron Gunzburger - 03.25.04 |

BE A JUDGE IN THE "MS. AMERICAN POLITICS" PAGEANT. Based on the above story, we used your comments from yesterday to develop a list of the some of the most attractive women in US politics. To give all the contestants a fair chance at winning, we've excluded 2003 California Governor candidate and porn star Mary Carey from the ballot. So, view them all ... you be the judge ... and cast your ballot in our entirely meaningless (but fun) poll to determine who is the most attractive woman in US politics. NOTE: The voting is now closed. Click HERE to view the poll results. And, like we said above, we'll do the same for the men next.
Posted by Ron Gunzburger - 03.25.04 |
NOT A GOOD WEEK IN THE WHITE HOUSE.

President Bush has had better weeks than the one he is currently experiencing. The average gas price around the US has jumped to an all-time record high. (Hmm ... If Iraq was a US "war for oil" -- to quote the tag line frequently used by critics -- did we lose?) On Tuesday, it was announced that the Medicare Trust Fund will likely be bankrupt within 15 years because of rising medical costs, shrinking payroll tax revenues, and the costly new prescription drug benefit for seniors. Then there's the whole Richard Clarke book stuff on 9-11 and terrorism, which has the White House folks in an aggressive defensive mode. With Clarke testifying before the 9-11 Panel today, don't expect Clarke's criticism to fade out of the headlines anytime soon. In a week or two, we'll start to see whether all this has a cumulative effect on the poll numbers in key states. Note: The Comments to this blog item quickly became a discussion as to whether Ron is keeping the blog fairly balanced or has become a bit biased these days. Weigh in with your two cents.
Posted by Ron Gunzburger - 03.24.04 |
TRACKING THE BATTLEGROUND STATES. In Tennessee, the new WBIR-TV/SurveyUSA poll shows Bush-52%, Kerry-41%. Bush carried the state by 4 points in 2000.
Posted by Ron Gunzburger - 03.24.04 |
UNDER FIRE IN WYOMING. Since first being elected in 1994, Congresswoman Barbara Cubin (R-WY) has cruised to four easy re-election wins. This year may prove different.

While she is unlikely to lose her seat to any of the three Democrats in the race -- as Wyoming traditionally favors Republicans -- she has unusually drawn two GOP primary opponents. Both Republican challengers -- State Senator Cale Case and attorney Bruce Asay -- cite to Cubin's poor attendance record. With the state having only one representative in the US House, they argue that her missed votes -- nearly 400 since January 2001 -- means that the entire state often has no voice in that body. Cubin counters that her overall attendance record since 1994 is very good, and that her many missed votes took place when her husband was ill (note: he has since recovered). "I don't apologize that I made the choice to be with my critically ill husband, rather than miss a vote that's going to pass by 100 votes anyway," Cubin told the Casper Star-Tribune. She also claimed that many of her missed votes were on legislation that were "not weighty measures." While Cubin is still favored in the primary, look for a competitive race.
Posted by Ron Gunzburger - 03.24.04 |
FILING NEWS. A relatively sedate candidate filing period closed a few days ago in Iowa. US Senator Chuck Grassley (R-IA) drew nominal opposition when former State Senator Art Small became the only Democrat to file in the race. There were no last minute surprises and all incumbent Congressmen drew opponents (of varying degrees of viability). Filing closes tomorrow in Montana, which will see a hotly contested open gubernatorial race.
Posted by Ron Gunzburger - 03.24.04 |
ANOTHER DEAN AUTOPSY. How can a campaign with $50.3 million seemingly self-destruct virtually overnight? Check out Dean campaign pollster Paul Maslin's detailed account in the upcoming issue of Atlantic Monthly ... but you can read it right now online at the blog site run by former Dean staffer Karl Frisch. Yeah, I know I seem fixated on this Dean stuff, but I do find these confessional reports fascinating and instructive.
Posted by Ron Gunzburger - 03.24.04 |
DEMS SCORE A "FIRST" IN IDAHO.

Candidate filing closed Friday in Idaho, and the result proved an embarrassment to the Democratic Party. For the first time in state history, the Democrats failed to file a candidate for US Senate. In fact, Senator Mike Crapo (R) appeared to win re-election without opposition when no one -- not even a third party candidate -- filed to oppose him. Former State Senator John Peavey (D) was going to oppose Crapo, but changed his mind at the last minute. When that happened, a Democratic Party aide rushed to the Capitol and tried to file US Senate paperwork for a replacement candidate -- but she literally arrived less than a minute too late for the 5:00 pm deadline. Crapo could still draw an opponent on the November ballot if a candidate files as a write-in with the Secretary of State by May 11 and then gets 1,000 write-in votes in the primary election. Democrats also failed to field candidates in 60 of the 105 state legislative races on the ballot. Idaho is a reliably Republican state, but this Dem performance was dismal by any standard.
Posted by Ron Gunzburger - 03.22.04 |
TRACKING THE BATTLEGROUND STATES. In Arizona, the KPNX-TV/SurveyUSA poll shows Bush-51%, Kerry-42%. Bush carried the state by 6-points in 2000. In Nevada, a new Las Vegas Review-Journal poll shows Bush-49%, Kerry-38%, Nader-4%. Bush won Nevada by just 3.5% four years ago. In related news, the same newspaper poll shows US Senator Harry Reid (D-NV) holding a massive 35-point lead in his re-election contest over his nearest GOP opponent.
Posted by Ron Gunzburger - 03.22.04 |
HE'S NEVER HEARD OF YOU, EITHER. Time for another installment in our series profiling the more colorful and lesser-known Presidential hopefuls. Today we profile "Governor" Lawrence Rey Topham (I-UT). What, you thought Olene Walker was Utah's Governor? Well, not in Larry Topham's world! Topham -- who declares on his campaign site that his "favorite food" is "wheat" -- is the quintessential perennial candidate. Over the past 28 years, Topham has run for Salt Lake City Mayor (1995, 1999, 2003), US Senate (1994), Salt Lake City Council (1993),
Utah Governor (1980, 1988, 1992), Congress (1978, 1990), and President (1976, 1996, 2000) -- and there are certainly more runs that we missed, as he sometimes was a write-in candidate. And, over those years, he has run as both an Independent and as a nominee of various third parties. Topham is also a bit eccentric. A 68-year-old retiree, he is a zealous advocate of returning the US to the gold standard -- and he refuses to recognize the validity of the dollars (Federal Reserve Notes) currently in use as they are backed by neither silver nor gold. In a 1998 incident, he entered the closed Utah Capitol building near midnight by falsely telling a guard that he worked there. When police officers later found him in the restroom, Topham claimed to be the Secretary of State and declared he was there to seize the Capitol. He was arrested by use of pepper spray, according to court documents. At other times, Topham has declared various officeholders illegitimate, claiming they either didn't properly file their oath of office certificates or didn't pay their filing fees with gold or silver. Topham still persists with these claims, as his 2004 Presidential site declares Topham is currently the "Secretary of State of the State of Utah and Acting Governor during martial law." In fact, Topham apparently declared martial law in Utah in November 1997 because everyone is using that "fake" US money not backed by gold/silver -- which, he declared, now makes him the Governor of Utah. Further, "Governor" Topham has decreed that anyone who works to elect any candidate he deems an unauthorized candidate (i.e., just about every candidate who qualifies for the ballot) is "participating in an unofficial election to overthrow the constitutional government of the State of Utah and its counties and is forbidden by law, and may well be an act of treason." Amusingly, "Secretary of State" Topham even regularly issues his own certificate of official election results (note: candidates named Topham won 4 out the top 8 ballot offices in his 2002 certificate). Since Topham sets his own rules, we presume he'll add "President" to his many other fictional office titles after November.
Posted by Ron Gunzburger - 03.22.04 |
QUOTE OF THE DAY. One of our readers pointed us to the issues section of Congressional candidate Steve Waterworth's (D-IL) campaign site. Waterworth -- when trying his explain his view on abortion -- writes: "It's our feeling that a woman who never gets pregnant never needs an abortion." Gee, no kidding. He continues: "It's my feeling that as long as our society glorifies sex we are going to have a strong demand for abortion. We need to work harder to take the glory out of sex. The sooner the better." Just a hunch ... but Waterworth's "let's work together to make sex suck" platform -- no pun intended -- doesn't seem like a winner to us in his long-shot race against Congressman Ray LaHood (R).
Posted by Ron Gunzburger - 03.22.04 |
TRACKING THE BATTLEGROUND STATES. New independent polls are out in several key Presidential battleground states. In New Hampshire, the latest American Research Group poll shows Bush-45%, Kerry-39%, Nader-8%. Without Nader on the ballot, the NH race is Bush-47%, Kerry-45%. Bush narrowly won NH in 2000. On a related note, the ARG poll also shows US Senator Judd Gregg (R-NH) holding a whopping 41-point lead in his re-election race over his likely Democratic opponent. In Michigan, a new Rasmusson poll shows Kerry-48%, Bush-44%, Others-3%. Bush narrowly lost Michigan in 2000. In Ohio -- a key state Bush won in 2000 -- a new Rasmusson poll shows Kerry-45%, Bush-41%, Others-4%. Finally, a new Rasmusson poll of Pennsylvania voters shows a virtual tie: Kerry-45%, Bush-44%, Others-5%. Bush lost PA by 5-points in 2000.
Posted by Ron Gunzburger - 03.19.04 |
UTAH FILING CLOSES. Candidate

filing closed in Utah this week, making way for a crowded ballot. Seven different political parties qualified various candidates for offices. The hottest fight is clearly the race for Utah Governor. Nine Republicans filed, including Governor Olene Walker, State House Speaker Marty Stephens, retired Congressman Jim Hansen, and wealthy former Ambassador Jon Huntsman Jr. Walker, a three-term Lieutenant Governor, moved up to the governorship last year when incumbent Mike Levitt resigned to join the Bush Administration. On the Democratic side, law school dean and former US Attorney Scott Matheson Jr. is unopposed for the nomination. Matheson's father was the state's last Democratic Governor, serving from 1977-85. Another hot race to watch is the one featuring Matheson's brother, CD-2 Congressman Jim Matheson (D). Three Republicans are competing for the right to take on Matheson in what is expected be one of the top GOP target races in the nation. Colorful former Congressman and wealthy frequent candidate Merrill Cook was a last minute filer for Salt Lake County Mayor against a GOP incumbent. And, as Cook has done sometimes in the past, he again bolted from the GOP to make his new run as an Independent. See our Utah page for links to the campaigns.
Posted by Ron Gunzburger - 03.19.04 |
WITH "SUPPORTERS" LIKE THIS, WHO NEEDS

ENEMIES? Senator John McCain (R-AZ) may have endorsed President Bush for re-election -- and he even stumped for him in January in New Hampshire -- but this former Bush rival doesn't mind stepping on toes at the White House. Last week, he briefly suggested on a TV interview that he might be willing to be John Kerry's VP runningmate -- but shot down the speculation again hours later. This week, "Bush supporter" McCain denounced the Bush campaign and Vice President Cheney for distorting Kerry's record on defense issues. Appearing Thursday on a TV interview, McCain denounced the Bush campaign's new anti-Kerry attack spots and Cheney's remarks. "I do not believe that [Kerry] is, quote, weak on defense," said McCain. "This kind of rhetoric, I think, is not helpful in educating and helping the American people make a choice," said McCain about the Bush campaign. McCain said he would prefer if both Bush and Kerry ran entirely positive campaigns about their differing views. A GOP spokesman politely responded that they believe McCain was just expressing "senatorial courtesy" to a friend.
Posted by Ron Gunzburger - 03.19.04 |
RETURN TO RHEA COUNTY. Yesterday we wrote about the Rhea County Commission's plan to block gay marriage from spreading into their community by criminalizing homosexuality and entirely banning gay persons from living in Rhea County. Only two days after the Rhea County Commission unanimously passed that resolution -- and in the face of a national firestorm of ridicule -- they met in a special session on Thursday to revisit their vote. In just minutes, they unanimously repealed their previous action with little public comment. Nearly 300 residents -- many critical of the original action -- crowded the commission chambers for yesterday's vote. The reversal came after the County Attorney explained to Commissioners that their plan was unconstitutional in that they could neither criminalize homosexuality nor could they bar gays persons from living in their community.
Posted by Ron Gunzburger - 03.19.04 |
HOUSE BRIBERY PROBE ADVANCES. The

House Ethics Committee named a special investigative subcommittee on Wednesday to look into bribe allegations raised by retiring Congressman Nick Smith (R-MI) against his own party's leadership. Smith publicly claimed that he was offered a bribe in December 2003 by some top GOP House leaders in exchange for his vote in support of President Bush's Medicare prescription drug bill. GOP leaders left the late night roll call vote on the bill open for over three hours -- the voting period is normally just open for 15 minutes -- until they were able to convince enough GOP members to switch from "no" votes to "yes" votes to ensure a narrow passage. Smith, a conservative, opposed the high costs of the bill and voted against it. Smith alleged that unnamed top Republican leaders directly offered financial support for his son's campaign for his open congressional seat if he would change his vote. Smith later revised his comments in subsequent interviews to say they offered "political support" for his son in exchange for his vote. Smith said yesterday that he "respect[ed] the committee's decision" and will "cooperate fully with the inquiry." House Speaker Denny Hastert (R-IL) was clearly not pleased. "I think the Democrats will try to go at us from every partisan angle they can ... I'll match our ethics standards against any ethics standard that the Democrats have had," said Hastert. GOP leaders blamed Democratic pressure for moving the probe forward.
Posted by Ron Gunzburger - 03.18.04 |
RETURN OF THE DEANIACS. Remember Howard Dean?
Well, today is the day he'll start trying to prove that his former national network of Presidential supporters who raised him over $50 million for his failed campaign can be transformed into a permanent national grassroots fundraising organization for the progressive wing of the Democratic Party. Dean is launching Democracy for America today through a series of kick-off events around the nation. The group even keeps the same "DFA" acronym of his former campaign. Dean vows the group will raise money to "recruit and encourage progressive candidates to run for office at every level" and support Democratic candidates for Congress. Dean -- who campaigned against special interest money and the so-called 527 political groups -- is now in the business of raising money with his own 527 group. Dean explains that he hopes "small donations from grassroots supporters [can] begin to break the stranglehold special interests have on the political process." The new DFA group will largely be internet-based.
Posted by Ron Gunzburger - 03.18.04 |
FROM THE SAME FOLKS WHO BROUGHT US THE INFAMOUS "MONKEY TRIAL" ...

The folks on the Rhea County Commission in Tennessee have thought up a really ... umm ... unique way to block gay marriage from spreading into their community. Their solution: criminalize homosexuality so that they can ban homosexuals from even living in Rhea County. Commissioner J.C. Fugate proposed the resolution urging state lawmakers to introduce legislation amending Tennessee's criminal code so that Rhea County can charge homosexuals with "crimes against nature." Under Fugate's plan, gay persons could be both imprisoned for this criminal offense and barred from even living in the county itself because -- by their very nature -- homosexuals would all be deemed criminals. That, you see, would stop gay marriage from even reaching this area. "We need to keep them out of here ... I'd like to make [sure] that those kind of people cannot live in Rhea County or abide in Rhea County. If they're caught in Rhea County living together as such, they should be tried for crimes against nature," said Fugate. The resolution passed by an 8-0 vote. The commissioners later asked the County Attorney to "find the best way [now] to enact a local law banning homosexuals from living in Rhea County." Rhea County was the same jurisdiction that criminally prosecuted school teacher John Scopes in 1925 for teaching Darwin's theory of evolution -- an event the county celebrates each year with a festival.
Posted by Ron Gunzburger - 03.18.04 |
OBAMA VS. RYAN RACE

SET IN ILLINOIS. The final polls were right on the mark with the outcome of Tuesday's Illinois US Senate primaries. On the Democratic side, State Senator Barack Obama won a landslide victory that crushed six opponents. Obama captured 53% of the vote, State Comptroller Dan Hynes in second place with 24%, and the rest trailed behind. Obama -- the son of a Kenyan immigrant who grew up on Chicago's South Side -- is a Harvard-educated attorney. He was also the poorest of the Dem primary field -- where nearly all his opponents were millionaires -- joking that he could qualify to use the 1040-EZ form.

Obama started the race near the back of the pack, but steadily moved up over the past several months. On the Republican side, wealthy former investment banker Jack Ryan won with 36%, followed by dairy company owner Jim Oberweis at 23%, State Senator Steve Rauschenberger at 20%, and five others dividing the rest of the vote. Ryan --who earned a fortune of nearly $100 million before quitting the investment field to become a school teacher a few years ago -- was the GOP frontrunner from the start. White House insiders -- impressed with his life story of turning from money to community service -- reportedly recruited Ryan to run. Ryan's numbers started to fall in recent weeks when he was pressed to release court filed related to his divorce but insisted on keeping some pages secret. Look for the media to keep pressure on Ryan to release these withheld pages. Ryan says he will not release the pages because they relate to his child, not him. The Obama-Ryan race will be hotly contested. Considering how strong Obama ran statewide in the primary, he is clearly not weak as pundits had estimated. In other races, Congressman Jesse Jackson Jr. (D) easily turned back the primary challenge of disgraced former Congressman Mel Reynolds by an 88% to 6% vote. Congressman Phil Crane (R) -- who was thought to have been facing a competitive primary challenge -- also won renomination by a comfortable margin. See our Illinois page for links to all of the campaigns.
Posted by Ron Gunzburger - 03.17.04 |
PENNSYLVANIA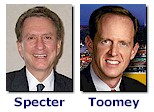 SENATE RACE TIGHTENING. US Senator Arlen Specter (R-PA) is facing an increasingly competitive GOP primary challenge from Congressman Pat Toomey, according to a new independent poll. The differences between the two men are ideological, as Specter is a pro-choice centrist and Toomey is a pro-life conservative. The KDKA-TV/SurveyUSA poll now shows Specter-47%, Toomey-38%. Specter held a wider lead in earlier polls. Specter has also been the target of a negative media campaign by the conservative Club for Growth group. The group maintains that Specter is a RINO (Republican In Name Only) and not much better than a Democrat. Specter counters that he has a solid record of supporting nearly all of President Bush's legislative proposals. The winner of the April 27 primary will face Congressman Joe Hoeffel, who is unopposed for the Democratic nomination. While Hoeffel is viewed as an underdog against Specter, the race would move into the "toss-up" category if Toomey wins the GOP nomination. Under that scenario, Dems would be expected to win the support of some of the GOP moderates who traditionally backed Specter. In related news, another KDKA-TV/SurveyUSA poll released a few days ago shows John Kerry very narrowly leading President Bush in the state by a 49% to 47% vote. However, a new Quinnipiac University poll shows Kerry could have problems in the state if Ralph Nader is able to get on the ballot here. The Quinnipiac numbers: Bush-44%, Kerry-40%, Nader-7%. The same poll shows Kerry leading 45% to 44% if Nader is not on the ballot.
Posted by Ron Gunzburger - 03.17.04 |
PRESIDENT CLINTON ENDORSES KERRY. Now that John Kerry has locked up the Democratic nomination, former President Bill Clinton weighed in this week on behalf of Kerry. In a fundraising email sent out Tuesday by the Kerry campaign, Clinton wrote that Democrats are "united in our determination to carry our values to victory in 2004." The pitch was an attempt to quickly raise dollars to finace more response spots to the Bush campaign's anti-Kerry TV ads that are currently airing. According to earlier media reports, Clinton had tacitly been backing the campaign of Wes Clark and -- later -- of John Edwards. Clark and Edwards were both centrists viewed as Clinton allies, while the liberal Kerry was independent of Clinton's DLC base in the party.
Posted by Ron Gunzburger - 03.17.04 |
OUT. OUT. OUT. OUT. When US Senator Ben Nighthorse Campbell (R-CO) unexpectedly announced his retirement two weeks ago, the GOP instantly began a scramble to find a strong replacement candidate.

Republicans quickly rallied around Governor Bill Owens -- who would have been an instant frontrunner -- but he soon opted out of the race citing family problems. The past week hasn't been good for the GOP. Congressman Bob Beauprez? Out. Congressman Tom Tancedo? Out. Lieutenant Governor Jane Norton? Out. Former Republican National Chairman Jim Nicholson? Out. Congressman Scott McInnis? Out. State Treasurer Mike Coffman? Out. Congresswoman Marilyn Musgrave? Out. As of today, the Republicans have two announced candidates: former Congressman Bob Schaffer and attorney Dan O'Bryant. The only Republican of note still pondering the race is US Interior Secretary Gale Norton. On the Democratic side, meanwhile, party leaders continue to rally behind the candidacy of Attorney General Ken Salazar. Salazar faces only nominal opposition for the Dem nomination.
Posted by Ron Gunzburger - 03.16.04 |
SHARPTON SORTA ENDS RUN. Reverend Al Sharpton endorsed John Kerry for President on Monday ... but it was a rather strange endorsement. Sharpton and Kerry met at Kerry's headquarters and released a written statement of Sharpton's endorsement. However, Sharpton later said that -- while he was now supporting Kerry -- he was not suspending his campaign and would continue to seek convention delegates. Sharpton hinted he may also be on the verge of signing a deal to host a TV show, which would force an immediate end to his campaign activities.
Posted by Ron Gunzburger - 03.16.04 |
FINAL ILLINOIS POLLS. The final WBBM-TV/SurveyUSA poll numbers released Monday show State Senator Barack Obama nearly certain to win the Democratic primary over several millionaire contenders. The poll has Obama holding a 30-point lead. The GOP contest is tightening into rather competitive race. Wealthy investment banker Jack Ryan leads with 33%, followed by dairy company owner Jim Oberweis at 24%, and State Senator Steve Rauschenberger at 21%. Rauschenberger -- who has won most of the newspaper endorsements -- seems to have the momentum (he's moved up 10 points within the past six days), but it may be too late for him to catch Ryan. An amusing race to also watch is the Democratic primary in CD-2. In that race, Congressman Jesse Jackson Jr. (D) should cruise to a big primary victory over disgraced former Congressman Mel Reynolds (D) and two others. Reynolds -- a former Rhodes Scholar -- saw his political career crash-and-burn several years ago in two scandals. In separate cases, Reynolds was convicted on federal corruption charges and also of statutory rape of a 16-year-old girl. See our Illinois page for links to all of the campaigns.
Posted by Ron Gunzburger - 03.16.04 |
SILLY SEASON IN ILLINOIS SENATE RACE. Seven Democrats and eight Republicans are competing Tuesday in the wildest open seat US Senate primary in the nation. The seat -- the top prospect in the nation for a Democratic pickup -- is being vacated by retiring Senator Peter Fitzgerald (R).

What started as a routine contest has degenerated into a slugfest involving allegations of spousal abuse, messy divorces, and drug use. "I'd be on the front page and be leading all the polls if my husband had tried to beat me. It's ridiculous," quipped Cook County Treasurer Maria Pappas (D), one of the contenders. Investment banker and Democratic fundraiser Blair Hull (D) -- with a net worth estimated of as much as $444 million -- is the wealthiest of the eight millionaires in the race. Hull, however, is also the one mired in the most scandal. A few months ago, Hull led in the polls -- and had pumped over $29 million of his own money into his campaign -- but that was before information about his private life became public. Headlines of spousal abuse allegations and temporary restraining orders entered against him by his ex destroyed his momentum. That also forced the other candidates to release their divorce papers. In the case of retired investment banker Jack Ryan (R), he released all but several pages of his file -- citing the need to keep certain info related to his young son confidential. That prompted another GOP candidate -- retired Air Force General John Borling -- to hint he knew what was in those missing pages, that he found the "matter distasteful," but that he would not discuss them. Then there was all that stuff about past drug use. State Senator Barrack Obama (D) -- in his autobiography -- had discussed how he had used marijuana in high school and used cocaine occasionally while in college. That prompted former Chicago Board of Education President Gery Chico (D) to announce that he had smoked pot while in college. Hull -- sensing the opportunity to move the spotlight off his personal problems -- announced that he had also occasionally used marijuana and cocaine when he was younger. State Comptroller Dan Hynes (D) volunteered that he had smoked pot "four times" while in college. Pappas, meanwhile, boasted that she's never used any illegal drugs. The latest WBBM-TV/SurveyUSA poll numbers show Obama solidly leading the Democratic race with 44%, followed by Hull at 20%, Hynes at 18%, Pappas at 7%, and Chico at 6%. On the GOP side, Ryan holds a comfortable first place with 37%, followed by dairy company owner Jim Oberweis at 23%, paper company owner Andy McKenna at 14%, State Senator Steve Rauschenberger at 11%, and Borling at 4%. See our Illinois page for links to all of the campaigns.
Posted by Ron Gunzburger - 03.15.04 |

FULL DISCLOSURE. Actor and former Vegas crooner Brian Evans (D-HI) is a new entrant into the race against 79-year-old incumbent US Senator Dan Inouye (D). The high cost of dental insurance -- and the contributions Inouye received from the dental lobby -- prompted his entrance into the race. While Evans stands almost no chance of upsetting Inouye in the September primary, he does get points from us for his refreshing candor. Evans' campaign site has a page entitled The Dirt, in which the 33-year-old dishes out all the dirt there is to tell ... about himself. Jail time, lawsuits, and more. "I screwed up as a young man, and I am only human and will never be perfect. But I won't pretend that I've never made mistakes, and unlike many politicians, I won't hide them either," explains Evans. He even posts a photo of himself performing on stage with Wayne Newton but -- wait -- that's on his pix page, not on his dirt page.
Posted by Ron Gunzburger - 03.15.04 |
SHARPTON READY TO QUIT RACE;

DEAN ENDORSES KERRY. Now that John Kerry has mathematically locked up the Democratic nomination by securing more than the 2,162 delegates needed to be nominated, Al Sharpton is ready to officially exit the race. According to the New York Post, Sharpton is meeting today with campaign advisors and plans to begin talks with the Kerry campaign to coordinate an endorsement. Sharpton reportedly wants to "play some role" in the Kerry campaign -- but Kerry's camp is not willing to discuss anything until after Sharpton quits the race. Based on Sharpton's anemic primary results, don't look for him to be given anything significant to do for Kerry. And, hey, has anyone told Kucinich it's over? In related news, Howard Dean and John Kerry got together other the weekend for a unity meeting. Both men later issued nearly identical statements praising each other. "I will work closely with John Kerry to make sure we beat George Bush in November and turn our country around," said Dean. "We have plenty in common, and it begins with a vision to change this country," said Kerry.
Posted by Ron Gunzburger - 03.15.04 |
TODAY'S OPEN THREAD. The anti-Kerry TV spots by the Bush campaign ... the Kerry TV response spots to the Bush attack ads ... the Kerry endorsement by Howard Dean (so much for a "permanent rift") ... the Colorado Senate race ... whatever. Feel free to use this open thread to fight amongst yourselves an on any topic you'd like.
Posted by Ron Gunzburger - 03.15.04 |
Return to
MAIN BLOG
PAGE
BLOG ARCHIVE:

March 15-31, 2004
March 1-14, 2004
February 15-29, 2004
February 1-14, 2004
January 17-31, 2004
January 1-16, 2004
December 16-31, 2003
December 1-15, 2003
November 17-30, 2003
November 1-16, 2003
October 29-31, 2003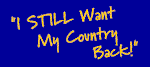 - Paid Advertisement -
---
OTHER WRITINGS:

Florida Presidential Recount (2000)

Defense Dept. JCOC Program (2001)

Storming La Fiesta (2003)

NHL All-Star Game (2003)
---
POLITICAL
BLOG ROLL:
KINDA NEUTRAL:
ABC News: The Note
CNN: Morning Grind
Political Wire
MSNBC: First Read
CJR: Campaign Desk
Political State Report
WatchBlog
Command Post
Real Clear Politics
WSJ: Best of the Web
OxBlog
PressThink
DEM/LEFT:
DNC: Kicking Ass
DCCC Blog
DailyKos
John Kerry
John Edwards
Howard Dean
Emerging Dem Majority
Amer Prospect: Tapped
Instapundit
Eric Alterman
ElectaBlog
TNR: &c
TNR: Campaign Journal
Blogging of the President
Joe Trippi
Swing State Project
Battlegrounds & Ballot Boxes
Josh Marshall
Wonkette
Karl Frisch (Carl with a K)
Matthew Yglesias
GOP/RIGHT:
RNC (GOP.com)
George W. Bush Blog
Bush Blog (Unofficial)
National Review: Corner
C-Log
Andrew Sullivan
John Ellis
Mickey Kaus
Virginia Postrel
Hugh Hewitt
Daniel Drezner
Daily Pundit
Bully Pulpit
World Mag Blog
Right Wing News
Volokh Conspiracy
Brothers Judd
Power Line