Paid Advetisement. Click here for more information and rates.
KERRY-McCAIN 2004? A few weeks ago,

we mentioned the idea that US Senator John McCain would be an intriguing VP runningmate choice for John Kerry. Of course, the problems with this option are that McCain is a Republican and has already endorsed Bush. Then again, McCain and Kerry are both decorated Vietnam vets and McCain really seems to dislike Bush (note: despite endorsing ush for foreign policy reasons, McCain constantly trashes Bush as fiscally irresponsible). Last week, McCain said he wouldn't be considered because he is pro-life and a free-trader -- but he didn't explicitly say "no" to the idea. A McCain staffer soon clarified that McCain plans to stay a Republican. On Wednesday, McCain seemed to reopen the door again to running on the Democratic ticket with Kerry. "John Kerry is a close friend of mine ... Obviously I would entertain it ... But I see no scenario where that would happen," said McCain on Good Morning America. Again note: McCain's answer again wasn't a "no." Elsewhere on the VP front, Bob Graham again indicated he was very interested in the job -- while Bill Richardson again repeated his frequent "look at me" line that he cannot understand why his name surfaces so frequently on possible VP lists.
Posted by Ron Gunzburger - 03.11.04 |

IN AND OUT IN COLORADO SENATE RACE. One day after announcing his candidacy for the open Colorado US Senate seat, Congressman Mark Udall (D) exited the race. So, too, did think tank founder Rutt Bridges (D). Why? Both quit the race because Attorney General Ken Salazar (D) announced his candidacy for the seat being vacated by US Senator Ben Nighthorse Campbell (R). Udall and Bridges immediately endorsed Salazar, as did most other top party leaders around the state. Democratic unity in this race may give Salazar an advantage. By contrast, the top GOP name -- Governor Bill Owens -- already passed on the race and the Republicans are now seeing a scramble for the seat. Three GOP Congressmen are considering the race, and retired Congressman Bob Schaffer (R) said Wednesday that he intends to run. All of this places this seat in the "too close to call" category for November. A possible plus for the Dems: pundits think the Dems could likely capture freshman Congressman Bob Beauprez's (R) seat if -- as expected -- he jumps into the Senate race.
Posted by Ron Gunzburger - 03.11.04 |
MY SCHEDULE ... AND AN OPEN THREAD. For a variety of reasons, there will be no new updates here Friday. We'll be back Monday new updates. Meanwhile, feel free to use this open thread to fight amongst yourselves an on any topic you'd like.
Posted by Ron Gunzburger - 03.11.04 |

OWENS WON'T RUN IN COLORADO. The newly open Colorado US Senate race was thrown into more turmoil on Tuesday. Governor Bill Owens (R) -- perceived as the top GOP prospect to hold the seat being vacated by US Senator Ben Nighthorse Campbell -- announced he would not be a candidate for the seat because of family concerns related to his young children and estranged wife. With Campbell and Owens now out, the Colorado seat is definitely in play as a highly competitive race this fall. Soon after Owens made his decision known, Congressman Mark Udall (D) announced he would enter the Senate race. Among those still weighing entry into the race are Congressmen Bob Beauprez (R), Tom Tancredo (R) and Scott McInnis (R), Attorney General Ken Salazar (D), and State Treasurer Mike Coffman (R). Former US Senator Gary Hart (D) said Tuesday that would not run.
Posted by Ron Gunzburger - 03.10.04 |
CLINTON WON'T RUN FOR NYC MAYOR. Former President Bill Clinton said Tuesday he would not run against New York City Mayor Mike Bloomberg (R) in 2005, despite calls from some Dems for him to do so. Polls show Bloomberg -- the city's first-term mayor and a billionaire publishing mogul -- is highly unpopular after his tax increases and anti-smoking moves. "I'd love to be Mayor of New York -- it's probably the second-best job in America -- but there are lots of good people who want to be Mayor of New York and they should have their chance," he said. Clinton also explained to the AP that "one Clinton in office is enough." Clinton is scheduled to release his memoirs later this year.
Posted by Ron Gunzburger - 03.10.04 |
CONGRESSIONAL PRIMARY UPSET IN TEXAS.

Freshman Congressman Chris Bell (D) lost his primary race for renomination Tuesday to Justice of the Peace Al Green. Bell -- who is white -- was redistricted this year by the GOP-controlled state legislature into the new CD-9 seat, which has a black majority population. Green -- who is black -- is the former Houston NAACP President. With most of the vote counted, Green defeated Bell by a 67% to 31% vote. The CD-9 district is a safe Democratic seat, so Green is assured a spot in next year's freshman class. The story was very different in the race for the new CD-25 Hispanic majority seat. In that contest, Congressman Lloyd Doggett (D) turned back the aggressive challenge of former Judge Leticia Hinojosa by a surprisingly wide 2-to-1 margin. In CD-28, Congressman Ciro Rodriguez (D) trailed on and off during the night against former Secretary of State Henry Cuellar (D). With 97% of the vote counted, Rodriguez has regained the lead by a 51.6% to 48.4% vote. In the open CD-10 race for a safe Republican seat -- so safe that no Democrat even filed -- mortgage executive Ben Streusand (R) and attorney Mike McCaul (R) advanced to the run-off. Accountant Mike Conaway (R) easily won the open CD-11 primary and is certain to win this seat in November. Finally, Congressman Ralph Hall -- who switched to the GOP just two months ago -- won a landslide victory over two others in his first GOP primary race.
Posted by Ron Gunzburger - 03.10.04 |
QUOTE OF THE DAY. "The other campaign was misrepresentations, lies, innuendos and deceit. That is not a sore loser comment -- that is a fact," said Pembroke Pines (Fla.) Mayor Alex Fekete to the Miami Herald, when asked to comment last night on his re-election defeat by an insurgent, environmentalist challenger. So ... what would the "sore loser" comment sound like?
Posted by Ron Gunzburger - 03.10.04 |
IN FOND MEMORY OF BILL MARKHAM. This morning I was awakened by an early call informing me that Broward County Property Appraiser Bill Markham -- my boss -- had unexpectedly died of a heart attack during the early morning hours at age 64. You've probably never heard of

Bill, but he's a big part of the reason why Politics1 exists. I first met Bill in 1976 when I was 13 and he was seeking re-election to a third term. That volunteer experience -- my first in local campaigns -- began my long-running interest in politics (which, in turn, eventually led to my creating Politics1). These days, I serve as Legal Counsel and Public Affairs Director in Bill's office and spent much time with him daily. He was a politician -- with a backslapping, gregarious style -- who loved politics but always put people first. Over the years, he helped lead the successful statewide fights for constitutional amendments that increased the Homestead Exemption from $10,000 to $25,000, that capped annual increases in assessed value to a maximum of 3% for Homesteaded properties so that owners could not be taxed out of their homes, and created a second $25,000 Homestead for seniors on fixed incomes. But -- aside from that -- Bill was a wonderful guy. He loved his family, was active in his church and community, and had a heart of gold. Because his late father was a recovered alcoholic, Bill would often give folks in recovery jobs and a meaningful chance to get their lives back on track. When long-time employees became very ill, Bill would often dip into his own pocket to pay for an airplane ticket and other costs for them to see specialists at places like the Mayo Clinic.

That's probably why our average employee has spent nearly 20 years in our office. But the thing that showed the really amazing side of this guy was his special relationship with the students of Markham Elementary, a public school with students from one of the poorest neighborhoods in the county. The school was named after Bill's father. With little fanfare each Christmas, Bill and his wife Sherry distributed holiday toys to all 600+ students in the school. And, at the end of each school year, Bill and Sherry would present new bicycles to all the kids who earned "A" averages and boom-box radios to kids who earned "B" averages. A colorful character, he wore a rose on his lapel each day (grown at home and placed there by his wife) and had a booming singing voice he'd use any chance he got. Yesterday was fairly typical for him: a large charity breakfast (where Bill sang the National Anthem a cappella), a political club luncheon (where Bill sang again), and a big Italian-American club banquet. Most amazingly for someone on this kind of schedule, Bill appeared heading this year to an unopposed re-election. He didn't care. Some people play golf. For Bill, his hobby was working a room. He brought genuine warmth everywhere he went and represented the best of politics. Bill was one of my closest friends. I'll miss him very much.
Posted by Ron Gunzburger - 03.08.04 |
PRIMARY PREVIEW. Super Tuesday + 1 Week = Superfluous Tuesday. Presidential primaries are set for Tuesday in Florida, Texas, Louisiana, and Mississippi ... and

GOP Presidential caucuses are set for Washington State. I'll go out on a limb here and predict that John Kerry and President Bush win big everywhere. (However -- and remember I was a Howard Dean volunteer during the NH primary -- since these primaries don't matter anymore, please considering voting for Dean as a way of saying thanks for restoring some backbone to the party.) And -- for races that still matter -- pay attention to some key Congressional primaries in the newly redrawn districts in Texas. Freshman Congressman Chris Bell (D) -- who is white -- will see if he can win renomination against a black challenger in the new CD-9 minority district. Congressman Lloyd Doggett (D) is facing a similar situation in the new CD-25 Hispanic majority seat, as he attempts to hold off the primary challenge of former Judge Leticia Hinojosa. Eight GOP hopefuls are running in the open CD-10 race for this safe Republican seat -- and accountant Mike Conaway looks fairly certain to win the open CD-11 seat. In CD-28, Congressman Ciro Rodriguez (D) looks likely to survive a challenge by former Secretary of State Henry Cuellar. Congressman Ralph Hall -- who switched to the GOP just two months ago -- appears to be heading to a comfortable victory in his first GOP primary race.
Posted by Ron Gunzburger - 03.08.04 |
LOUISIANA CONGRESSMAN HINTS AT DEFECTION. Freshman Congressman

Rodney Alexander (D-LA) told reporters Thursday that he is considering changing parties because he thinks John Kerry is too liberal and doesn't want to run on his coattails. Alexander won a hotly contested open seat race in 2002 with the help of John Breaux and other Dem leaders. "I'd be letting some people down who worked very hard for me and I would hate to let anybody down," said Alexander of his possible switch. However, he said he has major objections to Kerry's views on issues and is trying to decide if he could be more effective in the House if he became a Republican. "I know what he's feeling," said Blue Dog conservative Congressman Charlie Stenholm (D-TX) to the New Orleans Times-Picayune. "But I asked Rodney, 'Would you be happy following Tom DeLay and the ultra-right wing philosophy represented by the Republican Party today?" Alexander promises to make a public decision within the next few days. In related news, Congressman Jim McCrery (R-LA) this week killed the retirement speculation about his future. McCrery explained that -- after his wife agreed to quit her professional job in Louisiana and move with their two young sons to DC -- he has decided to run for re-election this year. Postscript: Alexander's flirtation with the GOP was very brief. Friday afternoon he issued the following statement: "Although I am flattered by the offers of the Republicans to join their ranks, I am deciding to stay where I am."
Posted by Ron Gunzburger - 03.05.04 |
SECOND GAY MARRIAGE AMENDMENT IS HATCHED.

US Senate Judiciary Committee Chairman Orrin Hatch (R-UT) is not a supporter of the proposed constitutional amendment to ban gay marriages because he believes it tramples upon states' rights. Instead, he is now proposing a compromise constitutional amendment of his own that will address the gay marriage issue nationwide while still giving states the right -- on a state-by-state basis -- to recognize or sanction gay marriages or civil unions. This is the full text of Hatch's proposed amendment: "Civil marriage shall be defined in each state by the legislature or the citizens thereof. Nothing in this Constitution shall be construed to require that marriage or its benefits be extended to any union other than that of a man and a woman." Hatch believes his approach is more narrowly tailored than the Musgrave amendment to solve the concern that judges could force recognition of same-sex marriages in states where it is not otherwise recognized.
Posted by Ron Gunzburger - 03.05.04 |

"GENERATION DRY"? The Prohibition Party -- yes, they're still around -- just dumped its Presidential nominee and nominated a replacement Presidential ticket headed by temperance lecturer and landscape painter Gene Amondson of Alaska. The tiny party -- America's oldest third party -- is pro-life, anti-communist, anti-gay rights, anti-drugs, anti-porn, and still advocates restoring the ban on alcohol. That's why we were rather amused to read in the party's latest newsletter that Amondson "believes that he can campaign most effectively by using the internet, specifically by producing messages whch can be forwarded from friend to friend after the fashion employed by the late Howard Dean Campaign." I don't think these guys get the whole Dean thing. Dean pioneered a lot of online stuff for campaigns -- particularly with how he used his blog site and online fundraising -- but the strategy Amondson is describing sounds a lot closer to those folks who endlessly forward all those tasteless jokes and chain letters.
Posted by Ron Gunzburger - 03.05.04 |
KERRY VEEPSTAKES. Now that John Kerry is the de facto Democratic nominee, the time has come to have fun with the speculation over possible Vice Presidential runningmates. In fact, Kerry named veteran DC insider Jim Johnson on Wednesday to head the group vetting possible contenders. Keep in mind that -- unlike past nominees -- Kerry doesn't believe he has any real gaps in his background to balance, so the VP will likely be chosen purely for electoral strategy reasons. Will Kerry pursue a Southern strategy, a Midwestern strategy, or will it be some other factor? Most believe Kerry will announce his runningmate sometime in May or June. Keep in mind that these categories are purely subjective. FIRST TIER (likely short list contenders):
Senator Bob Graham (D-FL) - Upside: Could help Dems carry Florida, former Senate Intelligence Committee Chair, knowledgable, thoughtful. Downside: Quirky, no charisma, ran poor Presidential campaign last year.
Congressman Dick Gephardt (D-MO) - Upside: Former House Democratic Leader, strong with labor unions, could help in Missouri, Michigan, Ohio, Iowa and other potential Midwest swing states. Downside: Been around the track too many times, another DC insider.
Governor Bill Richardson (D-NM) - Upside: Latino on a national ticket could help in lots of swing states, ex-Congressman, ex-UN Ambassador, ex-Cabinet Member. Downside: Wen Ho Lee scandal occurred on his watch as Energy Secretary.
Senator Evan Bayh (D-IN) - Upside: Centrist, former Governor, could help in Midwest and possibly even in Indiana. Downside: Unexciting speaker, questionable whether he could help Dems carry his homestate, voted for Bush's tax cuts.
We'd group these folks in the SECOND TIER ("possibles" of whom a few may make the short list):
Senator Bill Nelson (D-FL) - Upside: Could help Dems carry Florida, Southerner, former Space Shuttle astronaut. Downside: Not well known outside home state, switched on abortion and other issues over the years.
Senator John Edwards (D-NC) - Upside: Charismatic, Southerner, appeals to crossover voters. Downside: Unlikely to help Dems carry his own state, lost Southern primaries to Kerry, doesn't seem to have good chemistry with Kerry.
Senator John Breaux (D-LA) - Upside: Southerner, conservative appeal to crossover voters, respected in DC. Downside: Unlikely to carry his own homestate for Kerry, may be too conservative on social issues for Democratic base.
Former Senator Max Cleland (D-GA) - Upside: Decorated and disabled Vietnam War hero, compelling life story, centrist, Southerner, ex-VA head. Downside: Lost for re-election just two years ago so electoral value in Georgia is questionable, Kerry really doesn't need a second war hero on his ticket.
Governor Mark Warner (D-VA) - Upside: Centrist, Southerner, telegenic, business background. Downside: Unlikely to swing Virginia into the Dem column for Kerry.
Governor Tom Vilsack (D-IA) - Upside: Midwesterner, wife was key Kerry endorser in Iowa caucuses. Downside: Little name ID outside of Iowa.
These are the darkhorses that would fall into the current THIRD TIER (just one or two of these might make the short list): retired Army General Wes Clark (D-AR), Senator Blanche Lincoln (D-AR), Senator Mary Landrieu (D-LA), Senator Max Baucus (D-MT), former Treasury Secretary Robert Rubin (D-NY), Senator Dianne Feinstein (D-CA), Governor Ed Rendell (D-PA), Governor Janet Napolitano (D-AZ), Governor Rod Blagojevich (D-IL).
Finally, we come to the "NOT IN A MILLION YEARS" TIER (i.e., these names -- for a wide variety of reasons -- will NEVER be seriously considered by Kerry for VP): Hillary Clinton, Bill Clinton, Howard Dean, Joe Lieberman, Dennis Kucinich, Al Sharpton, Al Gore, Marcy Kaptur, etc.
Posted by Ron Gunzburger - 03.04.04 |

SURPRISE RETIREMENT IN COLORADO. US Senator Ben Nighthorse Campbell (R-CO) unexpectedly announced on Wednesday that he was ending his 2004 campaign for re-election. "I feel the time has come to pass that duty on to another and return to my ranch with my family that I love," said Campbell. The Senator, 70, said that a hospitalization last week for severe heartburn that mimicked the symptoms of a heart attack forced him to reflect on his health. He acknowledged last year that he is also undergoing treatment for prostate cancer, but his doctors gave him a "98% chance" of recovery. On top of that, Campbell's office is facing increasing scrutiny in recent days related to purported salary kickback scheme involving his Chief of Staff and another aide. Still, Campbell was favored to win re-election because the Democrats had been unable to produce a top-level challenger. Campbell was first elected to Congress as a Democrat, but switched parties after his election to the US Senate. With Campbell out of the race, most observers believe term-limited Governor Bill Owens (R) will quickly jump into the contest. Other possible new candidates for the seat may include retiring Congressman Scott McInnis (R) and Congressman Mark Udall (D).
Posted by Ron Gunzburger - 03.03.04 |
KERRY WINS BIG; EDWARDS QUITS RACE. John Kerry won a convincing sweep on Super Tuesday by winning 9 of 10 contests. Howard Dean -- who had already suspended his campaign -- won his first primary victory, carrying his home state of Vermont. John Edwards, meanwhile, was unable to overcome the Kerry "inevitability" factor and was unable to win any of the ten contests. Edwards congratulated Kerry Tuesday night and officially withdrew from the race on Wednesday afternoon. Without quite saying it directly, Edwards called on Democrats to rally behind Kerry in November. However, Edwards performed so poorly overall -- especially in southern states -- that Kerry now seems unlikely to give Edwards serious consideration for the VP spot.
Posted by Ron Gunzburger - 03.03.04 |

WHAT ABOUT AL AND DENNIS? The Sharpton and Kucinich partisans out there are going to get worked up about this -- and this is not to say either guy is ending his run for President (in fact, they'll both probably keep going) -- but the time has come to face reality. On our P2004 page, we've knocked them both out of the ranks of the pictured "major" candidates for the nomination. We're still keeping them as active candidates, and still keeping their profile pages online. But -- seriously folks -- they're no longer major candidates for the nomination. There won't be any more debates against Kerry. The Fat Lady has sung. Feel free to flame away in the comments section.
Posted by Ron Gunzburger - 03.03.04 |
INCUMBENTS CRUISE IN MARYLAND. Forget any of the early hype that Congressmen Wayne Gilchrest (R) and Roscoe Bartlett (R) were locked in tough primary fights for renomination. On Tuesday, they both won easy primary victories. Gilchrest -- a pro-choice centrist -- defeated pro-life State Senator Richard Colburn in CD-1 by a 62% to 38% vote. In CD-6, the conservative Bartlett defeated prosecutor Scott Rolle -- who was possibly even more conservative -- by a whopping 70% to 30% landslide. In the US Senate race, State Senator E.J. Pipkin (R) won the right to be his party's sacrificial lamb facing liberal incumbent Barbara Mikulski (D) in November.
Posted by Ron Gunzburger - 03.03.04 |
IT'S SEUSS-PER TUESDAY. In honor of Dr. Seuss' 100th Birthday, we've renamed today's Super Tuesday contests. Today, John "Thing 1" Kerry hopes to crush the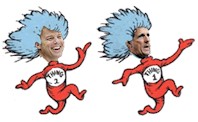 candidacy of John "Thing 2" Edwards by denying Edwards a victory in any of the ten states up for grabs today. The final Atlanta Journal-Constitution/Zogby Georgia tracking poll released this morning shows Edwards still badly trailing: Kerry-51%, Edwards-37%, Sharpton-5%. However, pollster John Zogby said that numbers from last night's track -- not the above numbers which are the average of the three most recent nights' results -- showed a rapidly tightening race and Edwards possibly having moved into a virtual tie for the lead. Even Edwards seemed to concede that without some victories tonight, his candidacy is probably finished. "Of course, at some point I've got to start getting more delegates, or I am not going to be the nominee. But I intend to be in this until the end," said Edwards. That sounds like the comments Lieberman, Dean and Clark made right before they exited the race. The biggest prizes of the day are California, New York and Ohio. Other states in play today are Minnesota, Vermont, Rhode Island, Connecticut, Georgia, Massachusetts and Maryland. California, Ohio and Maryland also hold Congressional primaries today. Check out the comments to this story, as several readers are contributing their own Seussical take on the election.
Posted by Ron Gunzburger - 03.02.04 |
FASTEN YOUR SEATBELTS. The Washington Post reports that Congressional Republicans have a plan to make John Kerry and other targeted Dems more vulnerable this November. The plan: they plan to "pull ... vulnerable Democrats into the cultural wars over gay rights, abortion and guns, envisioning a series of debates and votes that will highlight the candidates' positions on divisive issues" Of course, it will also put GOP incumbents on the spot if they represent swing districts. First up is gun control. Both Kerry and Edwards are flying to DC today -- on Super Tuesday -- to cast votes on at least six gun-related items. Both have said they plan to vote against granting liability protections for gun manufacturers. Some Democrats are trying to make the strategy backfire by forcing a tie vote on extending the assault weapons ban -- and forcing Dick Cheney to break the tie. The Bush Administration is quietly on record in favor of extending the ban, but would prefer to avoid the issue in order to not alienate staunch gun rights supporters.
Posted by Ron Gunzburger - 03.02.04 |
GAY MARRIAGE UPDATE. UPDATE #1: Georgia legislators on Monday put off a planned reconsideration of the proposed state constitutional amendment to ban gay marriage.

A new vote had been expected Monday -- and Christian Coalition and gay rights groups both lobbied legislators heavily in recent days -- but now it appears stalled for while. State House Speaker Terry Coleman (D) said that the bill will come up for a vote again "before the end of the session." The amendment needs 120 votes to advance to the ballot this November, but supporters fell three votes short in last week's vote. The 12 Democrats and one Republican who did not vote are at the center of the firestorm. Both sides believe the re-vote will be close, and that supporters will likely finish with anywhere from between 118 to 122 votes. UPDATE #2: Meanwhile, in a surprising move in California, Governor Arnold Schwarzenegger (R) made some unexpected comments on the issue. Last week Schwarzenegger urged the Attorney General to halt San Francisco's performance of gay marriages, saying that there was a law on the books banning same-sex marriage and it should be enforces. On Monday night, Schwarzenegger said on the Tonight Show that he is "fine" with gay

marriage, that he wouldn't have a problem if courts rule gay marriage is legal, that he would support placing a constitutional amendment on the state ballot to legalize gay marriage, and that he had "no use for a [federal] constitutional amendment" on the issue. "If the people change their minds and they want to overrule [the ban], that's fine with me. But right now, that's the law, and I think every Mayor and everyone should abide by the law," he explained. UPDATE #3: You can tell the proposed constitutitional gay marriage ban is in big trouble when even "Ten Commandments Judge" Roy Moore (R) -- the ousted Alabama Supreme Court Chief Justice -- has now announced his opposition to the amendment. "I don't think you can make a constitutional amendment for every moral problem created by courts that don't follow the law of their states ... I think it's a problem to establish morality by constitutional amendments made by men when the morality of our country is plainly illustrated -- in Supreme Court precedent and in state-law precedent and in the common law -- as coming from an acknowledgement of God," explained Moore in an interview yesterday with the NY newspaper Forward.
Posted by Ron Gunzburger - 03.02.04 |
NUMBERS, NUMBERS, NUMBERS. More new independent polls out Monday appear to show John Kerry is poised to knock rival John Edwards out of the race on tomorrow's ten Super Tuesday contests. In fact, the only person who appears even possibly within striking range of defeating Kerry anywhere is Howard Dean in the Vermont primary. Just check out these numbers and you'll see that Edwards is in big, big trouble. GEORGIA (WXIA-TV/SurveyUSA): Kerry-46%, Edwards-36%, Sharpton-9%. GEORGIA (Atlanta Journal-Constitution/Zogby): Kerry-46%, Edwards-27%, Sharpton-4%, Kucinich-1%. Zogby's analysis is that the Georgia undecideds are now breaking in favor of Kerry. CONNECTICUT (WABC-TV/SurveyUSA): Kerry-64%, Edwards-22%. Recent polls have also shown Kerry holding a commanding lead in California, Maryland, Rhode Island, Ohio, New York and Kerry's home state of Massachusetts. Unless these polls are all wildly off the mark, Edwards' jabs at Kerry in Sunday's debate seem to be a case of "too little, too late." In related news, Florida appears to be in play again for 2004. A new South Florida Sun-Sentinel/Research 2000 poll out Sunday shows President Bush leading Kerry there by a vote of 47% to 42% (with a 4% margin of error). Bush also leads Edwards in the same poll by a 49% to 41% vote. The same poll conducted several months ago had Bush holding a commanding lead in the state over any of his possible Democratic rivals.
Posted by Ron Gunzburger - 03.01.04 |
"WHATEVER HAPPENED TO ... ?" With Kerry on the brink of locking up the nomination -- and with President Bush having never seriously been threatened for renomination -- we figured it was time to update you on some of the more colorful unknowns seeking the Presidency.
Many of these folks have been profiled here in the past in our regular HE'S NEVER HEARD OF YOU, EITHER blog feature. The best performance thus far from this group goes to peace candidate Bill Wyatt (R) -- the guy, pictured at left, who is pioneering the free distribution of message t-shirts to promote his campaign -- as he secured ballot spots in New Hampshire (15th place - 153 votes), Missouri (2nd place - 1% - 1,269 votes) and Oklahoma (2nd place - 10% - 6,621 votes). Wyatt next faces off against Bush in Louisiana on March 9th. Businessman Blake Ashby made it onto the ballot in NH (12th place - 264 votes) and his home state of Missouri (3rd place - 981 votes). On the Democratic side, gadfly conspiracy candidate Randy Crow -- the guy who alleges that a secret federal force "had some weird blood work done on me or possibly put a computer chip in me" -- was on the ballot in NH (15th place - 60 votes). He is also on the ballot in Texas next week. GOP hopeful Bob Haines -- who was jailed on a violation of parole charge shortly before he appeared on the NH ballot (10th place - 579 votes) -- is reportedly behind bars again on other outstanding criminal matters in Pennsylvania. Vermin Supreme (D) only competed in the DC primary. As for the rest we profiled -- Millie Howard, Jim Taylor, Ed O'Donnell, Caroline Killeen, Tom "Billy Jack" Laughlin, Willie Carter, Katherine Bateman, and John Buchanan -- they all appear to have ended their runs after the New Hampshire primary.
Posted by Ron Gunzburger - 03.01.04 |

ROWLAND SCRUTINY INCREASES. In Connecticut, the bipartisan House Impeachment Committee has subpoenaed extensive financial records from embattled Governor John Rowland (R) and his wife. The couple have until Thursday to produce records for every cent spent or earned since he became Governor in 1995. That panel is investigation the corruption allegations that Rowland accepted unreported expensive gifts and favors from state contractors and state employees. Rowland now admits the allegations are true, but claims he should be allowed to remain in office because there was no return quid pro quo from him. Voters want Rowland -- who was just re-elected in 2002 -- to quit or be impeached. A recent Quinnipiac University poll showed that 84% of state residents believe Rowland is "dishonest and untrustworthy." The pollster said that these were the worst numbers ever recorded for anyone since they began polling over a decade ago. If Rowland leaves office, Lieutenant Governor Jodi Rell (R) would automatically become the new Governor.
Posted by Ron Gunzburger - 03.01.04 |
Return to
MAIN BLOG
PAGE
BLOG ARCHIVE:

March 1-14, 2004
February 15-29, 2004
February 1-14, 2004
January 17-31, 2004
January 1-16, 2004
December 16-31, 2003
December 1-15, 2003
November 17-30, 2003
November 1-16, 2003
October 29-31, 2003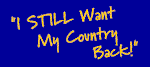 - Paid Advertisement -
---
OTHER WRITINGS:

Florida Presidential Recount (2000)

Defense Dept. JCOC Program (2001)

Storming La Fiesta (2003)

NHL All-Star Game (2003)
---
POLITICAL
BLOG ROLL:
KINDA NEUTRAL:
ABC News: The Note
CNN: Morning Grind
Political Wire
MSNBC: First Read
CJR: Campaign Desk
Political State Report
WatchBlog
Command Post
Real Clear Politics
WSJ: Best of the Web
OxBlog
PressThink
DEM/LEFT:
DNC: Kicking Ass
DCCC Blog
DailyKos
John Kerry
John Edwards
Howard Dean
Emerging Dem Majority
Amer Prospect: Tapped
Instapundit
Eric Alterman
ElectaBlog
TNR: &c
TNR: Campaign Journal
Blogging of the President
Joe Trippi
Swing State Project
Battlegrounds & Ballot Boxes
Josh Marshall
Wonkette
Karl Frisch (Carl with a K)
Matthew Yglesias
GOP/RIGHT:
RNC (GOP.com)
George W. Bush Blog
Bush Blog (Unofficial)
National Review: Corner
C-Log
Andrew Sullivan
John Ellis
Mickey Kaus
Virginia Postrel
Hugh Hewitt
Daniel Drezner
Daily Pundit
Bully Pulpit
World Mag Blog
Right Wing News
Volokh Conspiracy
Brothers Judd
Power Line