BLOG ARCHIVE: FEBRUARY 1-15, 2008.
THURSDAY NEWS UPDATE.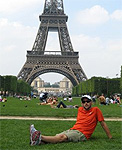 RON IS ON THE ROAD AGAIN ... SO NO NEW UPDATES FOR A FEW DAYS.
I'm heading back to Paris again on Thursday and won't be online for a day or so. The next update will either be this weekend ... or Monday (2/18) at the latest. Before you regular readers start complaining about the frequency of my trips overseas over the past eleven months, I have some good news for you (and bad for me): it will be my final trip to France for a while. Dana just completed his apprenticeship chef work in Paris and we're giving up the apartment in the 2nd Arrondisement at the end of the month. But, as I had enough frequent flyer miles to pay for this trip (and the last one), this was as good of a time as any to spend two more weeks in Paris. The weather there is sunny and pleasantly cool these days, so I'm even bringing my rollerblades. FYI: Check out my France phoro album on my Facebook page and you'll see why I love spending time there (plus, the food is great and the wines are amazing). So, until I get a new update posted, treat this as an open thread.
Posted by Ron Gunzburger - 02.14.08 | Permalink |
OBAMA, McCAIN SWEEP VIRGINIA, MARYLAND, DC PRIMARIES.
P2008 - DEM: Chalk up three more sweeping primary victories for Barack Obama. He rolled to massive landslide wins over Hillary Clinton Tuesday in the Virginia, Maryland and District of Columbia primaries. The results:


DISTRICT OF COLUMBIA: Obama - 76%, Clinton - 24%.


MARYLAND: Obama - 60%, Clinton - 37%.


VIRGINIA: Obama - 63%, Clinton - 36%.
The Virginia exit polling showed Obama widening his base of support. According to CNN, Obama again won younger voters, blacks and independents by very lopsided margins -- yet he also narrowly beat Clinton among seniors, women and blue collar voters. NBC's exit polling in Maryland showed Obama won a majority of the votes of blacks, white males, union households, Catholics, and voters in all age categories. New polls released Tuesday show Obama leading in next week's Wisconsin primary

by margins ranging from 4-11%.
P2008 - GOP: John McCain scored three primary wins Tuesday, but conservative insurgent Mike Huckabee was encouraged enough by his showing in Virginia that he is now moving forward to the Wisconsin primary. McCain is rapidly closing in on the delegate total needed to clinch the nomination, but it has not stopped conservatives from casting a significant number of anti-McCain protest votes in the ongoing contests. The results:


DISTRICT OF COLUMBIA: McCain - 67%, Huckabee - 17%, Paul - 8%.


MARYLAND: McCain - 56%, Huckabee - 29%, Paul - 6%.


VIRGINIA: McCain - 50%, Huckabee - 41%, Paul - 5%.
A new Strategic Vision-R poll of Wisconsin voters shows McCain leading Huckabee by a 45-27 margin. The Hill reports the name of former Congressman Rob Portman (R-OH) is already in play as a possible McCain runningmate. Portman, 52, previously served as US Trade Representative and later Budget Director under President George W. Bush. Portman did not deny interest in the VP spot, but said he was currently more focused running someday for Governor or US Senator in Ohio.
Posted by Ron Gunzburger - 02.13.08 | Permalink |
CONGRESSMEN GILCHREST, WYNN DEFEATED IN MARYLAND PRIMARY; GINGRICH WARNS CPAC THAT CONSERVATIVES FACE "CATASTROPHIC" ELECTION YEAR.
MARYLAND: In what could perhaps be an early warning for incumbents of things to come this year, two veteran Congressmen were ousted by voters in primaries. In CD-1, nine-term Congressman Wayne Gilchrest -- a Vietnam War veteran, Iraq War critic and GOP moderate -- was defeated by conservative State Senator Andy Harris (R). Harris, a physician and Navy veteran, was backed by the fiscal conservative Club for Growth group and former Governor Bob Ehrlich (R). Queen Anne County State's Attorney Frank Kratovil won the Democratic primary, but he is an underdog in the general election against Harris. The results: Harris - 44%, Gilchrest - 32%, State Senator EJ Pipkin - 21%, Others - 3%. In CD-4, eight-term Congressman Al Wynn (D) was trounced by progressive political activist and attorney Donna Edwards. The results: Edwards - 60%, Wynn - 35%, Others - 5%. Edwards -- who came within 3,000 votes of defeating Wynn in the 2006 primary -- was again backed by the anti-war MoveOn.org group. Edwards will face Ron Paul campaign activist Peter James (R) in November, but Edwards is a safe bet to win the solidly Dem seat. To view all of the primary winners, see our Maryland page.


GINGRICH: Former House Speaker Newt Gingrich (R-GA) spoke to the Conservative Political Action Conference on Tuesday, warning activists that the Republican Party faces "catastrophic" results in November unless the GOP quickly changes direction. "Every person who cares about the conservative movement and every person who cares about the Republican Party had better stop and say to themselves: 'There is something big happening in this country. We don't understand it. We're not responding to it. And we're currently not competitive. And if we want to get to be competitive, we had better change and we had better change now.' ... Let me make this very clear, I believe we have to change or expect defeat ... I would rather have a President McCain that we fight with 20% of the time, than a President Clinton or a President Obama that we fight with 90% of the time ... [but] if we run a traditional consultant-dominated tactical Republican campaign, like we've seen in the last eight years, we will be defeated this fall," said Gingrich.
Posted by Ron Gunzburger - 02.13.08 | Permalink |
OBAMA, McCAIN LOOK STRONG FOR POTOMAC PRIMARY DAY (MD, DC, VA).
P2008 - DEM: Voters go to the polls in

Presidential primaries on Tuesday in Maryland, Virginia and the District of Columbia. Independent polls seem to uniformly predict Barack Obama will defeat Hillary Clinton by wide margins in all three contests. Likewise, from widespread media reports, Clinton plans to make her next "firewall" stand against Obama in Texas and Ohio on March 4 -- although Clinton is reportedly making an effort to keep Wisconsin competitive on February 19. The problem for Clinton, however, is her campaign seemingly concedes Obama will outraise Clinton by a good margin again this month. The Clinton firewall strategy: she requires wins in Ohio, Texas, and Pennsylvania (April 22). The Clinton team fears an Obama win in any one of those three states would place the nomination out of range for her. Meanwhile, the New York Times is reporting a new story on Obama's past drug use -- reporting Obama's youthful drug use claims were possibly exaggerated in his autobiography, as his actual experiences may be significantly less than he wrote.
P2008 - GOP: Although Mike Huckabee is hoping for at least one more upset on Tuesday -- in any of the three Potomac contests -- polls show John McCain should win the three contests. In an added boost for McCain, former Florida Governor Jeb Bush and 2000 Presidential hopeful Gary Bauer both endorsed McCain on Monday. While Bush did not openly support any candidate to date in the primaries, behind the scenes in Florida nearly all key players in his organization were involved in the failed Mitt Romney effort.
Posted by Ron Gunzburger - 02.12.08 | Permalink |
CONGRESSMEN GILCHREST, WYNN IN TOUGH PRIMARIES; CONGRESSMAN SHADEGG RETIRES; NH US SENATE POLL; CONGRESSMAN LANTOS DIES.
MARYLAND: While there are crowded Congressional primaries throughout the state, only two are worth noting. In CD-1, centrist Congressman Wayne

Gilchrest (R) -- a folksy Vietnam War veteran and Iraq War critic -- is facing an aggressive primary challenge from the right. Conservative State Senators Andy Harris and E.J. Pipkin are the leading challengers, although two others are also running. Harris, a physician and Navy veteran, is backed by the Club for Growth and former Governor Bob Ehrlich. Pipkin, a wealthy businessman, was the GOP nominee for US Senate in 2004. As Harris and Pipkin appear to be dividing the same conservative base, the split should allow Gilchrest to win renomination. The NRCC has been assisting Gilchrest, fearing a more conservative GOP nominee would be unelectable in November in this swing district. In CD-4, Congressman Al Wynn (D) is facing a high competitive rematch from progressive attorney Donna Edwards. Edwards, who is again backed by MoveOn.org, nearly ousted Wynn in an upset two years ago. Four other Dems are also running. Wynn is, at best, a marginal favorite over Edwards in a race most view as too close to call. One aside: anti-war Ron Paul campaign activists are running in GOP congressional primaries in five of the state's eight districts. Click here to view our list of Maryland candidates.
ARIZONA: In a surprise move, seven-term Congressman John Shadegg (R) on Monday became the 29th GOP House member to announce his retirement this year. He cited frustrations with trying to advance a conservative agenda in a Democratic-controlled House as a major reason for his retirement. "There are better places for me to fight that fight," said Shadegg. A vocal fiscal conservative, he finished third in the open contest for House Majority Leader in 2006. CQ reports Shadegg is giving up his seat now because he believes it is a good year -- with Arizonan John McCain at the head of the GOP ticket -- for Republicans to hold the open seat. CQ reports Shadegg is very interested in running for McCain's Senate seat if he either is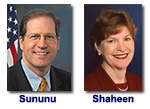 elected President or retires in 2010. Although attorney Bob Lord (D) had raised over $600,000 in 2007 for the race, the district still skews heavily Republican. Shadegg Chief of Staff Sean Noble (R) is a likely candidate for the seat. Race rating: GOP Favored.
NEW HAMPSHIRE: A new UNH poll shows former Governor Jeanne Shaheen (D) leading US Senator John Sununu (R) by a vote of 54% to 37%.
CALIFORNIA: US House Foreign Relations Committee Chairman Tom Lantos (D-CA) died of cancer on Monday. He was 80 years old. Lantos announced his retirement plans just a month ago, citing ill health. A Jewish immigrant from Hungary, Lantos was the only Nazi Holocaust survivor to ever serve in Congress.
Posted by Ron Gunzburger - 02.12.08 | Permalink |
OBAMA WINS LA, NE, WA AND ME ... AND A GRAMMY; HUCKABEE WINS LA, KS, McCAIN WINS WA; RON PAUL KINDA QUITS PREZ RACE; MS US SENATE UPDATE.
P2008 - DEM: Barack Obama handily defeated
Hillary Clinton in all the contests this weekend in Louisiana, Nebraska, Washington and Maine. The net result: Obama is now virtually tied with -- or even ahead of -- Clinton in delegates nationally by all network counts (and this includes all of the pledged super-delegates to date). The weekend results:


LOUISIANA: Obama - 57%, Clinton - 36%.


NEBRASKA: Obama - 68%, Clinton - 32%.


WASHINGTON: Obama - 68%, Clinton - 31%.


MAINE: Obama - 59%, Clinton - 41%.
On top of enjoying a winning weekend for elections, Obama also won the Grammy Award for "Best Spoken Word Album" for his audio recording of his book The Audacity Of Hope. Obama was competing against former President Bill Clinton in that same category. In the aftermath of the recent election results, Clinton ousted campaign manager Patti Solis Doyle. Her new campaign manager is Maggie Williams, who served as Clinton's chief of staff when during her years as First Lady. In other news, John Edwards met Thursday with Clinton and will meet Monday with Obama. He's speaking with both before purportedly making a decision on publicly endorsing one of his two former Dem rivals.
P2008 - GOP: Maybe it was buyers' remorse over putative nominee John McCain. Whatever the cause, underdog Mike Huckabee scored upset wins this weekend in Louisiana and Kansas, and nearly toppled McCain in Washington. The results:


KANSAS: Huckabee - 60%, McCain - 24%, Paul - 11%.


LOUISIANA: Huckabee - 43%, McCain - 42%, Paul - 5%.


WASHINGTON: McCain - 26%, Huckabee - 24%, Paul - 21%.
Huckabee is contesting the Washington outcome -- and threatening legal action -- claiming there were "obvious irregularities" in the vote. Huckabee joked over the weekend he studied "miracles" in college -- not math -- and said he would remain in the race until McCain formally collects enough delegates to secure the nomination. He said his campaign is about giving voters "a choice." The McCain camp is remaining respectful towards Huckabee, as they don't see him as a serious rival for the nomination. The Huckabee wins Saturday -- and more possible upsets on Tuesday -- are merely viewed as minor bumps on the road to McCain's nomination. President Bush, meanwhile, came to McCain's defense against recent attacks by some prominent conservatives, telling reporters he thought McCain was "a true conservative."
RON PAUL: Describing it a retooling of his political objectives, libertarian

Congressman Ron Paul (R-TX) more or less quit the Presidential race on Friday in an email to supporters. While Paul says he will continue to "fight on" for President as an official candidate in all upcoming primaries and caucuses, he acknowledged having "nearly zero" chance of winning the Presidential nomination. Further, he announced significant reduction of the size of his national campaign staff -- moving most of his remaining campaign staffers to his Congressional district so as to concentrate on his renomination fight on March 4. "I have constituents in my home district that I must serve. I cannot and will not let them down. And I have another battle I must face here as well. If I were to lose the primary for my congressional seat, all our opponents would react with glee, and pretend it was a rejection of our ideas. I cannot and will not let that happen," wrote Paul. Who are the potentially gleeful opponents? Paul said it was "the neocons, the warmongers, the socialists, [and] the advocates of inflation." Friendswood City Councilman Chris Peden (R) -- a social conservative and supporter of the Iraq War -- is Paul's opponent in the GOP congressional primay. Finally, Paul made it clear he will not be a third party Presidential candidate in November: "I am committed to fighting for our ideas within the Republican party, so there will be no third party run. I do not denigrate third parties -- just the opposite, and I have long worked to remove the ballot-access restrictions on them. But I am a Republican, and I will remain a Republican."
MISSISSIPPI: The Mississippi Supreme Court last week overturned a lower court order requiring the US Senate special election to be held in March 2008. Instead, the Court ruled in favor of Governor Haley Barbour's interpretation that the special election can be held in November. Barbour already appointed Congressman Roger Wicker (R) to serve as the interim US Senator. Former Governor Ronnie Musgrove (D) and former Congressman Ronnie Shows (D) are announced candidates against Wicker.
Posted by Ron Gunzburger - 02.11.08 | Permalink |
FREE SPEECH ZONE.
The daily open thread.
Posted by Ron Gunzburger - 02.11.08 | Permalink |
FIVE PRESIDENTIAL CONTESTS SET FOR THIS WEEKEND .
There are four Presidential contests on Saturday: Kansas GOP caucuses, Louisiana primary, Nebraska DEM caucuses, and Washington State caucuses. Obama is favored to win all three Dem contests. The Kansas contest could be the most interesting of the day, as the Kansas Republican Party has been sharply split for many years between the Evangelical conservative wing and the moderate wing. The Maine Dem Presidential caucuses are on Sunday.
Posted by Ron Gunzburger - 02.09.08 | Permalink |
ROMNEY QUITS; CONGRESSWOMAN HOOLEY RETIRES; CLINTON'S CASH VS. OBAMA'S CASH.
P2008 - GOP: Former Massacusetts Governor Mitt Romney (R) used his speech at the Conservative Political Action Committee (CPAC) conference in DC on Thursday to unexpectedly quit the Presidential race.

While rumors of a possible withdrawal had been floating since Tuesday night, the CPAC audience was clearly surprised and dismayed by the announcement. Without making any endorsement of McCain, Romney still made it clear he was stepping aside in favor of McCain. "If this were only about me, I'd go on. But it's never been only about me. I entered this race because I love America, and because I love America, in this time of war I feel I have to now stand aside for our party and for our country ... I disagree with Senator McCain on a number of issues, but I agree with him on doing whatever it takes to be successful in Iraq, on finding and executing Osama bin Laden, and I agree with him on eliminating al Qaeda and terror worldwide," said Romney. Reacting to the news, Mike Huckabee quickly positioned himself as the lone conservative alternative to McCain for the nomination: "I know that a lot of the establishment, Washington-type folks are going to be going with Senator McCain ... but the people of this country need a choice. And right now, I am going to be their choice." McCain, meanwhile, praised Romney as a loyal Republican and vanquished rival who had put up a tough fight. Romney reportedly spent more than $40 million of his own money on the campaign, won the GOP contests in Alaska, Colorado, Maine, Massachusetts, Michigan, Minnesota, Montana, Nevada, North Dakota, Utah and Wyoming, and won 269 delegates. He reportedly is already thinking of running again for President in 2012.
OREGON: Six-term Congresswoman Darlene Hooley (D) -- one of the most liberal House members -- unexpectedly announced Thursday she will retire this year. Hooley, 68, has served in various public office for 32 years. "At some point in everybody's life you have to decide, how much longer do I want to do this? It's time to move on," she said. Hooley said the current political climate -- with the Democrats riding high in the polls this year -- influenced her timing. Her CD-5 seat is a swing district, so she decided to retire now because "I think it will be easier to elect a Democrat this year, and I don't know about [what the political climate will be like in] two years," she told the Portland Oregonian. Hooley won re-election by a 54-43 vote in 2006. Candidate filing closes March 11, and both major parties are likely to see hotly contested primaries. Race rating: Toss-Up.
P2008 - DEMS: Good news for Hillary Clinton's staffers who, just yesterday, had agreed to keep working this month without being paid because of campaign financial concerns. In the wake of that news, Clinton's campaign raised over $7.5 million during the past eight days -- including $3 million collected online over the past 24 hours. The news means the Clinton staff will all be paid this month. By contrast, Barack Obama's campaign announced it had raised more than $7.5 million online in just the past 36 hours.
UPCOMING EVENTS. There are four Presidential contests set for Saturday: Kansas GOP caucuses, Louisiana primary, Nebraska DEM caucuses, and Washington State caucuses. Obama is favored to win all three Dem contests. The Kansas contest could be the most interesting of the day, as the Kansas Republican Party has been sharply split for many years between the Evangelical conservative wing and the moderate wing.
Posted by Ron Gunzburger - 02.08.08 | Permalink |
FREE SPEECH ZONE.
The daily open thread.
Posted by Ron Gunzburger - 02.08.08 | Permalink |
CLINTON CAMPAIGN BROKE, STAFF NOT BEING PAID; DNC CHAIR DEAN SAYS OBAMA, CLINTON MAY NEED TO "MAKE SOME KIND OF ARRANGEMENT."
P2008 - DEMS: The final results for Super Tuesday: Hillary Clinton - 7.35 million votes versus Barack Obama - 7.3 million votes ... Obama - 13 states, Clinton - 8 states, Undecided - 1 (New Mexico) ...

and it appears Obama won 4 delegates more than did Clinton this week. Even including all super-delegates, it appears the two are now separated by less than 100 delegates. The stunning news of the day, however, was that revelation that Clinton's campaign is nearly broke. Clinton lent her campaign $5 million from her own pocket in the final week of January to keep her campaign on TV in the final days leading up to the Tuesday vote. Clinton confirmed the report at a press conference, explaining that Obama had outraised Clinton 3-to-1 in January and that the campaign needed the cash to stay competitive. "I loaned the campaign $5 million from my money ... [because] my opponent was able to raise more money and we intended to be competitive, and we were," said Clinton. MSNBC and Time magazine later reported that campaign manager Patti Solis Doyle and other top Clinton staffers have agreed to work without pay this month due to the campaign's dire financial problems. By contrast, The Politico reports Obama is on track to raise at least $30 million in February. In related news, DNC Chair Howard Dean told NY1 that a convention fight between Clinton and Obama is "not a good scenario ... I think we will have a nominee sometime in the middle of March or April. But if we don't, then we're going to have to get the candidates together and make some kind of an arrangement because I don't think we can afford to have a brokered convention."
Posted by Ron Gunzburger - 02.07.08 | Permalink |
McCAIN IS NEAR LOCK FOR NOMINATION; ROMNEY WEIGHS WITHDRAWAL.
John

McCain is well poised now to capture the GOP nomination, as it is simply approaching near mathematical impossibility for either Mike Huckabee or Mitt Romney to capture enough delegates to win the nomination. With their delegates combined -- something that is not going to happen because of the strong feelings disdain between the two men -- a single conservative could have an outside shot at the nomination. But, so long as both remain in the contest, they continue to split the same social conservative base. Thus, McCain may become the first candidate to win the GOP nomination in nearly three decades who was not the candidate favored by the large block of movement conservatives. The Hill reports Romney met on Wednesday in DC with his Congressional supporters, telling them he planned to stay in the race until the convention. CNN reported that Romney is set to meet with his senior staff "to discuss the future of the campaign." When asked, Romney spokesman Kevin Madden said he would neither confirm nor deny the rumors. As for Congressman Ron Paul, he says he plans to keep running regardless of his low vote totals and delegate numbers. "If I dropped out, my supporters wouldn't be happy," said Paul.
Posted by Ron Gunzburger - 02.07.08 | Permalink |
ILLINOIS CONGRESSIONAL PRIMARY RESULTS.
In the CD-14

special election primary to replace resigned former House Speaker Denny Hastert (R), wealthy dairy company owner Jim Oberweis defeated State Senator Chris Lauzen by a 56-44 vote to win the GOP nomination. Hastert had endorsed Oberweis for the nomination. Scientist Bill Foster narrowly won the Dem nomination. Oberweis is heavily favored to defeat Foster in the March 8 special election. No major surprises in the other Illinois contests on Tuesday. Physician Steve Sauerberg won the GOP nomination to face US Senator Dick Durbin (D) in November. In CD-3, centrist Congressman Dan Lipiniski won a surprisingly easy win over liberal School Board Member Mark Pera by a 54-25 vote, with two others dividing the remainder. In the open CD-11 race, New Lenox Mayor Tim Baldermann romped to a landslide victory in the GOP primary. State Senate Majority Leader Debbie Halvorson is unopposed for the Dem nomination. In the open CD-18 race to replace the retiring Congressman Ray LaHood (R), State Representative Aaron Schock won the GOP primary with 71% against two opponents. Click here to see all of the Illinois congressional nominees.
Posted by Ron Gunzburger - 02.07.08 | Permalink |
FREE SPEECH ZONE: KILL THE SUPER-DELEGATES (CONCEPTUALLY, OF COURSE)!
AN EDITORIAL. Let's hope 2008 is the last election cycle in which we have super-delegates. They were created in the aftermath of the 1972 race by DNC leaders seeking a mechanism to maintain control of the party and ensure that movement liberals -- i.e., the voters -- could never again bring about another "McGovern-type" nominee. In related news, Howard Dean is completely wrong in calling for a backroom deal to be cut in March or April to short-circuit the remainder of the primary process. Why don't we let the primary process continue and see if someone can actually win the nomination without heavy-handed meddling from the DNC leadership? And -- Howard -- perhaps if you and the DNC hadn't sought to disenfranchise Michigan and Florida with your heavy-handed tactics, you wouldn't be in this mess today. The point of this rant: It's time to truly give the Democratic voters -- not the bosses and super-delegates -- full control of the nomination process.
Posted by Ron Gunzburger - 02.07.08 | Permalink |
Consider today's posting a nearly comment and analysis-free day -- except for what you guys provide in the threads -- as the results largely speak for themselves. Both parties have nomination contests that are going to continue for at least the next few weeks, and possibly all the way to the national conventions this summer. Bottom line: Super Tuesday did almost noting towards clarifying the races.
SUPER TUESDAY DEM STATE SCORECARD: OBAMA - 14, CLINTON - 8.
ALABAMA: Obama - 56%, Clinton - 42%.
ALASKA: Obama - 68%, Clinton - 32%.
ARIZONA: Clinton - 51%, Obama - 40%.
ARKANSAS: Clinton - 72%, Clinton - 24%.
CALIFORNIA: Clinton - 52%, Obama - 42%.
COLORADO: Obama - 64%, Clinton - 35%.
CONNECTICUT: Obama - 51%, Clinton - 47%.
DELAWARE: Obama - 53%, Clinton - 42%.
GEORGIA: Obama - 63%, Clinton - 34%.
IDAHO: Obama - 75%, Clinton - 23%.
ILLINOIS: Obama - 65%, Clinton - 33%.
KANSAS: Obama - 73%, Clinton - 27%.
MASSACHUSETTS: Clinton - 57%, Obama - 40%.
MINNESOTA: Obama - 67%, Clinton - 32%.
MISSOURI: Obama - 49%, Clinton - 48%.
NEW JERSEY: Clinton - 54%, Obama - 44%.
NEW MEXICO: Obama - 49%, Clinton - 48%.
NEW YORK: Clinton - 57%, Obama - 40%.
NORTH DAKOTA: Obama - 61%, Clinton - 37%.
OKLAHOMA: Clinton - 55%, Obama - 31%.
TENNESSEE: Clinton - 56%, Obama - 38%.
UTAH: Obama - 45%, Clinton - 44%.
Posted by Ron Gunzburger - 02.06.08 | Permalink |
SUPER TUESDAY GOP STATE SCORECARD: McCAIN - 9, ROMNEY - 7, HUCKABEE - 5.
ALABAMA: Huckabee - 41%, McCain - 38%, Romney - 18%, Paul - 3%.
ALASKA: - Romney - 44%, Huckabee - 22%, Paul - 17%, McCain - 15%.
ARIZONA: McCain - 48%, Romney - 34%, Huckabee - 9%, Paul - 4%.
ARKANSAS: Huckabee - 61%, McCain - 20%, Romney - 13%, Paul - 5%.
CALIFORNIA: - McCain - 42%, Romney -34%, Huckabee - 12%, Paul - 5%.
COLORADO: Romney - 55%, McCain - 21%, Huckabee - 15%, Paul - 9%.
CONNECTICUT: McCain - 52%, Romney - 33%, Huckabee - 7%, Paul - 4%.
DELAWARE: McCain - 45%, Romney - 33%, Huckabee - 15%, Paul - 4%.
GEORGIA: Huckabee - 34%, McCain - 32%, Romney - 30%, Paul - 3%.
ILLINOIS: McCain - 48%, Romney - 28%, Huckabee - 17%, Paul - 5%.
MASSACHUSETTS: Romney - 51%, McCain - 41%, Huckabee - 4%, Paul - 3%.
MINNESOTA: Romney - 41%, McCain - 22%, Huckabee - 20%, Paul - 16%.
MISSOURI: McCain - 33%, Huckabee - 32%, Romney - 29%, Paul - 4%.
MONTANA: Romney - 38%, Paul - 25%, McCain - 22%, Huckabee - 15%.
NEW JERSEY: McCain - 56%, Romney - 28%, Huckabee - 8%, Paul - 5%.
NEW YORK: McCain - 51%, Romney 28%, Huckabee - 11%, Paul - 7%.
NORTH DAKOTA: Romney - 36%, McCain - 23%, Paul - 21%, Huckabee - 19%.
OKLAHOMA: McCain - 37%, Huckabee - 33%, Romney - 25%, Paul - 3%.
TENNESSEE: Huckabee - 34%, McCain - 32%, Romney - 24%, Paul - 6%.
UTAH: Romney - 87%, McCain - 6%, Paul - 3%, Huckabee - 2%.
WEST VIRGINIA: Huckabee - 52%, Romney - 47%. (Note: McCain's campaign threw all of their caucus votes to Huckabee after Romney placed first with a plurality on the first ballot).
Posted by Ron Gunzburger - 02.06.08 | Permalink |
FREE SPEECH ZONE.
Your space to discuss everything non-Presidential today.
Posted by Ron Gunzburger - 02.06.08 | Permalink |
CLINTON, OBAMA AND McCAIN LOOK STRONG FOR SUPER-DUPER TUESDAY; AND ROGER STONE'S 527 TURNS AGAINST COULTER.
P2008 - DEMS: Hillary Clinton ... or Barack Obama ... is leading nationally, as of Monday, depending upon which pollsters you trust. Gallup places Clinton ahead by a 47-43 vote. CNN/Opinion
Research says Obama now holds a 49-46 lead. Cook Political Report/RT Strategies poll places Obama ahead 43-37. From my report yesterday, move Utah into the Obama column. Two new polls show Obama holding a double-digit lead over Clinton in Utah. As for the big prize -- California -- Clinton is fortunate that so many cast early ballots. Now, even if Obama wins the votes cast on primary day, the early ballots cast while Clinton held a solid lead should be enough to give her an overall victory in the state. Between 2.5 and 3.5 million Californians -- or all parties -- will have cast early votes by the time all the early and mailed ballots are tallied. At the end of the day, look for Clinton and Obama to largely split the day's delegates -- with Clinton likely ending up maybe 100-150 delegates ahead overall for the day. The results should guarantee the Dem race continues for at least another 5-6 weeks. Clinton Communications Director Howard Wolfson told the Wall Street Journal the Dem race was certain to continue with no clear winner until the Ohio and Texas primaries on March 4 or beyond. Also, FYI, some prominent Edwards endorsers who switched to Obama in recent days include Congressmen G.K. Butterfield (D-NC), Jim Oberstar (D-MN) and Raul Grijalva (D-AZ). Clinton also picked up several Edwards folks including former Lt. Governor Joe Maxwell (D-MO) and senior state legislators and DNC members from several Super Tuesday states. In related news, Clinton Campaign National Chairman Terry McAuliffe -- in an interview on Monday with NY1 -- said that Obama would certainly be on the VP short-list for a Clinton ticket. McAuliffe said Clinton "needs to make sure the next, whoever the next Vice President is, could take over if anything happened to her ... Sure it would [be a good idea to have Obama as the runningmate]. Absolutely. How could you deny consideration of someone who has excited so many people," said McAuliffe.
P2008 - GOP: CNN/Opinion Research gives
John McCain a 44-29 lead over Mitt Romney (with Huckabee third with 18%). Cook Political Report/RT Strategies places McCain first over Romney by a 39-24 vote. Gallup says McCain leads Romney by a 45-25 vote. In fact, California, Massachusetts and Utah appear to be the only states on Tuesday were Romney has a reasonable shot to win -- with Utah being a safe Romney victory. Huckabee should score a win in his homestate of Arkansas, and may place second ahead of Romney in Missouri. "Where does Romney go after Tuesday? I don't see anywhere for him to go after Tuesday. Name me one state after Tuesday where Romney can win a primary. His campaign is dead after Tuesday, even if he keeps running, because Huckabee keeps splitting the social conservative vote. Huckabee is running a very smart campaign for a Cabinet seat," one McCain advisor told Politics1. Also on Monday, former New York Governor George Pataki (R) -- a one-time 2008 GOP Presidential hopeful -- endorsed McCain.
STONE'S 527: The intentionally offensive and overtly sexist 527-group started last month by as a joke by Nixonite dirty trickster Roger Stone -- Citizens United, Not Timid -- now has something in common with liberal Dems: they despise conservative pundit Ann Coulter. Just days after Coulter announced she would vote for Clinton in November over McCain because Clinton is "more conservative" than McCain, the 527 is already re-tooling itself into an anti-Coulter group. Group chairman (and DJ/bartender) James "Noodles" Jones said Coulter was "is madwhack ... Our organization was set up to deal with people like this." He said the group plans to start selling new $25 t-shirts saying they now stand for the educating "the American public about what Ann Coulter really is." Stone's former political consulting partner, Charlie Black, serves as senior advisor to the McCain campaign.
Posted by Ron Gunzburger - 02.05.08 | Permalink |
FREE SPEECH ZONE.
I think Hillary Clinton would make a great VP runningmate for Barack Obama (or, vice versa ... sigh ... if needed). But, while I think he'd accept the VP spot on her ticket, I don't think she'd accept the VP on an Obama ticket.
Posted by Ron Gunzburger - 02.05.08 | Permalink |
ROMNEY WINS MAINE CAUCUSES; NATIONAL POLLS SHOW CLINTON-OBAMA NEARLY TIED, McCAIN HAS BIG LEAD ON GOP SIDE.
MAINE: Mitt Romney scored a big victory in the Maine GOP Caucuses this weekend. While there were some precincts still uncounted, with most of the votes counted the outcome was clear: Romney - 52%, John McCain - 21%, Ron Paul - 19%, and Mike Huckabee - 6%. Romney also won all 18 delegates up for grabs. The dismal McCain outcome was an embarrassment for US Senators Susan Collins and Olympia Snowe, who served as McCain's state co-chairs. Romney said the Maine vote signalled conservative unease with McCain -- likely referencing the frequent anti-McCain attacks by Rush Limbaugh, Ann Coulter, Pat Buchanan and others. Coulter went so far as to say Thursday that she would vote for Hillary Clinton over John
McCain in a general election. "She's more conservative than he is," quipped Coulter to Fox News. When asked over the weekend about Coulter's comments, Romney said he welcomed Coulter's support but added: "I intend to support our nominee, whether it's Senator McCain or whether it's me."
P2008 - GOP: The Gallup national tracking poll -- a good general indicator of GOP sentiments heading into the 15 GOP primaries and 6 GOP caucuses -- shows John McCain continuing to hold a solid lead over his rivals. The poll uses a three-day rolling average. The Sunday numbers: McCain - 43%, Romney - 24%, Huckabee - 18%. Trends: McCain is up 11-points overall since winning the Florida primary last Tuesday, while Romney is up 3-points and Huckabee is unchanged since then. The new Washington Post/ABC News poll confirms this snapshot: McCain - 48%, Romney - 24%, Huckabee - 16%. In individual state polls, McCain holds solid leads everywhere except California (where McCain holds a much more modest lead over Romney). Related news: US Senators Johnny Isakson (R) and Saxby Chambliss (R) of Georgia both endorsed McCain on Saturday, as did US Senator Norm Coleman (R-MN), former US Senate Majority Whip Don Nickles (R-OK), former Governor Pete Wilson (R-CA) and former two-time Presidential candidate Steve Forbes.
P2008 - DEM: The Gallup national tracking poll -- heading into the 16 Democratic primaries and 7 Dem caucuses -- places Hillary Clinton and Barack Obama into a near statistical tie. The numbers: Clinton - 46%, Obama - 44%. Trends: Both candidates are up since the South Carolina and Florida primaries --
Clinton is up two points over the past week, while Obama is up 11-points. Now, here is where it gets strange: as Gallup uses a three-day rolling average, Friday showed Clinton leading 44-41, then Saturday showed her ahead 48-41, and now they are back within two. Using the three-day methodology implies there was a huge upswing for Clinton two days ago, then an equally big (or slightly bigger) upswing for Obama yesterday. As with the GOP race, the latest Washington Post/ABC News poll also confirms the closeness: Clinton - 47%, Obama - 43%. Interestingly, the Post/ABC poll shows McCain would defeat Clinton nationwide in the general election by a 49-46 vote -- but that Obama beats McCain 49-46. Both Clinton and Obama hold double-digit leads in match-ups against Romney. The new CBS News/New York Times poll released Sunday shows Clinton and Obama now tied with 41% apiece. The CBS/NYT analysis shows Obama made his gains by nearly evenly splitting the white male vote with Clinton and making an 11-point gain among females. Clinton still holds a 7-point advantage with female Democrats. Independent polling is also available for various February 5 contests. Clinton holds leads outside the margin of error in Arkansas, Massachusetts, New York, Oklahoma, Tennessee and Utah. Obama holds similar leads in Georgia and Illinois. The rest fall into the category of tossups. In other news, Clinton and Obama are both on the air with Kennedy family endorsement spots. Clinton's ad features Robert F. Kennedy Jr. (and Cesar Chavez' son) and Obama's ad features Caroline Kennedy. RFK widow Ethel Kennedy and California First Lady Maria Shriver endorsed Obama during the weekend. Former NARAL Pro-Choice America President Kate Michelman -- who had been a John Edwards supporter -- also endorsed Obama over the weekend. Congressmen Solomon Ortiz (D-TX) and Gene Green (D-TX) -- former Bill Richardson supporters -- endorsed Clinton on Saturday.
Posted by Ron Gunzburger - 02.04.08 | Permalink |
FREE SPEECH ZONE.
Super Bowl reactions, anyone?
Posted by Ron Gunzburger - 02.04.08 | Permalink |
DEM RACE TIGHTENS; LOUISIANA SPECIAL FILING CLOSES; IL PRIMARY PREVIEW; KY PRIMARY TURMOIL.
P2008 - DEMS: The Gallup daily national tracking poll on Friday shows the Hillary Clinton-Barack Obama race further tightening. The numbers: Clinton - 44%, Obama - 41%. The 3-point margin is the closest the two have been since the start of the race. The poll uses a three-day rolling average, and these results include two days of post-John Edwards withdrawal numbers. Speaking of Edwards, CNN reported he will not make any endorsement before the February 5 primaries. In other news, the liberal MoveOn.org group endorsed Obama on Friday, after members voted 70-30 for Obama over Clinton in the group's "online primary" this week.
LOUISIANA: Filing closed this week for the Congressional special elections in CD-1 and CD-6. In the CD-1 race to fill the seat formerly held by Governor Bobby Jindal (R), four Republicans, two Democrats and two Independents filed to run. The CD-1 seat skews solidly Republican, so the winner of the March 8 GOP primary will be the next Congressman. The leading candidates for the seat are State Senator Steve Scalise (R), State Representative Tim Burns (R) and Slidell Mayor Ben Morris (R). The CD-6 seat is open due to the resignation of Congressman Richard Baker (R), who quit to become a DC lobbyist. The GOP is also favored to win CD-6, but the Dems have at least a slim chance here. The frontrunners in CD-6 are former State Representative Woody Jenkins (R), former Baker Chief of Staff Paul Sawyer (R), former State Recovery Authority Director Andy Kopplin (D), and State Representatives Don Cazayoux (D) and Michael Jackson (D).
ILLINOIS: In addition to the Presidential primary on Tuesday, voters will also select Congressional nominees. Three minor GOP candidates are competing for the right to lose in November to US Senate Majority Whip Dick Durbin (D). In CD-3, Congressman Dan Lipinski (D) is facing an aggressive primary challenge from Lyons School Board Member Mark Pera and two others. Lipinski is a more conservative Blue Dog Democrat, while Pera is fairly liberal. Pera claims the other two Dems in the race are Lipinski plants inserted into the contest to split the anti-incumbent vote. In CD-8, wealthy businessman Steve Greenberg is expected win the GOP nomination in the race against Congresswoman Melissa Bean (D). In CD-10, two aggressive Dems are competing to face vulnerable Congressman Mark Kirk (R) in the general election. In the open CD-11 race, New Lenox Mayor Tim Baldermann is expected to win the GOP nomination. State Senate Majority Leader Debbie Halvorson is unopposed for the Dem nomination. In CD-14, voters are casting ballots in both the special election primary to fill the vacancy left by the resignation of former House Speaker Denny Hastert (R) -- and in the regular primary for the full-term. The same candidates are competing in both contests. Wealthy businessman Jim Oberweis and State Senator Chris Lauzen are the GOP frontrunners. Hastert has endorsed Oberweis. Four Dems are also running. In the open CD-18 race to replace the retiring Congressman Ray LaHood (R), State Representative Aaron Schock is the favorite to win the GOP nomination and capture the seat in November.
KENTUCKY: Former pro football player and anti-tax activist Chris Thieneman quit the GOP primary race for Congress in CD-3 after it became clear to him that state and federal GOP leaders were strongly supporting former Congresswoman Anne Northup in the primary. An angry Thieneman announced Friday he was quitting the race, switching his registration to Democrat, and endorsing Congressman John Yarmuth (D) for re-election. According to the Louisville Courier-Journal, Jefferson County GOP Chairman Jack Richardson called Thieneman's withdrawal a "public meltdown" and added "he's [the Democrats'] problem now." US Senator Mitch McConnell (R) also denied Thieneman's allegations.
Posted by Ron Gunzburger - 02.02.08 | Permalink |
CLINTON-OBAMA DEBATE.
I felt like spending Thursday evening watching the Hillary Clinton-Barack Obama debate ... so I'll let you guys run with the ball today.
Posted by Ron Gunzburger - 02.01.08 | Permalink |
JOIN THE POLITICS1
FACEBOOK GROUP:



BLOG ARCHIVE:

February 1-15, 2008
January 16-31, 2008
January 1-15, 2008
December 16-31, 2007
December 1-15, 2007
November 16-30, 2007
November 1-15, 2007
October 16-31, 2007
October 1-15, 2007
September 1-30, 2007
August 16-31, 2007
August 1-15, 2007
July 1-31, 2007
June 1-30, 2007
May 16-31, 2007
May 1-15, 2007
April 16-30, 2007
April 1-15, 2007
March 16-31, 2007
March 1-15, 2007
February 16-28, 2007
February 1-15, 2007
January 16-31, 2007
January 1-15, 2007
December 16-31, 2006
December 1-15, 2006
November 16-30, 2006
November 1-15, 2006
October 16-31, 2006
October 1-15, 2006
September 16-30, 2006
September 1-15, 2006
August 16-31, 2006
August 1-15, 2006
July 16-31, 2006
July 1-15, 2006
June 16-30, 2006
June 1-15, 2006
May 15-31, 2006
May 1-15, 2006
April 16-30, 2006
April 1-15, 2006
March 16-31, 2006
March 1-15, 2006
February 17-28, 2006
February 1-16, 2006
January 16-31, 2006
January 1-15, 2006
December 2005
November 2005
October 2005
September 2005
August 2005
July 2005
June 2005
May 2005
April 2005
March 2005
Jan-Feb 2005
December 2004
November 16-30, 2004
November 1-15, 2004
October 16-31, 2004
October 1-15, 2004
September 16-30, 2004
September 1-15, 2004
August 16-31, 2004
August 1-15, 2004
July 16-31, 2004
July 1-15, 2004
June 16-30, 2004
June 1-15, 2004
May 16-31, 2004
May 1-15, 2004
April 16-30, 2004
April 1-15, 2004
March 15-31, 2004
March 1-14, 2004
February 15-29, 2004
February 1-14, 2004
January 17-31, 2004
January 1-16, 2004
December 16-31, 2003
December 1-15, 2003
November 17-30, 2003
---
POLITICAL BLOG ROLL:
KINDA NEUTRAL:
ABC News: The Note
CNN: Morning Grind
CQ Politics
Political Wire
MSNBC: First Read
CJR Daily
Rothenberg Pol. Report
LexisNexis: US Politics
Stateline.org
Governing.com
Political State Report
Hotline On Call
Hotline's Blogometer
Beltway Blog
WatchBlog
Lawmakers Blog
Centerfield Aggregator
Command Post
FactCheck.org
WSJ: Best of the Web
WSJ: Washington Wire
D.C.'s Political Report
2008 Political Perspective
Media Bistro
Larry Sabato: Crystal Ball
PressThink
Politics-Line
TheCapitol.Net: Blog
MyElectionAnalysis.com
DEM/LEFT:
DNC Blog
DCCC Blog
DailyKos
Lefty Blogs
Howard Dean/DFA
OurSenate.com
Frameshop
The Washington Note
Emerging Dem Majority
Think Progress
AmericaBlog.com
Amer Prospect: Tapped
Arianna Huffington
Al Franken
BAG News Notes
Eric Alterman
Senate Majority Project
FishBowl DC
Fired Up! America
TalkLeft
TNR: The Plank
The Raw Story
Blogging of the President
Joe Trippi
Swing State Project
Media Matters
Josh Marshall
Wonkette
MyDD
Working for Change
Crooks & Liars
Mathew Gross
Penndit
Progressive Dems: Blog
Atrios/Eschaton
Off the Kuff
Tom Tomorrow
Mother Jones
Jerry Springer
TruthOut
Dem Bloggers
Liberal Oasis
Penndit
Firedoglake
Good As You
AtariDemocrat
Henry Lewis
BuzzFlash
Brad Blog
Dean Nation
Louise Slaughter
TruthDig
Dem Underground
Jared Hall
Bad Attitudes
The American Street
District Blogs
GOP/RIGHT:
RNC (GOP.com)
Club for Growth
National Review: Corner
C-Log
Real Clear Politics
Andrew Sullivan
John Ellis
StoneZone
Mickey Kaus
Virginia Postrel
RedState.org
WSJ Opinion Journal
Free Republic
Instapundit
Drudge Report
Pajamas Media
Hugh Hewitt
Daniel Drezner
Daily Pundit
Bully Pulpit
Outside the Beltway
Little Green Footballs
World Mag Blog
Right Wing News
Volokh Conspiracy
Brothers Judd
David Frum
Mister Politics
Enter Stage Right
Right Wing News
PoliPundit
Power Line
Hedgehog Report
Right Voices
Booker Rising
Don Singleton
Save the GOP
OTHER:
ThirdPartyWatch.com
Centrist Coalition
Kn@ppster
Green Commons
News for Greens
---
For those who would like to track Politics1 with a newsreader, we publish a RSS feed:
---

---