BLOG ARCHIVE: FEBRUARY 1-15, 2007.
FREE SPEECH ZONE.
Bonjour. No stories today, sorry. Just the open thread.

I've been busy helping my spouse -- Dana -- get everything ready for his move to France on Thursday. He'll be enrolled full-time in the culinary program at Le Cordon Bleu in Paris for the next year. And, FYI, he was also awarded a prestigious James Beard Foundation Culinary Scholarship for his studies there. That's a big career change from his previous work as an attorney. It also explains my 20 pound weight gain over the past year. The good news for me is that I'll be able to split my time between our home in South Florida and our apartment in the 2e arrondissement of Paris. I stockpiled LOTS of carryover vacation time at work in anticipation of this coming year. So much so that I'll be spending a combined total of over two months living in Paris during 2007. That means brief periods now and again when I'll either take a few days off from publishing any updates or will do my postings on a different schedule (as there is a six-hour time difference). I'll let you know what's going on, schedule-wise. That said, all you conservative readers can use this thread as your golden opportunity to get your trite and jingoistic "Ron = Liberal = Gay = France hates America" comments out of the way now. And, after you guys are done with that, I'll be back tomorrow with some news updates. À bientôt.
Posted by Ron Gunzburger - 02.15.07 | Permalink |
REP. NORWOOD DIES; EDWARDS DROPS IN; RUDY & MITT; OBAMA BACKLASH; DOMENICI RUNS.
NORWOOD: Congressman Charlie Norwood (R-GA) died on Tuesday at age 65. He had battled cancer and other serious health problems for the past few years. A dentist and social conservative, Norwood ousted a weak Democratic incumbent in the 1994

GOP wave. Since then, Norwood was a safe incumbent who won six fairly easy re-election contests. Potential successors are already lining up for the special election. State Senator Ralph Hudgens (R) -- who lost runs for Congress in 1988, 1992 and 1994 -- already announced he will run. Hudgens was the early frontrunner in the 1994 GOP primary, but Norwood defeated him in an upset. State Representative Barry Fleming (R) also is likely to run. State Representative Jeanette Jamieson (D) and former Athens-Clarke County Mayor Doc Eldridge (R) are also possible candidates, although CD-10 demographics favor the GOP. Don't look for Governor Sonny Perdue to announce any special election date until after Norwood's funeral.
EDWARDS: Former US Senator John Edwards (D-NC) made a visit Tuesday morning to the building where I work. That, of course, gave me the opportunity to get in a very brief exchange. When asked about his opinion of Florida moving up the state's Presidential primary to January 29 -- and breaking the DNC's fixed schedule -- Edwards responded "I'm not taking sides" in the primary calendar fight. When asked if this would hurt his strategy for getting a boost from a 1/29 win in South Carolina, Edwards again smiled and said "I'm not taking sides." When one of the elected officials he was meeting with mentioned she was supporting Hillary Clinton, one of the Edwards entourage responded that Clinton still cannot give an unqualified acknowledgement she was wrong in her 2002 Iraq War resolution vote. "I was wrong. See, I can say it," chimed in Edwards. Clinton to date has been unable to utter those three words.


GIULIANI & ROMNEY: Former NYC Mayor Rudy Giuliani (R) found a way to rain on former Massachusetts Governor Mitt Romney's Presidential announcement day. With the active help of former Massachusetts Governor Paul Celluci, National Journal's Hotline reports Giuliani has locked up endorsements of State Senate Minority Leader Richard Tesei and at least 1-2 of the other four Republicans in the Massachusetts State Senate. Nineteen GOP State Representatives signed a letter endorsing Romney -- but another one endorsed McCain and "other defections among the House members are expected." The GOP legislators apparently feel Romney largely ignored them during his four years as Governor. Roll Call also reports that Congressman David Dreier (R-CA) -- the ranking Republican on the House Rules Committee -- will endorse Giuliani. Congressman Pete Sessions (R-TX) is another non-New Yorker also backing Giuliani.
OBAMA: Two prominent black elected officials in South Carolina -- State Senators Robert Ford and Darrell Jackson -- endorsed US Senator Hillary Clinton on Tuesday. The influential duo told the AP they were courted by Senator Obama, but decided to endorse Clinton because they want the Democrats to win in November. "I love Obama, but I'm not going to kill myself ... Everybody else on the ballot is doomed [if Obama wins the nomination]. Every Democratic candidate running on that ticket would lose because [Obama] is black and he's at the top of the ticket -- we'd lose the House, the Senate and the Governors and everything," said Ford. Just imagine the backlash if a white politician had made those same remarks.
DOMENICI: US Senator Pete Domenici (R-NM) is set to hold his official campaign kick-off on February 20. The six-term incumbent is trying to put to rest rumors he will be forced to retire next year due to reports of his declining health.
Posted by Ron Gunzburger - 02.14.07 | Permalink |
FREE SPEECH ZONE.


What's with all the "Is America ready for a Mormon Presidential candidate?" question and all the JFK comparisons. Umm ... correct me if I'm wrong, but wasn't Romney's dad -- Michigan Governor George Romney (R) -- in 1968 the first major Mormon candidate for President? He even started that race as an early frontrunner. And, even if you discount the '68 Romney run because his campaign flamed-out early over some gaffes, then wouldn't the 1976 run by Congressman Mo Udall (D) count as the Mormon trailblazer on the campaign trail? He made it through nearly the entire primary season and finished second behind Carter. "I'm a one-eyed Mormon Democrat from conservative Arizona, and you can't have a higher handicap than that," frequently quipped Udall during the '76 race. Then there was Senator Orrin Hatch's run in 2000. So ... what's with everyone making such a big deal over Romney being the fourth Mormon to make a major run for the White House?.
Posted by Ron Gunzburger - 02.14.07 | Permalink |
TUESDAY NEWS UPDATE.
FLORIDA TO BUST SCHEDULE; OBAMA SCORES; HARKIN RUNNING AGAIN.
FLORIDA: Forget any threatened sanctions from the two major parties. The

Florida Legislature, frankly, doesn't seem to care if the RNC and DNC strip the state of nearly all its convention delegates. Matt Towery of the Southern Political Report says nothing seems likely to derail the bipartisan proposed state legislation that will mandate Florida's 2008 Presidential primary takes place just "one week after the New Hampshire primary" (January 29). While all of the other large states -- California, New York and others -- are looking to frontload the process by moving up to the first week in February, Florida decided it would rather be a kingmaker by overpowering the much smaller South Carolina primary on January 29. A win in Florida will generate big-time momentum for whomever wins the GOP and Dem primaries, giving a major boost heading into the February 5 "Super Tuesday" contests. More significantly, it may mean the death of the national-party protected Iowa and New Hampshire "first in the nation" status, as the party leadership dictated schedules are rendered insignificant. This writer is one of those who supports dusting off the old proposal for having four regional primaries -- one region per month for four months -- starting with the 2012 race.
OBAMA: While US Senator Hillary Clinton (D) was getting slammed in New Hampshire for her inability to utter the simple "I was wrong" phrase without qualifications about the 2002 Iraq War resolution, US Senator Barack Obama (D) was busy in Iowa locking up some key early endorsements. Attorney General Tom Miller and State Treasurer Michael Fitzgerald --

two of Iowa's longest-serving Democratic officials -- announced their backing of Obama. At the same time, freshman Congressman Dave Loebsack (D-IA) -- who was active in the 2004 Dean campaign -- played a prominent speaking role on stage at Obama's Iowa kickoff. However, Loebsack did not yet make any official endorsment.
HARKIN: The Des Moines Register reports US Senator Tom Harkin (D-IA) wants to make it very clear he is seeking re-election in 2008. The newspaper says Harkin is ratcheting-up his fundraising operation. He's already raised $2.1 million and has over $1.1 million cash-on-hand. Businessman Steve Rathje (R) is an announced challenger. Congressman Steve King (R) and former Congressman Jim Nussle (R) are also mentioned as possible Harkin opponents.
Posted by Ron Gunzburger - 02.13.07 | Permalink |
FREE SPEECH ZONE.
The daily open thread.
Posted by Ron Gunzburger - 02.13.07 | Permalink |
OBAMA IN; McCAIN DENIES SOFT MONEY TIES; DOES MILESTONE MARK COCHRAN'S EXIT?
OBAMA: US Senator Barack Obama (D-IL) officially transitioned from "exploratory" candidate to full-fledged White House candidate on Saturday, Despite bitter cold temperatures, a crowd of over 15,000 rallied outside of the Illinois State

Capitol in Springfield to hear Obama's announcement speech. Obama picked the setting for the announcement because it was where Abraham Lincoln served before being elected President -- and it not-so-subtly highlights that Lincoln had even less years of experience in Congress than does Obama. Early polls in key primary states show Obama and former US Senator John Edwards (D-NC) fighting for second place in the first tier behind US Senator Hillary Clinton (D-NY).
McCAIN: A Sunday report in the Washington Post claims that the finance co-chairs of US Senator John McCain's 2008 Presidential campaign have collectively contributed over $13.5 million in so-called "soft money" to political parties and "527" groups since 1998. Further, the Post article implied McCain -- a leading opponent of soft money -- is financing his effort at least in part with soft money. An angry McCain denied any soft money is being spent on his behalf and blasted the story as the "worst hit job that has ever been done in my entire political career."
COCHRAN: US Senator Thad Cochran (R-MS) was honored by his colleagues this past week when he hit the milestone of casting his 10,000th vote in the Senate. "The 10,000 vote club is sort of like the 500 home run club in baseball," said Senate Minority Leader Mitch McConnell (R-KY). First elected in 1978, Cochran has yet to give any hint about his re-election plans for 2008. Inside-the-Beltway buzz suggests Cochran may retire next year.
GREEN PARTY: The FEC on Friday granted the Green Party's Green Senatorial Campaign Committee (GSCC) the same national Senate campaign committee status as that previously accorded to the DSCC and NRSC. This is the first time this status was even granted to a third party. It allows the GSCC to raise and spend money with the same expanded limits enjoyed by the two major parties.
Posted by Ron Gunzburger - 02.12.07 | Permalink |
FREE SPEECH ZONE.
The daily open thread.
Posted by Ron Gunzburger - 02.12.07 | Permalink |
BREAUX A NO GO; FREE JOSH WOLF.
LOUISIANA: The rumors that retired US Senator John Breaux (D) would run for Louisiana Governor are clearly false. According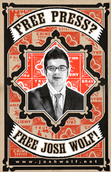 to New Orleans CityBusiness, Breaux hosted a pricey fundraiser in DC this week for Blanco. The newspaper reported "Breaux is strongly supporting" Blanco.
IN DEFENSE OF A FREE PRESS: We wanted to take two minutes to mention California freelance journalist and blogger Josh Wolf, 24, who has been imprisoned on civil contempt charges longer than any journalist in US history. Wolf has served over 170 days in jail for refusing to give up video footage he took in 2005 of a protest during a G8 economic summit. Wolf ran excerpts of the footage for a news story on his website. Protesters are suspected of vandalizing a city police car and injuring a San Francisco police officer, and federal prosecutors want to force Wolf to give them the unaired parts of his video to identify more culprits. Wolf correctly refuses to surrender unaired video footage because journalists must remain independent and never become arms of law enforcement. Josh Wolf's unjust jailing highlights the need for a federal shield law to protect all journalists. Contact your US Senators and US Representatives to explain why a federal shield law is needed to protect a free and unfettered press (including bloggers). Cheers, also, to the Society of Professional Journalists for donating $30,000 this week to Wolf's legal defense fund. Click here to learn more about Josh's fight.
Posted by Ron Gunzburger - 02.09.07 | Permalink |
FREE SPEECH ZONE.
The daily open thread.
Posted by Ron Gunzburger - 02.09.07 | Permalink |
NORWOOD WORSENS; LAMONT EMAILS; MICHAEL SAVAGE EXPLORES P2008 RUN.
NORWOOD: Congressman Charlie Norwood (R-GA) has apparently taken a turn for the worse in his fight against cancer. Norwood recently learned the cancer has spread from his lungs to his liver. The ailing legislator has decided to cancel further chemotherapy treatments. Instead, Norwood returned this week to his home in Georgia to be near his family and entered hospice care. His spokesman said Norwood does not currently have any plans to resign ... LAMONT: According to the Greenwich Time, wealthy businessman and 2006 US Senate nominee Ned Lamont (D-CT) just sent an email to 30,000 of his supporters urging them to voice their support for the anti-surge

resolution in the US Senate. "I just wanted to remind people the campaign may be over, but the issues are still there and this is yet another opportunity to weigh in," said Lamont. The email also has state Dems buzzing with speculation Lamont may be interested in running against vulnerable Congressman Chris Shays (R) next year ... KANSAS CD-2: According to Roll Call, the '08 GOP primary for the Kansas CD-2 seat is already heating up. The conservative Club for Growth has expressed support for ousted Congressman Jim Ryun to make a comeback run. By contrast, the centrist Republican Main Street Partnership is voicing encouragement for State Treasurer Lynn Jenkins. The eventual GOP nominee will face targeted freshman Congresswoman Nancy Boyda (D) ... SAVAGE: Controversial conservative radio talk show host Michael Savage tells NewsMax he is considering making a run for the 2008 GOP Presidential nomination. "I know it sounds bizarre but when you consider the people running for the Presidency, none seems to be qualified ... A non-politician who has a very large following, who is very conservative, and who believes in a simple message of borders, language, and culture, has a great chance of electrifying the American people," explained Savage. He said he does not think his candidacy would hurt the Republican chances in November -- even if his run is divisive and insulting towards other GOP hopefuls -- because the GOP has "virtually no chance of winning right now." Besides, Savage said the current field of Republican candidates are "are all political apparatchiks .... [who] have never stood for borders, language or culture" and are simply parroting "sound bytes." Savage said he grew interested in making the race when he remembered that Al Sharpton and Dennis Kucinich earned spots in the 2004 Dem primary debates. They "were given equal time on the podium during the debates with the leading candidates," said Savage. He says he is "exploring" the race and will obviously quit his radio show if he decides to run. Savage -- whose real name is Michael Weiner -- has made a name for himself with his incendiary racist, sexist, xenophobic or homophobic comments over the years. He'll also need to explain the sharp contrast between with his vitriolic conservative radio persona and his actual life history that seems sharply at odds with his rhetoric.
Posted by Ron Gunzburger - 02.08.07 | Permalink |
FREE SPEECH ZONE.
The daily open thread.
Posted by Ron Gunzburger - 02.08.07 | Permalink |
FREE SPEECH ZONE.
My work schedule has been rather busy within the past few days, so no real posting tonight. Just the daily open thread. Tomorrow's posting may likewise be sparse (then again, maybe not). Sorry.
Posted by Ron Gunzburger - 02.07.07 | Permalink |
GOP SENS BLOCK IRAQ DEBATE; McCAIN'S HOMEFRONT; RUDY RUNS; NADER MUSES.
US Senate Republicans used procedural tactics on Monday to block any debate on proposed Senate resolutions expressing opposition to the President's "surge" plan for Iraq. Senate Minority Leader Mitch McConnell (R)

said he will not allow the matter to come for a vote unless the Dems also allow two alternative GOP resolutions to come up for votes. Senate Majority Leader Harry Reid (D) vows the GOP resolutions will not reach the floor ... Conservative foes of Senator John McCain (R-AZ) within the Arizona Republican Party were able to elect vocal McCain critic Randy Pullen as the new State GOP Chair. The entire AZGOP staff immediately quit in response to Pullen's election ... Ralph Nader told CNN he's considering making yet another run for President in 2008, especially if Hillary Clinton is the Democratic nominee. Of course, with billionaire NYC Mayor Mike Bloomberg and US Senator Chuck Hagel both considering independent runs for the White House, will anyone even care if Nader, Howard Phillips, Lyndon LaRouche or any of the other perennials return to make an umpteenth run ... Former State Representative Alan Schlesinger (R-CT) scored a whopping 10% of the vote last year as the GOP nominee against US Senator Joe Lieberman (Ind Dem). According to the Palm Beach Post, Schlesinger is popping up at GOP events in South Florida -- where he has a second home -- and is considering making a run against freshman Congressman Ron Klein (D) in CD-22. Reportedly, the GOP also has some prospective 2008 candidates who actually live in Florida ... Former NYC Mayor Rudy Giuliani filed official candidate paperwork with the FEC on Monday to make him an official candidate for the GOP Presidential nomination.
Posted by Ron Gunzburger - 02.06.07 | Permalink |
FREE SPEECH ZONE.
The daily open thread.
Posted by Ron Gunzburger - 02.06.07 | Permalink |
HO-HUM DNC WINTER MTG; HRC, RUDY, McCAIN LOOK STRONG; MILLER PROBE GROWS; NO JOE '08.
Unlike the 2003 Democratic National Committee Winter Meeting where then-unknown Howard Dean suddenly broke away from the pack with his Iraq War criticisms and generated real electricity, the 2007 gathering this weekend was a

ho-hum even with no real standout performances. At least, according to crowd buzz, everyone performed as expected -- but nobody exceeded expectations ... American Research Group is out with new independent polls from Iowa and New Hampshire on the Presidential primary contests. According to the ARG polls, Senator Hillary Clinton leads to Democratic field in both early contest states. In Iowa, Clinton had 35%, followed by John Edwards at 18%, Barack Obama at 14%, Tom Vilsack at 12%, and all others scoring 2% or less. In NH, Clinton had 39%, Obama was second with 19%, Edwards had 13%, and all others scored 2% or less apiece. On the GOP side, Rudy Giuliani led in Iowa with 27%, followed by John McCain at 22%, Newt Gingrich had 16%, Mitt Romney had 11%, Chuck Hagel had 5%, and all others had 2% or less each. In NH, McCain was first with 27%, Giuliani and Romney were tied for second with 20% apiece, Gingrich was fourth with 11%, Hagel had 4%, and all other candidates were at 1% or less ... According to the Los Angeles Times, the FBI's corruption investigation of Congressman Gary Miller (R-CA) has recently moved into high gear, with the scope of the investigative probe rapidly expanding. The allegations involve a questionable land deal and tax evasion allegations. Miller denies all wrongdoing ... Congresswoman Loretta Sanchez (D-CA) quit the Congressional Hispanic Caucus last week, complaining that Chair Joe Baca (D-CA) is sexist and told people she was a "whore." Baca denies Sanchez's claims ... In an interview with the Hartford Courant, US Senator Joe Lieberman (Ind Dem-CT) flatly denied he would agree to be John McCain's VP runningmate on the 2008 GOP ticket. "My days of seeking national office are over," said Lieberman.
Posted by Ron Gunzburger - 02.05.07 | Permalink |
FREE SPEECH ZONE.
The daily open thread.
Posted by Ron Gunzburger - 02.05.07 | Permalink |
FREE SPEECH ZONE.
The daily open thread.
Posted by Ron Gunzburger - 02.03.07 | Permalink |
KANSAS GOP NEWS; BIDEN-OBAMA GAFFE; THE NEWSOM AFFAIR.
Recently ousted Congressman Jim Ryun (R-KS) may want to seek a rematch in 2008 with freshman CD-2 Congresswoman Nancy Boyda (D), but it looks like he won't have a clear shot at the nomination. In fact, Ryun may be the underdog for the GOP nod next year. A well-placed Kansas Republican source said State Treasurer Lynn Jenkins (R), at a recent small meeting of

some of the state's top GOP elected officials, told her colleagues she plans to run against Boyda regardless of whether or not Ryun runs. If Jenkins jumps in, this race may quickly move from the Toss-Up category to Leans GOP. At the same meeting, Secretary of State Ron Thornburgh (R) made it clear he plans to run for Governor in 2010 ... Why are we not writing about the Joe Biden comments about Barack Obama? Frankly, it seems like a non-story. Biden seemed to be trying to compliment Obama, however clumsy he was about it, but certainly it seems to be a trivial comment. "What I was attempting to be, but not very artfully, is complimentary. This is an incredible guy. This is a phenomenon ... The word that got me in trouble is using the word clean. I should have said fresh. What I meant was he got's new ideas -- he's the new guy on the block," said Biden, hours later on The Daily Show. Biden botched his campaign launch, but it seems like nobody is really paying him much attention these days anyways. Like I said: non-story ... San Francisco Mayor Gavin Newsom (D) admitted Thursday he had been engaged in an extramarital affair with the wife of his campaign manager. It won't be a big enough deal to trip-up his re-election race this year, and may even kill the rumors spread by Newsom foes that the pro-gay marriage Mayor is secretly gay.
Posted by Ron Gunzburger - 02.02.07 | Permalink |
FREE SPEECH ZONE.
The daily open thread.
Posted by Ron Gunzburger - 02.02.07 | Permalink |
PATAKI'ING HIS BAGS; CFG BLASTS HUCKABEE; DENNY STAYING; MARTY GOING; RUSS' PLAN.
Former Governor George Pataki (R-NY) made several political trips to Iowa, New Hampshire and other key
early contest states during 2005-06. He even rented an office in New Hampshire for his PAC -- but recently placed it up for rent on a popular classified ads website. This week Pataki told a small group NH Republican leaders he was going to defer any decision on the race for a few more months. According to the Manchester Union-Leader, Pataki said he was "going to let the dust settle and see where we are in a few months" -- and added he would understand if his GOP friends wanted to take a closer look at or endorse some of the announced GOP hopefuls in the meantime. One guest at the small dinner told the newspaper: "He never came out and said, 'I'm not running for President,' but everybody basically saw the handwriting on the wall, which is he's out." Pataki's spokesperson said the ex-Gov was still "considering the possibility of running for President" but was instead "focused on policy, not politics." Speaking of policy, Pataki unveiled his own Iraq War peace plan on a new website this week ... The Minneapolis Star-Tribune reports liberal humorist and radio talk show host Al Franken (D-MN) has decided to run against US Senator Norm Coleman (R) next year. The newspaper said Franken placed courtesy calls this week to state party leaders and members of the state's Congressional delegation to let them know he will plans to shortly announce his candidacy ... Former Arkansas Governor Mike Huckabee (R) is already an early target of the conservative Club for Growth. Earlier this week the group issued a nasty five-page report blasting Huckabee for leaving a gubernatorial legacy of "numerous tax hikes, ballooning

government spending, and increased regulation." In response, Huckabee's campaign spokeswoman told the Wall Street Journal that "Huckabee pushed through the Arkansas Legislature the first major, broad-based tax cuts in state history -- a $90 million tax relief package for Arkansas families ... In total, Gov. Huckabee cut taxes and fees nearly 100 times during his 10 and a half years as Governor" and left office with the state with an $800 million budget surplus ... Roll Call reports former House Speaker Denny Hastert (R-IL) sent out fundraising letters this week asking for $2,100 contributions to his 2008 re-election campaign. So much for all the early resignation/retirement speculation ... Meanwhile, the AP reports seven-term Congressman Marty Meehan (D-MA) is engaged in talks with the University of Massachusetts-Lowell about becoming Chancellor. Meehan will be interviewed by the search committee on Friday ... Republicans keep challenging Democrats who oppose President Bush's Iraq War escalation plan to put forward their own alternative plans. Yesterday US Senator Barack Obama (D-IL) responded with his detailed plan. Today, US Senator Russ Feingold (D-WI) released his detailed plan to end the war. Feingold's plan "uses Congress's power of the purse to force the President to safely redeploy US troops from Iraq by prohibiting funds for continued operations six months after enactment." Click here to read the details. FYI: Congressional Republicans used a similar funding tactic to force President Clinton's hand to curtail US peacekeeping operations in Bosnia.
Posted by Ron Gunzburger - 02.01.07 | Permalink |
FREE SPEECH ZONE.
The daily open thread.
Posted by Ron Gunzburger - 02.01.07 | Permalink |
BLOG ARCHIVE:

February 16-28, 2007
February 1-15, 2007
January 16-31, 2007
January 1-15, 2007
December 16-31, 2006
December 1-15, 2006
November 16-30, 2006
November 1-15, 2006
October 16-31, 2006
October 1-15, 2006
September 16-30, 2006
September 1-15, 2006
August 16-31, 2006
August 1-15, 2006
July 16-31, 2006
July 1-15, 2006
June 16-30, 2006
June 1-15, 2006
May 15-31, 2006
May 1-15, 2006
April 16-30, 2006
April 1-15, 2006
March 16-31, 2006
March 1-15, 2006
February 17-28, 2006
February 1-16, 2006
January 16-31, 2006
January 1-15, 2006
December 2005
November 2005
October 2005
September 2005
August 2005
July 2005
June 2005
May 2005
April 2005
March 2005
Jan-Feb 2005
December 2004
November 16-30, 2004
November 1-15, 2004
October 16-31, 2004
October 1-15, 2004
September 16-30, 2004
September 1-15, 2004
August 16-31, 2004
August 1-15, 2004
July 16-31, 2004
July 1-15, 2004
June 16-30, 2004
June 1-15, 2004
May 16-31, 2004
May 1-15, 2004
April 16-30, 2004
April 1-15, 2004
March 15-31, 2004
March 1-14, 2004
February 15-29, 2004
February 1-14, 2004
January 17-31, 2004
January 1-16, 2004
December 16-31, 2003
December 1-15, 2003
November 17-30, 2003
---
POLITICAL BLOG ROLL:
KINDA NEUTRAL:
ABC News: The Note
CNN: Morning Grind
CQ Politics
Political Wire
MSNBC: First Read
CJR Daily
Rothenberg Pol. Report
LexisNexis: US Politics
Stateline.org
Governing.com
Political State Report
Hotline On Call
Hotline's Blogometer
Beltway Blog
WatchBlog
Lawmakers Blog
Centerfield Aggregator
Command Post
FactCheck.org
WSJ: Best of the Web
WSJ: Washington Wire
D.C.'s Political Report
2008 Political Perspective
Media Bistro
Larry Sabato: Crystal Ball
PressThink
Politics-Line
TheCapitol.Net: Blog
MyElectionAnalysis.com
DEM/LEFT:
DNC Blog
DCCC Blog
DailyKos
Lefty Blogs
Howard Dean/DFA
OurSenate.com
Frameshop
The Washington Note
Emerging Dem Majority
Think Progress
AmericaBlog.com
Amer Prospect: Tapped
Arianna Huffington
Al Franken
BAG News Notes
Eric Alterman
Senate Majority Project
FishBowl DC
Fired Up! America
TalkLeft
TNR: The Plank
The Raw Story
Blogging of the President
Joe Trippi
Swing State Project
Media Matters
Josh Marshall
Wonkette
MyDD
Working for Change
Crooks & Liars
Mathew Gross
Penndit
Progressive Dems: Blog
Atrios/Eschaton
Off the Kuff
Tom Tomorrow
Mother Jones
Jerry Springer
TruthOut
Dem Bloggers
Liberal Oasis
Penndit
Firedoglake
Good As You
AtariDemocrat
Henry Lewis
BuzzFlash
Brad Blog
Dean Nation
Louise Slaughter
TruthDig
Dem Underground
Jared Hall
Bad Attitudes
The American Street
District Blogs
GOP/RIGHT:
RNC (GOP.com)
Club for Growth
National Review: Corner
C-Log
Real Clear Politics
Andrew Sullivan
John Ellis
Mickey Kaus
Virginia Postrel
RedState.org
WSJ Opinion Journal
Free Republic
Instapundit
Drudge Report
Pajamas Media
Hugh Hewitt
Daniel Drezner
Daily Pundit
Bully Pulpit
Outside the Beltway
Little Green Footballs
World Mag Blog
Right Wing News
Volokh Conspiracy
Brothers Judd
David Frum
Mister Politics
Enter Stage Right
Right Wing News
PoliPundit
Power Line
Hedgehog Report
Right Voices
Booker Rising
Don Singleton
Save the GOP
OTHER:
ThirdPartyWatch.com
Centrist Coalition
Kn@ppster
Green Commons
News for Greens
---
For those who would like to track Politics1 with a newsreader, we publish a RSS feed:
---

---