BLOG ARCHIVE: FEBRUARY 1-16, 2006


P008. Add another potential name to the 2008 White House contest, but it is way too early to tell if he'll really run and under what party banner. Liberal New York City Mayor Mike Bloomberg (R) -- a billionaire publishing tycoon reelected in a landslide last year -- is reportedly considering making a Presidential run in 2008. According to the New York Observer, Bloomberg political advisor and Deputy Mayor Kevin Sheekey is promoting the idea -- even if Bloomberg seems uninterested in the race. One advisor told the newspaper the only way Bloomberg would ever again run for office would be to run for President. And, if he runs, the newspaper reports he would run as either an Independent or a Democrat. Bloomberg is, after all, a former Democrat. According to the newspaper, Sheekey is trying to drum up support to convince Bloomberg to change his mind and jump into the race -- as he is also credited with being the driving force that convinced Bloomberg to seek a second term as Mayor. "He would have a very strong record to run on," said veteran Democratic Presidential campaign consultant Bob Shrum. Another Democratic consultant, Hank Sheinkopf, said Bloomberg could run on a slogan of "He'll clean up the mess in Washington. He'll make the economy work." Bloomberg doesn't look like he's running, but he's also not completely ruling it out, either. Postscript: On Thursday, Bloomberg told reporters he absolutely will not be a candidate for President.
Posted by Ron Gunzburger - 02.16.06 | Permalink |
IOWA. Political points to Secretary of State Chet Culver (D) in his gubernatorial race, as he found a great way to eliminate an announced rival. On Wednesday, Culver named State Agriculture Commissioner Patty Judge as his runningmate for Lieutenant Governor. Judge had been a rival candidate for Governor. In Iowa, the gubernatorial nominee traditionally names a runningmate after winning primary. Culver is trying an approach -- naming a runningmate early -- that hasn't been used in Iowa since 1990. US Senator Chuck Grassley (R) told the Des Moines Register he thought the Culver-Judge ticket was a "formidable" team. In ending her own campaign and joining Culver's ticket, Judge called on the remaining Democratic candidates to also quit the primary contest and throw their support behind Culver to help the party's odds in the open seat contest in November. In the "money primary," Culver also leads his primary rivals -- having raised twice as much money as his nearest opponent. Congressman Jim Nussle is the likely GOP nominee.
Posted by Ron Gunzburger - 02.16.06 | Permalink |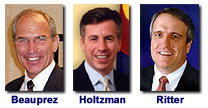 COLORADO. If Florida Republicans belatedly rallied behind Katherine Harris in the US Senate race, the same could be said of Colorado Democrats towards the gubernatorial campaign of former Denver District Attorney Bill Ritter (D). Dems tried -- repeatedly and unsuccessfully -- to recruit Denver Mayor John Hickenlooper into the contest against the pro-life Ritter. State House Majority Leader Alice Madden (D) -- a pro-choice candidate -- jumped into the race a month ago but said she'd quit if Hick ran. Hick isn't running but Madden still bowed out on Wednesday and threw her support behind Ritter. While Ritter still faces nominal opposition at the Dem convention, he now has a lock on the nomination. In November, RItter will face the winner of the bitter GOP contest between Congressman Bob Beauprez and former university president Marc Holtzman.
Posted by Ron Gunzburger - 02.16.06 | Permalink |
US SENATE. Senator Rick Santorum (R-PA) has got a race on his hands for the open Majority Whip spot -- if he somehow manages to win reelection in November. Senator Lamar Alexander (R-TN) confirmed for Roll Call that he plans to challenge Santorum for the #2 leadership spot. Alexander previously served in the Presidential Cabinet and was a Presidential candidate in 1996 and 2000. According to the newspaper, Alexander already raised over $750,000 through his leadership PAC during this cycle, and has "maxed out" in contributions to all 14 of his Republican colleagues up for re-election this year, given the NRSC $65,000, and for the third year in a row is chairing the annual President's Dinner.
Posted by Ron Gunzburger - 02.16.06 | Permalink |
TENNESSEE. In a very low-key announcement Wednesday, Congressman Bill Jenkins (R) kept his original term-limits promise and announced Wednesday he will not seek re-election in 2006. "This decision will allow me to spend more time with my family and to do some things which we have been too busy to do," said Jenkins. The district is safely Republican, so expect a crowded primary GOP field.
Posted by Ron Gunzburger - 02.16.06 | Permalink |
SITE OF THE DAY. Politics can mean lots of things and today's winner is Idealist.org, a rather non-traditional choice. Not political, per se, but this site is political in the sense that -- to quote the Ben Harper/Jack Johnson song lyrics -- "I can change the world, with my own two hands. Make it a better place, with my own two hands." Well, if that isn't a message of politics -- with politics being the art of the possible -- then I don't know what is. Use this great site to find ways to do everything from rebuilding nations ravaged by genocide ... to feeding the hungry in Peoria (or your own community). Jobs, volunteer opportunities, and more. "I can make peace on earth, with my own two hands..."
Posted by Ron Gunzburger - 02.16.06 | Permalink |
FREE SPEECH ZONE. [Insert your favorite Dick Cheney joke here ... or insert your faux indignation that Dems are so callous as to make fun of something personal and tragic like this.]
Posted by Ron Gunzburger - 02.16.06 | Permalink |
NEW MEXICO. Major party candidate filing closed on Tuesday, with the marquee race in the state being the CD-1 contest between Congresswoman Heather Wilson (R) and Attorney General Patricia Madrid (D). Neither woman faces primary opponents. Wilson has never broken the 55% mark in this swing district, and Madrid is viewed as the strongest challenger she's ever faced. US Senator Jeff Bingaman (D) and Governor Bill Richardson (D) both drew only nominal GOP opposition, so classify both of those contests as "Safe Dem."
Posted by Ron Gunzburger - 02.15.06 | Permalink |

TEXAS. Rasmussen Reports has finally polled the wild, four-way gubernatorial contest in the Lone Star State -- and Governor Rick Perry (R) looks pretty good in either likely variant on the race. If former Congressman Chris Bell is the Dem nominee, Perry leads with 40%, followed by State Comptroller Carole Keeton Strayhorn (Independent) at 31%, Bell at 13%, and colorful musician/author Kinky Friedman (Independent) at 9%. Democrats only do slightly better if former Supreme Court Justice Bob Gammage is the nominee. The numbers: Perry-38%, Strayhorn-29%, Gammage-18%, Friedman-8%.
Posted by Ron Gunzburger - 02.15.06 | Permalink |
NEW JERSEY. While most recent polls show newly appointed US Senator Bob Menendez (D) trailing State Senator Tom Kean Jr. (R), a new Zogby poll shows Menendez having regained the lead by a 37% to 32% vote. The same poll last month showed Kean leading by 5-points.
Posted by Ron Gunzburger - 02.15.06 | Permalink |

FLORIDA. If the latest Rasmussen Reports poll is on the mark, US Senator Bill Nelson (D) is facing a rapidly tightening race for reelection against Congresswoman Katherine Harris (R). Harris -- after seeing months of the NRCC, Governor Jeb Bush and other GOP leaders working unsuccessfully to recruit a primary challenger to oppose Harris -- was finally able to get her GOP leadership to begrudgingly rally their support behind her. The new poll shows Nelson leading Harris by a 49% to 40% vote.
Posted by Ron Gunzburger - 02.15.06 | Permalink |
VIRGINIA. US Senator George Allen (R) does not yet face a competitive race, according to a new Rasmussen Reports poll, but the race is potentially moving towards that territory. Allen leads tech executive Harris Miller (D) by a 48% to 35% vote. Allen also leads author and former Navy Secretary James Webb (D) by a vote of 49% to 37%.
Posted by Ron Gunzburger - 02.15.06 | Permalink |
FREE SPEECH ZONE. Vice President Cheney's shooting victim suffers a heart attack when one of Cheney's birdshot pellets became dislodged and traveled to Whittington's heart. I'd guess Karl Rove is still searching for some way to blame all this on the Democrats "lack of commitment to defeating the terrorists" ... or perhaps plant a media story with AP that Senate Minority Leader Harry Reid was also seen with a shotgun pointed at Whittington once before ("So, you see, they're no better").
Posted by Ron Gunzburger - 02.15.06 | Permalink |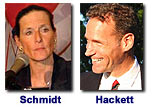 OHIO. With the Thursday filing deadline looming, it appears rapid-fire changes are taking place in several hot races. State Senator Eric Fingerhut (D) quit the gubernatorial contest on Monday, leaving Congressman Ted Strickland (D) as the safe bet to win the nomination. Recent polls also show Strickland a slight favorite in the general election over either of the two leading GOP candidates. In the US Senate race, attorney and Iraq War veteran Paul Hackett (D) is apparently bowing to DCCC wishes that he jump back into the CD-3 race against freshman Congresswoman Jean Schmidt (R). Hackett is scheduled to exit the US Senate race and announce his rematch against Schmidt on Tuesday morning. A leading Ohio Republican told Politics1 that "Hackett will defeat Schmidt in November if Schmidt manages to win renomination [over former Congressman Bob McEwen] -- but Hackett will only be a one-termer." The Dems can now move the CD-3 seat into the "Leans GOP" column. Hackett's exit from the Senate race also clears the Dem primary field for Congressman Sherrod Brown. Postscript: Hackett quit the US Senate race, as expected, but announced he was also withdrawing entirely from the world of politics. "This is an extremely disappointing decision that I feel has been forced on me ... For me, this is a second betrayal. First, my government misused and mismanaged the military in Iraq, and now my own party is afraid to support candidates like me," said a rather bitter Hackett.
Posted by Ron Gunzburger - 02.14.06 | Permalink |

US SENATE POLLS. MISSOURI - The latest monthly Rasmussen Reports tracking poll indicates US Senator Jim Talent (R) has bounced back from a deficit and now leads in his race for re-election. The numbers: Talent-46%, State Comptroller Claire McCaskill (D)-41%. MONTANA - While Talent may be improving his position, US Senator Conrad Burns (R) is losing ground in his contest. A lengthy round of bad press tying Burns to corrupt GOP lobbyist Jack Abramoff, Burns has seen his support sag. State Auditor John Morrison (D) leads Burns by a 50% to 43% vote. Liberal State Senate President Jon Tester (D) is tied with Burns, with each man at 46% apiece. PENNSYLVANIA - A new Quinnipiac University poll shows US Senator Rick Santorum (R) falling even further behind State Treasurer Bob Casey Jr. (D). The numbers: Casey-51%, Santorum-36%.
Posted by Ron Gunzburger - 02.14.06 | Permalink |
GUBERNATORIAL POLLS.

CALIFORNIA - Governor Arnold Schwarzenegger (R) continues to remain locked in a tight reelection contest. According to a new Rasmussen Reports poll, Schwarzenegger trails State Treasurer Phil Angelides (D) by a vote of 41% to 40%. However, Schwarzenegger leads State Comptroller Steve Westley (D) by a vote of 39% to 34%. ALABAMA - Governor Bob Riley (R) holds a wide lead over GOP primary rival Roy Moore, according to a new Mobile Register-University of South Alabama survey. Riley now leads by a vote of 56% to 28%. It is also the first time Riley has passed the important 50% mark. KANSAS - Governor Kathleen Sebelius (D) continues to look good in her race for reelection -- despite her partisan affiliation -- in this heavily red state. The latest Rasmussen Reports poll shows Sebelius leading former State House Speaker Robin Jennison (R) by a 47% to 36% vote. Sebelius also leads State Senator Jim Bennett (R) by a vote of 45% to 37%. The poll showed the centrist Sebelius maintaining a solid 62% approval rating. ARKANSAS - Attorney General Mike Beebe (D) has widened his lead over former Congressman Asa Hutchinson (R), according to the new Rasmussen Reports poll. Beebe now leads by a 48% to 38% vote. These numbers show a 4-point increase for Beebe since last month.
Posted by Ron Gunzburger - 02.14.06 | Permalink |
SITE OF THE DAY. Today's winner is This Modern World, from political cartoonist Tom Tomorrow.
Posted by Ron Gunzburger - 02.14.06 | Permalink |
FREE SPEECH ZONE. Vice President Cheney was cleared by local Texas law enforcement officers of potential criminal negligence charges after an investigation lasting minutes. Cheney will however be fined $7 for the game violation of not having a proper stamp for hunting multimillionaire Republican lawyers out of season.
Posted by Ron Gunzburger - 02.14.06 | Permalink |
P2008. Republican political activists gathered in DC this

past weekend for the annual Conservative Political Action Conference (CPAC). Former House Speaker Newt Gingrich (R-GA) gave a rousing speech that played to the very conservative crowd, drawing large applause but not necessarily votes. Gingrich used the event to help boost his expected Presidential campaign -- with supporters in red shirts distributing campaign buttons to the crowd -- even though he told reporters he's not yet decided to become a candidate. [Editor's note: Does anyone ever believe these demurrals? Of course he's definitely running.] "Ideas precede reform. If you can't think it, you can't say it and you can't do it," explained Gingrich, who was also plugging his recent book. Delegates at the convo also cast straw ballots on the 2008 GOP White House hopefuls. US Senator George Allen (R-VA) finished first with 22%, closely followed -- surprisingly -- by US Senator John McCain (R-AZ) at 20%. Prevailing conventional wisdom held that McCain was disliked by the party's more conservative base. Two pro-choice GOP centrists captured the third and fourth spots: former NYC Mayor Rudy Giuliani (R-NY) had 12% and Secretary of State Condi Rice (R-CA) captured 10%. Rice repeatedly says she is not running in 2008. As for Gingrich, he may have rock star status with this conservative crowd -- but only 5% of the CPAC attendees voted for him.
Posted by Ron Gunzburger - 02.13.06 | Permalink |

CHENEY SHOOTING. Vice President Dick Cheney shot a member of his hunting party on Saturday afternoon -- although the Administration was able to keep the story from leaking out for nearly a full day. Cheney -- an avid hunter -- was at the massive Armstrong Ranch in Texas for the quail hunt. While aiming at a flight of birds through his gunsight, Cheney fired his shotgun and hit 78-year old attorney and wealthy GOP activist Harry Whittington in the face, neck and chest with a blast of shotgun pellets. The man is in stable condition at a local hospital. "The Vice President didn't see him ... The Vice President picked out a bird and was following it and shot ... Harry was in the line of fire and got peppered pretty good," said one witness. The shooting of Whittington was clearly an accident. No word as to whether or not Whittington resembles former VP Chief of Staff Scooter Libby, as that could help better explain the shooting.
Posted by Ron Gunzburger - 02.13.06 | Permalink |
WASHINGTON STATE. A new Rasmussen Reports tracking poll shows US Senator Maria Cantwell (D) continuing to hold a solid lead in her re-election race over wealthy insurance executive Mike McGavick (R). The numbers: Cantwell-50%, McGavick-36%. Cantwell's approval rating (57%) is also up since the last poll.
Posted by Ron Gunzburger - 02.13.06 | Permalink |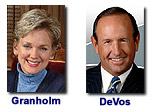 MICHIGAN. The latest WXYZ-TV/EPIC-MRA poll shows the gubernatorial race is tightening. Governor Jennifer Granholm (D) leads billionaire businessman Dick DeVos (R) by a vote of 53% to 46%. A majority of poll respondents believe the state is on "the wrong track" -- particularly with lingering economic woes. However, the good news for Granholm is that voters by a 2-to-1 margin blame President Bush over Granholm as the person largely responsible for Michigan's economic problems.
Posted by Ron Gunzburger - 02.13.06 | Permalink |
FLORIDA. State CFO Tom Gallagher (R) is running into ethics problems in his gubernatorial campaign. News reports over the last week indicate Gallagher engaged in securities trading of insurance company stock while he was Florida Insurance Commissioner -- and failed to disclose the activities. Further, he apparently made a purchase of a small amount of a company's stock days before he voted in the Cabinet on a related pipeline project. Gallagher's explanation is that the investments were either (a) so small in dollars as to not be significant to Gallagher, and/or (b) didn't influence his official actions. Attorney General Charlie Crist's rival GOP campaign is riding this issue hard. Crist also is gaining momentum with party activists, having scored the official endorsements of the Republican Executive Committees in several of Florida's largest counties in recent weeks. Gallagher's campaign is protesting the Crist endorsements, complaining that party organizations should not get involved in an open seat primary.
Posted by Ron Gunzburger - 02.13.06 | Permalink |
SITE OF THE DAY. Today's winner is Ridenbaugh Press.
Posted by Ron Gunzburger - 02.13.06 | Permalink |
FREE SPEECH ZONE. Your space for everything else.
Posted by Ron Gunzburger - 02.13.06 | Permalink |
SATURDAY NEWS UPDATE.
FREE SPEECH ZONE. Weekends mean days at the beach for me, so y'all can have at it here until I post the Monday updates.
Posted by Ron Gunzburger - 02.11.06 | Permalink |

ARIZONA. Yet another round of independent polling confirms Governor Janet Napolitano (D) appears fairly safe in her bid for re-election. According to a new Rasmussen Reports poll, Napolitano would current defeat any of the three current GOP leaders by lopsided margins. Napolitano leads financial consultant Don Goldwater (R) by a 54% to 31% vote. Napolitano defeats former State Senate President John Greene (R) by a 54% to 27% margin. She also leads former State Appeals Court Judge Jan Florez (R) by a vote of 55% to 26%. The poll did not test the incumbent against Religious Right activist Len Munsil, who is also emerging as a strong candidate for the GOP nomination.
Posted by Ron Gunzburger - 02.10.06 | Permalink |
CALIFORNIA. Less than two weeks after anti-war activist Cindy Sheehan announced she would make a symbolic "peace candidate" primary challenge to US Senator Dianne Feinstein, Sheehan announced a change of plans. ""I am not running against Senator Feinstein, but I will continue to be a thorn in her side and a thorn in the side of any representative who is not stridently working for peace," said Sheehan on Thursday. Sheehan became a peace activist after her Army soldier son was killed in the Iraq War. Sheehan said she believes she can be more influential continuing her current efforts than by being a candidate. Feinstein is a safe bet to win an easy reelection, as she faces only token GOP opposition and a colorful array of third-party candidates.
Posted by Ron Gunzburger - 02.10.06 | Permalink |
ABRAMOFF SCANDAL. The AP is reporting US Senator Minority Leader Harry Reid (D-NV) wrote at least four letters on behalf of clients of corrupt lobbyist Jack Abramoff's firm. In return, Abramoff's firm purportedly helped raised campaign bucks for Reid at an event in DC. If the allegation prove true of any quid pro quo -- or even if they linger and cause an appearance of impropriety -- look for his Democratic colleagues to push Reid to step down as leader or fade into the back ground (with Durbin playing the lead Dem visible role) so the Abramoff scandal will be viewed as a largely GOP scandal (which, to date, it is).
Posted by Ron Gunzburger - 02.10.06 | Permalink |
PLAME-GATE. Here's an interesting item from National Journal: "Vice President

Dick Cheney's former chief of staff, I. Lewis (Scooter) Libby, testified to a federal grand jury that he had been "authorized" by Cheney and other White House "superiors" in the summer of 2003 to disclose classified information to journalists to defend the Bush administration's use of prewar intelligence in making the case to go to war with Iraq, according to attorneys familiar with the matter, and to court records. ... The new disclosure that Libby has claimed that the Vice President and others in the White House had authorized him to release information to make the case to go to war, and later to defend the administration's use of prewar intelligence, is significant for several reasons. First, it significantly adds to a mounting body of information that Cheney played a central and personal role in directing efforts to counter claims by Wilson and other administration critics that the Bush administration had misused intelligence information to go to war with Iraq. Second, it raises additional questions about Libby's motives in concealing his role in leaking Plame's name to the press, if he was in fact more broadly authorized by Cheney and others to rebut former Ambassador Wilson's charges."
Posted by Ron Gunzburger - 02.10.06 | Permalink |
SITE OF THE DAY. Today's winner is Rhymes with Right.
Posted by Ron Gunzburger - 02.10.06 | Permalink |

FREE SPEECH ZONE. Florida for Feingold '08! Like the idea? Then I need your help in raising some campaign money for the only US Senator to vote against the original Patriot Act ... for a Democratic leader who voted against the Iraq War from the start and supports setting a withdrawal timetable (so he doesn't have to offer mealy-mouthed excuses or convoluted explanations about why they "voted for the war but didn't really want it to happen" a la Hillary, Kerry, Edwards, etc.) ... and for an outspoken advocate for economic justice and true health care for all Americans. If you'd like to get involved in organizing an upcoming Feingold fundraising event in South Florida -- and, yes, it involves committing to write a check and raising money from others -- then please email me.
Posted by Ron Gunzburger - 02.10.06 | Permalink |
RHODE ISLAND. According to a new Brown University poll, Governor Don Carcieri (R) holds a comfortable lead for re-election in this solidly blue state, while US Senator Lincoln Chafee (R) is locked in a much tighter fight. In the gubernatorial contest, Carcieri leads Lieutenant Governor Charlie Fogarty (D) by a 46% to 35% vote. The margin is largely unchanged since September. In the US Senate race, Chafee leads former Attorney General Sheldon Whitehouse (D) by a 40%-34% vote. When matched against a more liberal Dem nominee -- Secretary of State Matt Brown -- the contest is even closer. The numbers: Chafee-38%, Brown-36%. The poll also showed Brown moved ahead of Whitehouse in the Dem primary contest: Brown-31%, Whitehouse-25%. Oddly, the poll did not test the GOP primary between the centrist Chafee and conservative Cranston Mayor Steve Laffey. However -- when Laffey is the GOP nominee against either Brown or Whitehouse in general election matchups -- Laffey trails by margins of 23% and 15%, respectively.
Posted by Ron Gunzburger - 02.09.06 | Permalink |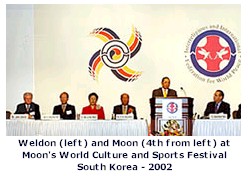 PENNSYLVANIA. Dems have recruited another top notch candidate to place another Congressional seat in play. Navy Admiral Joe Sestak -- who retired last month after 31 years in the military -- has announced his candidacy against ten-term Congressman Curt Weldon (R) in the CD-7 race. Sestak, who has a master's degree in public administration from Harvard, is the former Deputy Chief of Naval Operations and a former high-ranking National Security Council staff member. Sestak opposes the Iraq War, calling it "unnecessary" and a "tragic misadventure." Weldon has been viewed as a potentially vulnerable incumbent if faced with a viable opponent -- but has been favored over the years with a series of much weaker and inept foes. Weldon -- as we previously reported in 2004 here and here and here -- has a lengthy history of uncomfortably close ties to controversial Messianic cult leader Sun Myung Moon. Physician Paul Scoles, the '04 Dem nominee, quit the race this week and endorsed Sestak. If Sestak can raise some money, move this one into the "Leans GOP" column.
Posted by Ron Gunzburger - 02.09.06 | Permalink |
ALABAMA. Governor Bob Riley is locked in a close re-election race -- and recent Alabama newspaper coverage of his former ties to corrupt lobbyist Jack Abramoff appear to be weakening his numbers, according to a new Rasmussen Reports poll. Riley leads Lieutenant Governor Lucy Baxley (D) by a vote of 47% to 40%. Riley also leads former Governor Don Siegelman (D) by a vote of 49% to 40%. Siegelman is currently under indictment on corruption charges -- for the second time in two years (he was acquitted last time) -- so his problems make Riley's pale by comparison. Riley also faces a hotly contested primary against against ousted Supreme Court Chief Justice Roy Moore. Moore -- who bills himself as "The Ten Commandments Judge" -- is a political hero of the Religious Right. However, the poll shows Moore would have problems against either Democrat. Baxley leads Moore in a general election by a 50% to 39% vote. Even the ethically-challenged Siegelman leads Moore: 46% to 40%. Siegelman, FYI, says the criminal allegations are false, politically motivated charges brought by a Republican prosecutor.
Posted by Ron Gunzburger - 02.09.06 | Permalink |

VIRGINIA. US Senator George Allen (R) this week drew a second -- and very serious -- challenger. Former Reagan Administration Navy Secretary James Webb, a sharp critic of the Iraq War, said Wednesday he will file his candidacy this week against Allen. Webb is also a best-selling author, attorney and highly decorated Vietnam War veteran. "I wake up every morning very concerned about the country. We need to put some focus back in our foreign policy, a different focus," said Webb. Wealthy tech executive Harris Miller (D), an ally of former Governor Mark Warner, announced his candidacy last month. Virginia Democrats are bouyed in this race by their victory last year in the gubernatorial election. "Senator Allen has always expected a competitive race," said Allen's spokesman. The Senate race will also force Allen to spend much time and money in Virginia this year, somewhat interfering with his ability to continue effectively organizing a 2008 Presidential campaign. New rating: GOP Favored.
Posted by Ron Gunzburger - 02.09.06 | Permalink |
SITE OF THE DAY. Today's winner is Crooks and Liars.
Posted by Ron Gunzburger - 02.09.06 | Permalink |
FREE SPEECH ZONE. Nope, no rant today.
Posted by Ron Gunzburger - 02.09.06 | Permalink |

CONGRESS. Respected pundit Charlie Cook of National Journal is seeing a very different political environment today as versus a year ago. Then, Cook wrote that Democratic odds of recapturing the US House appeared near impossible. Today, he now believes "the possibility of a Democratic takeover -- although less than 50-50 -- is very real ... Even though House Democrats need a net gain of only 15 seats this November, that task is fairly daunting because the playing field is so small ... Nevertheless, the Democrats do have a real shot at ending the GOP's control of the House ... The current model predicts a net Democratic gain of 10 seats. When we factor in a four-seat margin of error, the model projects that as of today, under current conditions, and without speculating about what the national political environment may do between now and November, Democrats will make a net gain of six to 14 seats. With a bit of luck -- or a wave of any size -- Democrats might even grasp their gold ring: 15 seats."
Posted by Ron Gunzburger - 02.08.06 | Permalink |
ILLINOIS. The latest Rasmussen Reports tracking poll shows Governor Rod Blagojevich (D) could be in trouble in November -- which is a pretty amazing feat for a Democrat in this fairly reliable blue state. According to the poll, Blagojevich is trailing centrist State Treasurer Judy Baar Topinka (R) by a vote of 48% to 37%. Blagojevich and wealthy businessman Ron Gidwitz (R) are locked in a tie with 40% apiece. The incumbent leads conservative dairy owner Jim Oberweis (R) by a 43% to 39% vote. Sadly -- for all of these candidates in both parties -- not a single one of them was able to score an approval rating of higher than 46%. If another independent poll supports these numbers, I'll move this one from Leans Dem to Toss-Up.
Posted by Ron Gunzburger - 02.08.06 | Permalink |
P2008. Count Mississippi Governor and former Republican National Chairman Haley Barbour out of the 2008 Presidential race. In an very direct interview Tuesday with the AP, Barbour said he "won't run for President in 2008 because his time is occupied with Hurricane Katrina recovery." Instead, Barbour said he plans to seek reelection in 2007.
Posted by Ron Gunzburger - 02.08.06 | Permalink |
WISCONSIN. Governor Jim Doyle (D) continues to hold a slim lead over both of his GOP challengers. Doyle leads Congressman Mark Green (R) by a vote of 48% to 41%. Doyle also holds a 47% to 40% advantage over Milwaukee County Executive Scott Walker (R). Keep this one in the "Leans Dem" category.
Posted by Ron Gunzburger - 02.08.06 | Permalink |
PENNSYLVANIA. Former pro football player Lynn Swann (R) essentially locked-up the GOP gubernatorial nomination on Tuesday with the withdrawal of his leading rival from the race. Former Lieutenant Governor Bill Scranton III (R) quit the contest, saying he knows he cannot defeat Swann in the May 16th primary. Scranton had been trying to convince state party leaders to stay neutral in the primary and allow voters to select the nominee on their own. "We are strong but not strong enough to defeat a candidate that has received near unanimous backing of the state and national parties ... I have determined that my chances of success are minimal in mounting a grassroots campaign effort," explained Scranton, who said he recognized Swann now has enough endorsements to win the state party's endorsement at Saturday's convention. Swann will still face a primary challenge, but it will not be particularly competitive. Governor Ed Rendell (D) faces no primary opposition. Rate this race as "Leans Dem."
Posted by Ron Gunzburger - 02.08.06 | Permalink |
MASSACHUSETTS. Campaign missteps and gaffes by Attorney General Tom Reilly (D) in recent weeks have caused him to lose his once commanding lead in the gubernatorial primary over liberal former US Assistant Attorney General Deval Patrick (D). According to a new Suffolk University/WHDH-TV poll, Reilly now leads Patrick by a competitive vote of 39% to 30%. Several months ago, Reilly held a 40-point lead over Patrick in this same poll. On the GOP side, Lieutenant Governor Kerry Healey leads wealthy businessman Christy Mihos by a 56% to 15% vote. As for general election match-ups, Reilly leads Healey by a 47%-32% margin and Patrick leads Healey by a closer vote of 39% to 32%. Rating: Leans Dem.
Posted by Ron Gunzburger - 02.08.06 | Permalink |
SITE OF THE DAY. Today's winner is The Senate Site -- the collective blog site of the Utah Senate Republicans.
Posted by Ron Gunzburger - 02.08.06 | Permalink |
FREE SPEECH ZONE. Yet another reason why I unabashedly support Senator Russ Feingold for President in 2008!! Here's a brief excerpt: "The Presidentís actions are indefensible. Freedom is an enduring principle. It is not something to celebrate in one breath, and ignore the next. Freedom is at the heart of who we are as a nation, and as a people. We cannot be a beacon of freedom for the world unless we protect our own freedoms here at home. The President was right about one thing. In his address, he said 'We love our freedom, and we will fight to keep it.' Yes, Mr. President. We do love our freedom, and we will fight to keep it. We will fight to defeat the terrorists who threaten the safety and security of our families and loved ones. And we will fight to protect the rights of law-abiding Americans against intrusive government power."
Posted by Ron Gunzburger - 02.08.06 | Permalink |

OKLAHOMA. The latest KOTV/Oklahoma Poll shows Governor Brad Henry (D) well positioned to win reelection over Congressman Ernest Istook (R). According to the poll, Henry leads Istook by a 58% to 31% vote. The only good news in the poll for Istook is that he should have no problem winning the GOP primary. The numbers: Istook-44%, State Senator Jim Williamson-7%, and Oil Executive Bob Sullivan-6%.
Posted by Ron Gunzburger - 02.07.06 | Permalink |
WYOMING. A new Casper Star-Tribune/Mason-Dixon poll shows Governor Dave Freudenthal (D) in very solid shape to win reelection this year. He scored a 81% overall approval rating (including a 78% approval rating from Republicans) -- and led likely GOP challenger Ray Hunkins by a vote of 55% to 17%. Freudenthal's numbers are even more amazing when one realizes the Republicans hold a 2-to-1 registration advantage in the state. US Senator Craig Thomas (R) led college professor Dale Groutage (D) by a lopsided 63% to 17% vote. In the state's lone House race, six-term Congresswoman Barbara Cubin (R) scored much worse than the other incumbents -- scoring a dismal 53% disapproval rating. However, Cubin still appears very strong against Teton County School Board Chair Gary Trauner (D). Cubin held a 54% to 32% advantage over Trauner. The numbers indicate Cubin could potentially be vulnerable to a stronger opponent, particularly a strong primary challenger.
Posted by Ron Gunzburger - 02.07.06 | Permalink |

MAINE. Moving on from reports of two very strong Governors, here's news about one who is in trouble. Governor John Baldacci (D) appears to be facing an uphill fight to win re-election in November. According to a new Rasmussen Reports poll, Balducci has a 41% approval rating and 55% disapproval rating. In head-to-head matchups, Balducci also appears vulnerable -- although a one-on-one race is a near impossibility in a race this crowded with a Green candidate, a Veterans candidate, and at least eight Independents. Former Congressman Dave Emery (R) leads Balducci by a 42% to 39% vote. State Senator Chandler Woodcock (R) bested Balducci by a 36% to 30% vote. Balducci led State Senator Peter Mills (R) by a 37% to 31% vote. Balducci finds himself in a odd position of being viewed as too centrist for many Dems, but too liberal for many Republicans.
Posted by Ron Gunzburger - 02.07.06 | Permalink |
COLORADO. Republicans have former Illinois Governor Jim Edgar and the Democrats have Denver Mayor John Hickenlooper. The two are incredibly popular and centrist political leaders who repeatedly toy with running for statewide offices and -- when the buzz is "they're in" -- unexpectedly announce they won't run. On Monday, Hickenlooper announced he will not run for Governor. He explained he wants to complete the work he started in Denver, and feared that would not be possible if he ran for Governor. Hick's move keeps the race in the "No Clear Favorite" category -- with uninspiring candidates competing for both major party nominations.
Posted by Ron Gunzburger - 02.07.06 | Permalink |
SITE OF THE DAY. Today's winner is The Brad Blog.
Posted by Ron Gunzburger - 02.07.06 | Permalink |
OPEN THREAD. Yup, again.
Posted by Ron Gunzburger - 02.07.06 | Permalink |
CONGRESS. So much for the talking point that the election of Congressman John Boehner (R-OH) as the new House Majority Leader is a reform-minded break with the Tom DeLay era. National Journal noted

Boehner is not particularly interested in adopting new rules to overhaul lobbying on Capitol Hill -- believing most of the existing rules are adequate enough to address the problems raised by the Jack Abramoff scandal, so long as they are enforced. Appearing on Fox Morning News on Sunday, Boehner said he did not support Speaker Denny Hastert's proposal to ban all lobbyist-funded travel. Boehner -- who has taken more than three-dozen privately-funded trips over the past five years -- defended the travel. Calling it "essential," Boehner added: "We can't lock Members up in a cubbyhole here in Washington and never let them see what's going on around the country and around the world." When asked on Meet The Press if he would step aside as Republican Leader if DeLay is acquitted of criminal charges in his Texas case, Boehner left the door open for DeLay's return. Here's the key exchange:
BOEHNER: "We had an election and I won. But I like Tom Delay. He's been a great leader for our party. He's a friend of mine. And we're going to continue to work closely together."
RUSSERT: "But you would step aside for him?"
BOEHNER: "I said we would talk about it."
I don't think Boehner would give up his new post for DeLay -- but his vague answer shows the new leader doesn't want to do anything to upset the old leader.
Posted by Ron Gunzburger - 02.06.06 | Permalink |
MASSACHUSETTS. Attorney General Tom Reilly (D) had a really bad week for his gubernatorial campaign. Reilly initially told one Lieutenant Governor hopeful he would not interfere in that race. Then -- while actively courting venture capitalist and '02 Lt Gov nominee Chris Gabrielli as his runningmate --
Reilly shocked everyone by suddenly naming State Representative Marie St. Fleur as his runningmate. Never mind that St. Fleur had already endorsed a candidate in the Lt Gov primary. The big problem -- which Reilly and staff hadn't bothered to research -- was that St. Fleur has a federal lien on her house for unpaid taxes, previously had one house foreclosed for non-payment of mortgage, owes over $40,000 in unpaid student loans, and cannot renew her driver's license or motor vehicle registration due to an outstanding non-payment of her auto taxes. St. Fleur quit the race just one day after being named to Reilly's ticket. An embarrassed Reilly told reporters "politics isn't my strong suit." Reilly added he would now let primary voters alone select his runningmate without him making any further attempt to influence the race. Party activists -- with the liberal base traditionally dominating the process -- selected delegates around the state on Saturday in local caucuses for the upcoming state convention. While Reilly and former US Assistant Attorney General Deval Patrick both secured far more than the 15% of delegates needed to secure a primary ballot spot, Patrick trounced Reilly by a roughly 2-to-1 margin in the delegate caucuses. Reilly's inept actions are also prompting a renewed drive to recruit some other Dem into the race -- and several names are in play as "draft" targets. Anyone getting into the primary race at this point would have to secure a primary ballot spot by collecting voter signatures.
Posted by Ron Gunzburger - 02.06.06 | Permalink |
GEORGIA. A group of 21 GOP State Senators -- nearly two-thirds of the entire Georgia Senate Republican Caucus -- signed a letter on Friday calling on former Christian Coalition Executive Director Ralph Reed (R) to quit the open race for Lieutenant Governor. According to the Atlanta Journal-Constitution, the Senators said Reed's "ties to Washington lobbyist Jack Abramoff could jeopardize the re-election of Gov. Sonny Perdue and the rest of the GOP ticket." The group have all endorsed State Senator Casey Cagle (R), Reed's primary opponent. "Having some of [Cagle's] fellow state senators ... sign a campaign letter attacking me will make no difference to me or to the voters," responded Reed. In Georgia, the Lieutenant Governor serves as presiding officer of the State Senate.
Posted by Ron Gunzburger - 02.06.06 | Permalink |

COLORADO. Denver Mayor John Hickenlooper was the Democratic dream candidate for Governor. Immensely popular throughout the state, Hickenlooper would have jumped into the general election contest as the frontrunner had Hick not made it clear months ago he wouldn't run. Since then, Dems have launched a "Draft Hick" effort and kept the pressure on. It appears the drive succeeded, as Hickenlooper is expected to this week announce his candidacy for Governor. Look for current Dem frontrunner Bill Ritter -- after likely initial claims that he'll stay in the race -- to eventually become either the Lieutenant Governor runningmate or the Dem candidate against Attorney General John Suthers (R). State House Majority Leader Alice Madden (D) already said she'd quit the race and support Hickenlooper if he runs.
Posted by Ron Gunzburger - 02.06.06 | Permalink |
NEVADA. Las Vegas Mayor Oscar Goodman (D) is making sure his name remains in play in newspapers around the state. He's made a point of repeatedly mentioning over the past week that he recently met in DC with DSCC Chair Chuck Schumer and Senators Ted Kennedy and Barack Obama. The topic: Goodman making a possible challenge to US Senator John Ensign (R). The colorful and flamboyant Goodman is popular in the state, has high name ID, and his candidacy -- if it happens -- could move the contest from the "Safe GOP" column into the "Leans GOP" category. To date, Ensign's only Democratic opponent is businessman and Presidential son Jack Carter.
Posted by Ron Gunzburger - 02.06.06 | Permalink |
SITE OF THE DAY. I'm going a new direction (for a little while) with the SOTD Award and start recognizing some of our favorite blog sites (again, from across the political spectrum). Today's winner is BAGnewsNotes.
Posted by Ron Gunzburger - 02.06.06 | Permalink |
OPEN THREAD. Congratulations to the Pittsburgh Steelers.
Posted by Ron Gunzburger - 02.06.06 | Permalink |
OPEN THREAD. Yeah, I know ... I'm slacking off on the blog postings during the last few days ... but I've posted a whole bunch of updates to the various state pages.
Posted by Ron Gunzburger - 02.04.06 | Permalink |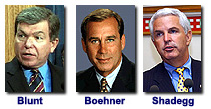 BOEHNER WINS. It took two ballots for House Republicans to elect Congressman John Boehner (R-OH) as their new Majority Leader. Boehner defeated Majority Whip -- and Acting-Majority Leader -- Roy Blunt (R-MO) by a vote of 122 to 109. All 40 votes cast for Congressman John Shadegg (R-AZ) on the first ballot shifted to Boehner on the second round. Blunt, who was favored by the DeLay allies, will return to his position as Majority Whip. Blunt's graceful concessional speech helped him avoid a challenge for the #2 post. Now the two men -- who ran fierce campaigns against each other -- must start working together. A big winner in this race is Ways & Means Committee Chair Bill Thomas (R-CA), with his late endorsement speech for Boehner. Look for Thomas to be rewarded with a new Chairmanship next year when he is term-limited out of his current chairmanship. Big losers in this leadership race included people like Congressman Clay Shaw (R-FL) -- who backed Blunt early -- who now has very little chance to realize his dream next year of becoming Ways & Means Chair.
Posted by Ron Gunzburger - 02.03.06 | Permalink |
NEVADA. Congressman Jim Gibbons (R) continues to lead in the open race for Governor. According to a new Rasmussen Reports poll, Gibbons leads Henderson Mayor Jim Gibson (D) by a vote of 43% to 38%. When matched against State Senate Minority Leader Dina Titus (D) bt a vote of 46% to 41%.
Posted by Ron Gunzburger - 02.03.06 | Permalink |
OPEN THREAD. Have at it.
Posted by Ron Gunzburger - 02.03.06 | Permalink |
THURSDAY NEWS UPDATE.
OPEN THREAD. It is again one of those days when my "real job" gets in the way of running Politics1. I was busy in legal hearings most of the day on Wednesday and am now preparing for a -- locally -- high-profile hearing on Thursday. I need to be off-line and seriously prepping for it tonight, but I'll be back with new updates for Friday.
Posted by Ron Gunzburger - 02.02.06 | Permalink |