BLOG ARCHIVE: JANUARY 1-15, 2008.
CLINTON, OBAMA CALL TRUCE ON ATTACKS; ROMNEY, McCAIN FACE-OFF IN MICHIGAN; JUDGE ORDERS MS US SENATE ELECTION BY MARCH 19; PRYOR TO BE UNOPPOSED.
P2008 - DEMS: After a few days of veiled shots between the
Hillary Clinton and Barack Obama campaigns on the issues of civil rights and race, the Clinton campaign essentially called for a truce Monday evening. "When it comes to civil rights and our commitment to diversity, when it comes to our heroes -- President John F. Kennedy and Dr. King -- Sen. Obama and I are on the same side," said Clinton's written statement. "Bill and Hillary Clinton have historically and consistently been on the right side of the civil rights movement," responded Obama on Monday evening. Clinton, Obama and John Edwards will meet in a televised debate Tuesday evening in Nevada on MSNBC. Dennis Kucinich may also participate -- but only if he wins his emergency legal action to force MSNBC to include him in the debate. Meanwhile, Michigan will hold a Dem Presidential primary with zero delegates at stake and a ballot that sees Clinton as the only major Dem candidate listed. Michigan will also not count write-in votes cast for any of the withdrawn candidates. Clinton was the only major Dem who broke with the previously agreed upon deal for all major Dems to withdraw their names from the primary ballot as a protest against the state breaking the official party-sanctioned primary schedule. Former US Senator Don Riegle (D-MI) on Monday denounced the Michigan Dem primary as "rigged ... a scam ballot ... It reminds me of the old Soviet Union ... It's an absolute fraud. [Clinton] very clearly waited until others had followed through with the agreement and then didn't follow through with it. This was not an accident. This is a very deliberate manipulation of the ballot." Riegle has not yet endorsed any of the Presidential candidates. Genesee County Democratic Party Ron Duncan told the Flint Journal: "I respect Mr. Riegle's opinion and everything he's done [but] to me it's a choice Clinton made to stand up for Michigan and not to bow down" to the Democratic National Committee.
P2008 - GOP: Some of the final polls show Mitt Romney leading in Michigan, and others show John McCain leading in the state. Romney and McCain traded the usual jabs on Tuesday. While Romney continues to play up his family ties to Michigan and play down expectations, the state is essential for Romney to remain viable in the national race. A McCain win, by contrast, will give him a strong boost heading into South Carolina and Florida -- in advance of the February 5 mega-primary day. Mike Huckabee, who spent very little in the state, is expected to finish a respectable third in Michigan.
MISSISSIPPI: Circuit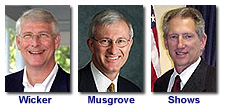 Court Judge Bobby DeLaughter on Monday afternoon ruled that Governor Haley Barbour's (R) call for a US Senate special election on November 4, 2008 is unlawful and void, as it violates state law requiring a non-partisan special election within 90 days of the vacancy. Instead, the judge ordered the special election be held "on or before March 19, 2008." Attorney General Jim Hood (D) had filed suit to challenge the timing of Barbour's call. Barbour is likely to appeal, but the ruling stands as valid unless it is reversed by the State Supreme Court. The three major candidates competing in the open contest will be interim US Senator Roger Wicker (R), former Governor Ronnie Musgrove (D) and former Congressman Ronnie Shows (D).
ARKANSAS: State GOP Chair Dennis Milligan told the AP on Monday that the Republicans are "unlikely" to field any significant candidate this year against US Senator Mark Pryor (D). The incumbent has raised over $4.4 million to date, which Milligan says "probably scared away candidates." Attorney Rebekah Kennedy (Green) is Pryor's only announced opponent. Candidate filing closes in April.
Posted by Ron Gunzburger - 01.15.08 | Permalink |
FREE SPEECH ZONE.
So, should I keep the news stories a single thread or break them up into 2-3 different threads daily. What do you think is best for encouraging debate and commenting?
Posted by Ron Gunzburger - 01.15.08 | Permalink |
CLINTON STUMPS IN SC; NELSON, McCASKILL ENDORSE OBAMA; ROMNEY LEADS IN MICH; FILING CLOSES IN MISSISSIPPI; KERRY'S NEW FOE; INDIANA CD-7 CONVO NEWS.
P2008 - DEMS: Hillary Clinton stumped in South Carolina on Sunday with BET cable network founder Bob Johnson. He defended the Clinton record on race relations:

"As an African American, I'm frankly insulted that the Obama campaign would imply that we are so stupid that we would think Bill and Hillary Clinton, who have been deeply and emotionally involved in black issues when Barack Obama was doing something in the neighborhood that I won't say what he was doing but he said it in his book." Many believe Johnson was referring to Obama's admitted youthful drug use -- although Johnson later told reporters we was only referring to Obama's work as a community organizer. Meanwhile, US Senators Ben Nelson (D-NE) and Claire McCaskill (D-MO) endorsed Barack Obama over the weekend. Nelson -- who is perhaps the most conservative Dem in the Senate -- said he endorsed Obama because he "represents the best hope for our own political reconciliation and a future where the cogs of government are working smoothly for progress instead of being gummed up by partisanship. Barack Obama will be the strongest candidate in the heartland, because he puts solutions and consensus first and he inspires great crossover appeal among Republicans and independents."
P2008 - GOP: Three independent polls over the weekend seemingly indicate

Mitt Romney has regained a slim lead over John McCain in Michigan. The polls also show Mike Huckabee third, trailing the two leaders by several points. Romney told CNN on Sunday that Michigan is "not do-or-die" for him, and he will continue his campaign through the February 5 primaries regardless of Tuesday's outcome. Romney has outspent McCain by nearly a 6:1 margin in Michigan. In South Carolina, McCain has won the endorsements of the state's two largest newspapers. Rudy Giuliani, meanwhile, told FOX News Sunday that a Florida victory is "critical" for his campaign to survive.
MISSISSIPPI: Candidate filing closed Friday in the state for the March 11 primary, with the open seat contests in CD-1 and CD-3 drawing crowded fields. In the race for the CD-1 seat vacated by newly appointed US Senator Roger Wicker (R), three Republicans filed: Southaven Mayor Greg Davis, former Tupelo Mayor Glenn McCullough and surgeon Randy Russell. Five Democrats -- including State Representative Steve Holland -- filed for the CD-1 contest. However, the district is heavily Republican. In CD-3, eight Republicans filed for the opportunity to replace retiring Congressman Chip Pickering (R). State Senator Charlie Ross, businessman David Landrum, former USDA official John Rounsaville and attorney Greg Harper are seen as the leading GOP hopefuls. Two Democrats also filed for the CD-3 race. US Senator Thad Cochran (R), Congressman Bennie Thompson (D) and Congressman Gene Taylor (D) each face only nominal opposition. Note: Filing has not yet closed for the non-partisan US Senate special election featuring Wicker, former Governor Ronnie Musgrove (D) and former Congressman Ronnie Shows (D).
MASSACHUSETTS: Retired USAF officer and farmer Jim Ogonowski (R) -- who lost an unexpectedly competitive Congressional special election to Niki Tsongas (D) in CD-5 last year -- has decided against a rematch. Instead, Ogonowski plans to challenge US Senator John Kerry (D) this year. "There's nobody in Washington who
represents the status quo more than John Kerry," Ogonowski told the AP. Kerry starts the race with $6.1 million in his campaign account, compared with just $65,000 remaining in Ogonowski's federal campaign account. Former Gloucester City Councilor Ed O'Reilly (D), former CIA Agent Jeff Beatty (R), former Wakefield Selectman Kevin Scott (R) and communist political organizer William Estrada (Socialist Workers) are already announced candidates in the US Senate race. Race Rating: Safe DEM.
INDIANA: Democrats, Republicans and Libertarian selected nominees in district conventions to compete in the March 11 special election to fill the seat left vacant by the death of Congresswoman Julia Carson (D). On Saturday, the Democrats nominated newly elected Indianapolis City Councilman Andre Carson -- the Congresswoman's grandson -- on the first ballot with 223 of the 439 votes. Carson defeated seven others, including State Representative David Orentlicher (2nd - 123 votes), Marion County Treasurer Mike Rodman (3rd- 27 votes) and State Representative Carolene Mays (4th - 26 votes). "We need candidates in office who aren't puppets for big business and corporate interests ... No matter who you were for [today], we come together and show Republicans that this is a Democratic seat," said Carson, after his convention victory. If elected, Carson will become the second Muslim ever elected to Congress. In an interesting twist, nearly all of the losing Dem candidates say they plan to challenge Carson in the May 6 primary for the full term. State Representative Jon Elrod won the GOP nomination on the first ballot with 64%. Elrod -- a GOP moderate -- told the convo he has "no baggage" and can raise sufficient money to be competitive. The Libertarian Party nominated businessman Sean Sheppard on Saturday. Race Rating: DEM Favored.
Posted by Ron Gunzburger - 01.14.08 | Permalink |
FREE SPEECH ZONE.
Whatever.
Posted by Ron Gunzburger - 01.14.08 | Permalink |
RUDY'S MONEY WOES; P2008 UPDATES; INDIANA CD-7 CONVOS.


Rudy Giuliani's top staff is now working without being paid, in a sign of serious troubles for his campaign. A new SurveyUSA poll released Friday also shows his Florida firewall strategy may not be working, as Giualiani now trails John McCain by 8 points in the Sunshine State ... Arizona Governor Janet Napolitano endorsed Barack Obama on Friday ... US House Majority Whip Jim Clyburn (D-SC), who had previously said he would remain neutral and not endorse any Presidential candidate in the South Carolina primary, told the New York Times he was reconsidering his decision. Clyburn told the newspaper he was troubled by Hillary Clinton's remarks during the New Hampshire primary campaign concerning Martin Luther King and the civil rights movement ... New Mexico Governor Bill Richardson (D), who exited the Presidential race this week, said he will not endorse any White House candidate until after the February 5 primaries ... Democrats and Republicans are both holding conventions this weekend in Indiana's CD-7 to select nominees for the March 11 special election to replace the late Congresswoman Julia Carson (D).
Posted by Ron Gunzburger - 01.12.08 | Permalink |
DOOLITTLE RETIRES; KERRY, PELOSI ALLY ENDORSE OBAMA; CLINTON SCORES KEY NV BACKER; UNITY08 COLLAPSES; BOSWELL CHALLENGED FROM LEFT.
CALIFORNIA: Congressman

John Doolittle (R), the highest-profile remaining target of the FBI's Abramoff corruption probe, announced Thursday he will retire this year. GOP leaders had strongly pressed Doolittle for months to quit, fearing his candidacy was turning an otherwise safe GOP seat into a likely Democratic pickup. With Doolittle out, the already crowded GOP primary contest is likely to draw more entrants. State Assemblyman Ted Gaines, Iraq War veteran Eric Egland, and former Auburn Mayor Mike Holmes were previously announced Republican candidates -- although Doolittle had denounced the trio as "weasels." Rumor has it that Doolittle's camp will support former State Senator Rico Oller (R) as his successor. Retired USAF officer Charlie Brown -- who narrowly lost to Doolittle in 2006 -- will again be the Democratic nominee. Filing closes March 12. Race rating: GOP Favored.
P2008 - DEMS: US Senator John Kerry (D-MA), the 2004 Dem Presidential nominee, endorsed Barack Obama for President on Thursday. While the news is a boost for Obama, it could also be viewed as a slight aimed at the Prez candidacy of Kerry's '04 VP runningmate John Edwards. Another interesting development was Congressman George Miller's (D-CA) endorsement of Obama -- as Miller is viewed as House Speaker Nancy Pelosi's closest personal friend and ally in the House. Miller's announcement appears to be a tacit wink from Pelosi to let California Dems know of her preference in advance of her homestate's February 5 primary. Meanwhile, in Nevada, Congresswoman Shelley Berkley endorsed Hillary Clinton. The backing of Berkley, the only Dem US House member from Nevada, should provide a boost for Clinton in this key caucus state. Finally, Bill Richardson withdrew from the race on Thursday but said he does not yet intend to endorse any of the remaining candidates.
P2008 - GOP: Ron Paul has spent the past few days explaining why and how so many racist, anti-Semitic and homophobic statements were printed over a two decade period in four newsletters he published under his name. Paul claims he rarely read the Ron Paul newsletters and doesn't know who wrote the offensive articles. Paul also told CNN he totally repudiates the sentiments expressed in them. "Libertarians are incapable of being a racist, because racism is a collectivist idea," said Paul, who said he admires Martin Luther King and Rosa Parks as "personal heros." Paul's campaign spokesman said they would make "no effort" to identify the racist author(s) because it would serve no purpose today.
UNITY'08: The

Unity08 group announced Thursday it was abandoning its goal of trying to create a 50-state, ballot-qualified party and then having its members select a Independent, centrist Presidential nominee. In an email sent to Unity08 supporters, the group explained FEC rules prohibit the group from raising the money it needs to accomplish the task. The group says it is scaling back operations, but not entirely closing. Also, the group said Barack Obama's message of national unity and billionaire

Mike Bloomberg's possible self-funded Indy run for President have already helped achieve what the group set out to do. "Can Unity08 take full credit for these remarkable developments? Of course not. But ... in a larger sense, we have accomplished a major portion of what we set out to do. But in the specifics and logistics, we have fallen short," stated the email. The message noted that two of the four Unity08 co-founders are now involved with encouraging Bloomberg to run "and may have more to say about their plans in the near future."
IOWA: While Republicans have yet to be able to locate any challenger to Congressman Leonard Boswell (D), the 74-year-old incumbent finds himself facing a competitive primary challenge from the left. Former State Representative Ed Fallon (D), a progressive activist and vocal Iraq War critic, announced he will oppose Boswell in the primary. Fallon said Democrats need to show "more backbone" in Washington. Fallon was an underdog candidate for Governor in 2006 -- finishing third statewide with a surprisingly strong 26% in the four-way primary -- and carried CD-3. Boswell, who voted for the 2002 Iraq War resolution, endorsed Hillary Clinton for President shortly before the Iowa Caucuses. The incumbent starts with over $600,000 in his campaign account.
Posted by Ron Gunzburger - 01.11.08 | Permalink |
FREE SPEECH ZONE.
John Kerry endorsed Obama ... but I won't hold that against Obama.
Posted by Ron Gunzburger - 01.11.08 | Permalink |
RICHARDSON TO QUIT PREZ RACE; P2008 UPDATES; LANDRIEU DENIES CORRUPTION ALLEGATIONS.
RICHARDSON: New Mexico Governor

Bill Richardson (D) will end his White House campaign on Thursday. He scored 2% in Iowa and 5% this week in New Hampshire, despite an impressive political resume. One perception problem that hampered Richardson's campaign was the constant buzz that the former United Nations Ambassador and former US Energy Secretary was really jockeying for the Vice Presidential nomination. Attempting to stake out a staunchly anti-Iraq War stance promising a swift withdrawal also never gained him traction. The withdrawal announcement will take place in New Mexico.
P2008:
DEMOCRATS: One day after placing second in the New Hampshire primary, Barack Obama got some good news when the influential Culinary Workers Union and SEIU labor unions in Nevada endorsed his candidacy. Both groups are seen as important in the state, as they have the ability to turn out large numbers of bodies for the caucuses on January 19. Hillary Clinton and John Edwards also enjoy organized labor support in Nevada. The New York Times reported Clinton and Edwards are both rapidly staffing up in Nevada, which the AP reported the opposite that Clinton was thinking of spending few resources in Nevada and South Carolina in order to focus on the February 5 contests.
REPUBLICANS: On the GOP side, John McCain campaign manager Rick Davis said all of the money raised in the days immediately following McCain's NH primary win will be earmarked exclusively for TV buys in Florida. Davis explained to The Politico that McCain already purchased the TV air time he needed for Michigan and

South Carolina. As for rival Mitt Romney, his campaign acknowledged to CNN it pulled TV spots set to air in Florida and South Carolina in order to focus entirely upon scoring a win in Michigan over McCain. Mike Huckabee is also on the air with a TV ad in Michigan, as his focuses his time in South Carolina. Fred Thompson has moved his entire staff to South Carolina, making the primary a make-or-break contest for his campaign. Rudy Giuliani is skipping the Nevada, Michigan and South Carolina contests to focus his efforts in Florida.
INDEPENDENTS: Meanwhile, the AP reports NYC Mayor Mike Bloomberg (Independent) -- despite repeated denials of interest in the White House race -- has begun national polling to test a possible Indy run this year. A reliable national political source close to the Mayor's inner circle told Politics1 that Bloomberg would definitely not run if Barack Obama is the Democratic nominee. "As a liberal New York Jew, he doesn't want to be responsible, or get blamed, for stopping the first viable black candidate from being elected President. Call it Jewish liberal guilt," said the source. The insider added he is "pretty convinced" Bloomberg also is strongly leaning against
opposing Hillary Clinton.
LOUISIANA: US Senator Mary Landrieu (D) on Wednesday strongly denied allegations raised by the left-leaning watchdog group Citizens for Responsibility and Ethics in Washington (CREW) that she directly traded campaign contributions for federal funding earmarks in 2002. Similar allegations, when proven true, led to former Congressman Bob Ney's (R-OH) guilty plea and imprisonment in 2006. CREW filed a formal complaint with the Senate Ethics Committee demanding an investigation into whether Landrieu broke the law when she earmarked $2 million for Voyager Expanded Learning less than a week after she received $30,000 in campaign contributions from executives of the company. A spokesperson for Landrieu called the complaint "frivolous" and "wholly without merit." Landrieu's office also released documentation showing the company's education program was highly regarded at the time. Landrieu is locked in a highly competitive re-election contest this year against State Treasurer John Kennedy (R).
Posted by Ron Gunzburger - 01.10.08 | Permalink |
NH: THE DAY AFTER - THREAD #2.
Here's a fresh thread you can use to give us your take on the P2008 contest.
Posted by Ron Gunzburger - 01.09.08 | Permalink |
McCAIN, CLINTON WIN NEW HAMPSHIRE.
NEW HAMPSHIRE - GOP: US Senator John

McCain returned from the political dead in New Hampshire, scoring a big victory over the still-crowded GOP field. Mitt Romney -- the major frontrunner in the Granite State for months -- placed second, Mike Huckabee was third, and the rest of the GOP field lagged far behind the leaders. The numbers: McCain - 37%, Romney - 32%, Huckabee - 11%, Rudy Giuliani - 9%, Ron Paul - 8%, Fred Thompson - 1%. McCain clearly had his numbers inflated by the support of Independent voters, a category that will be shut out in nearly all of the upcoming contests. Among Republican voters, McCain and Romney were virtually tied. Paul focused his extensive financial resources and time in NH, hoping for a surprise third place finish, but instead saw that his message was simply not resonating with GOP primary voters. McCain plans to immediately focus his efforts in Michigan, South Carolina and Florida. In a sign he expects his campaign to continue at least through January 29, McCain has dispatched former Reagan Deputy Political Director Laury Gay to Florida, and his campaign is already buying TV time in all three states. Romney is moving his fight to Michigan and Florida -- with Michigan being a "must win" state for his campaign to survive. Based upon the election night speeches, the telegenic Romney looked and sounded more like a positive winner than did the tired-looking, older McCain. Huckabee and Thompson, who did not expect to do well in NH, will both focus on South Carolina. Huckabee will also bring his hybrid economic populist/Evangelical social conservative message to Michigan and Florida. Giuliani will focus his upcoming efforts almost entirely on Florida, in advance of the February 5 mega-primaries.
NEW HAMPSHIRE - DEM: The

Democratic contest was much closer than polling and pundits had predicted. Although all polling showed Barack Obama would score a wide victory, he narrowly trailed Hillarly Clinton all night as results were being tabulated. The final numbers: Clinton - 39%, Obama - 37%, John Edwards - 17%, Bill Richardson - 5%, Dennis Kucinich - 1%. Clinton's upset win -- in that she had gone from NH frontrunner to trailing by double-digits in nearly all polls over the past five days -- immediately revived her campaign. It also highlighted the inherent flaws in polling in a highly fluid race. In the end, it was the solid support from female voters -- a group she split last with with Obama -- that gave Clinton her victory on Tuesday. Edwards was openly hoping for another second place finish, but vowed again he will "continue on until the convention" after his distant third place finish. Richardson also vowed to continue his campaign. Obama and Clinton will face-off in all of the upcoming contests as national co-frontrunners. Obama is viewed as holding an edge over Clinton in South Carolina, with the state's large black voter base. Edwards, however, also needs a strong showing in SC to remain relevant. By contrast, Nevada is currently viewed as a highly competitive, three-way race between Clinton, Obama and Edwards. Labor unions will dominate the Nevada contest, and all three enjoy labor support. Florida is viewed as a Clinton stronghold, then all bets are off for February 5. Michigan will not be a contest for the Dems, as Clinton is unopposed on the ballot in the state. Look for the Democrats to now face a protracted nomination contest.
Posted by Ron Gunzburger - 01.09.08 | Permalink |
NH PRIMARY DAY - THREAD #2.
Since there were 700+ comments posted overnight in the earlier thread (below), here's a fresh thread you can use during the day as we await the results tonight.
Posted by Ron Gunzburger - 01.08.08 | Permalink |
TUESDAY IS NH PRIMARY DAY ... AND TNR CLAIMS RON PAUL HAS 20-YEAR HISTORY OF RACISM, ANTI-SEMITISM.
NEW HAMPSHIRE: In these final hours before the New Hampshire primary, there is near unanimous consensus -- including from individuals in the Hillary Clinton campaign -- that Barack Obama

will win the Democratic primary by a wide margin. Several polls now indicate he will score a double-digit victory on Tuesday. Also, new independent polls out Monday from South Carolina now show Obama moving into lead over Clinton in the 10-20% range. Speaking to CBS News on Monday, Clinton said her campaign will continue "until the end of the process on February 5th" no matter what happens in New Hampshire primary on Tuesday. John Edwards campaign manager Joe Trippi told NBC on Monday that Edwards also plans to stay in the race beyond February 5 -- regardless of NH results -- because he wants to "hang around and wait for the right moment" just in case Obama stumbles. Edwards is hoping for another second place finish, put polling seems to show him too far behind Clinton to overtake her. On the GOP side, the race expectations are much murkier. While a resurgent John McCain held the lead in the recent days, former frontrunner Mitt Romney appears to be rapidly closing back in on the lead. Romney had a good debate performance in NH on Sunday night. In large part, Romney can also thank Obama for his resurgence as Independent voters appear to be heavily breaking for Obama -- thus depriving McCain of support he needs in order to score a convincing victory. This may be going out on a limb, but I predict McCain and Romney will finish within three points of each other -- and either man could be the one who finishes on top. A convincing McCain victory now appears much less likely, ensuring a highly competitive South Carolina contest.

Favorable weather conditions are expected to produce a record high turnout on Tuesday.
PAUL. The New Republic is set to publish on Friday a damaging expose on Congressman Ron Paul (R), portraying him as a virulent racist and anti-Semite. Appearing on Tucker Carlson's show on MSNBC on Monday evening, TNR reported Jamie Kirchick detailed a litany of allegations against Paul. Kirchick said most of his information came from articles published over the past 20 years in the subscription-based Ron Paul Survival Report newsletter. Kirchick said he will detail a two decade history of newsletter articles filled with "racist, anti-Semitic, homophobic invective." Further, Kirchick alleged Paul has openly referred to Dr. Martin Luther King Jr. as a "gay pedophile" and was once a featured speaker at a Confederate "pro-secessionist conference." In a statement published on Paul's campaign website on Monday evening, Paul wrote that he expects "the attacks and even smears [on me] will increase as we do better."
Posted by Ron Gunzburger - 01.08.08 | Permalink |
FREE SPEECH ZONE.
Nope, I've got nothing to opine on for this wonderful and historic day ... but feel free to use the open thread to list yet more reasons why you think I suck these days. (Unless, of course, you're the Vermont marijuana lady, in which case you can just go ahead and use the thread to post your daily non sequiturs.)
Posted by Ron Gunzburger - 01.08.08 | Permalink |
OBAMA, McCAIN NOW LEADING IN NH; ROMNEY WINS IN WYOMING; TEXAS, OHIO PRIMARY FILING CLOSES; MS SEN RACE GETS MORE CROWDED.
NEW HAMPSHIRE: The top four

Democrats debated in the state on Saturday night on ABC and the leading GOP hopefuls debated both on Saturday night on ABC and Sunday night on FOX. The candidate exchanges in both party debates were testy at times. A side note: the NH Republican Party withdrew as a co-sponsor of Sunday night's debate on FOX when the network barred Ron Paul from participating in the debate. The latest independent polling in the Granite State -- as of Sunday evening -- shows Obama leading Clinton by margins ranging between 1 to 10 points, and has McCain leading Romney by margins of 2-6 points. Previous polling in the state just last month showed Clinton and Romney both holding leads of around 8-10 points, illustrating the fluid nature of the contests. Romney is fighting for his political survival in the state. A double-digit loss in the state for Romney would likely inflict a fatal blow to his campaign.
WYOMING. Mitt Romney scored a win in Wyoming's County Convention process on Saturday -- although the win was rendered largely insignificant by the decision months ago by leading rivals John McCain, Mike Huckabee and Rudy Giuliani to entirely skip the contest. Romney visited the state twice, and one of his sons is a Wyoming rancher. While Romney won, the only opponents who actively contested him in the vote were Fred Thompson, Duncan Hunter and Ron Paul. Romney won 8 delegates, Thompson won 3 delegates, and Hunter won 1 delegate. The county conventions are remotely similar to caucuses, but were only open to pre-designated party activists. Thus, most voters could not cast ballots under party rules.


TEXAS: Candidate filing closed in Texas last week for the March 4 primary. In CD-4, 84-year-old Congressman Ralph Hall (R) faces several credible challengers -- although most seem to be running to make a good first impression now for what is expected to be a crowded open seat contest in two years. In CD-14, Congressman Ron Paul is facing a primary challenge from Friendswood City Councilman Chris Peden. The conservative challenger disagrees with Paul's opposition to the Iraq War and many of his other libertarian stances. The other primary contest to watch is in CD-22, where ten Republicans are fighting for the right to face vulnerable freshman Congressman Nick Lampson (D) in November. Click here to view the list of Texas Congressional candidates.


OHIO: Candidate filing also closed in Ohio on Friday for the March 4 primary. In CD-2, Congressman Jean Schmidt (R) is facing two credible primary foes -- but they will likely split the anti-Schmidt vote, as happened in her last two primaries. In CD-7, four Republicans are fighting for the right to replace retiring Congressman Dave Hobson (R) in this solid GOP district. Hobson favors State Senate Majority Whip Steve Austria as his successor. In CD-10, Congressman Dennis Kucinich (D) is facing several aggressive, viable and well-financed primary foes -- including a former Kucinich political protégé, who the incumbent now blasts as "the candidate of downtown Cleveland corporate interests." CD-15 and CD-16 also feature crowded open seat contests. Click here to view the list of Ohio Congressional candidates.
MISSISSIPPI: Hours after former Governor Ronnie Musgrove (D) said he would challenge Interim US Senator Roger Wicker (R) in the upcoming special election, former Congressman Ronnie Shows (D) announced he would also run in the non-partisan open primary. In related news, Attorney General Jim Hood (D) has filed suit in state court to force a spring special election -- saying that Governor Haley Barbour's (R) decision to delay the vote until November violates state law. Race rating: GOP Favored.
Posted by Ron Gunzburger - 01.07.08 | Permalink |
FREE SPEECH ZONE.
Lots of email gripes from folks that my reporting on the P2008 is biased in favor of Obama (who I admittedly support). Here's my question: What am I writing in the news section on Obama (or Clinton) that is significantly different from what the pundits are also saying as analysis and predictions on ABC, CBS, NBC, FOX, CNN, and in the major newspapers? Flipping channels on Sunday, every prediction on every show by every pundit was that Obama and McCain would win on Tuesday. Trust me, if bad Obama news develops, I'll report on it too. Ditto for predictions when I think he'll lose an upcoming contest ... And, for those who asked why I trashed Miami Herald political columnist Beth Reinhard on Saturday for being a total joke professionally, just think about this: she astoundingly penned a winners/losers column about the Iowa results without once mentioning Hillary Clinton.
Posted by Ron Gunzburger - 01.07.08 | Permalink |
HRC RETOOLS; CAMPAIGNS IGNORE WY GOP CAUCUSES; ROMNEY FIGHTS TO STAY ALIVE IN NH; MUSGROVE TO RUN IN MS US SENATE RACE.
P2008 - THE DEMOCRATS: Barack Obama,
Hillary Clinton, John Edwards and the rest of the remaining Democratic field -- plus a large group of gadflies also appearing on Tuesday's primary ballot -- are spending the weekend criss-crossing New Hampshire. Clinton has already retooled her previous "experience" message into one of "experience that has worked to bring about change." However, it is Obama who was drawing record-sized crowds in the state on Saturday with his continuing theme of hope and change. Edwards, who lags in NH polls, is also fighting to keep his campaign alive. Edwards spent much of Friday telling the media that the remaining nomination contests are really one of Obama-versus-Edwards -- "the only two candidates who stand for change" -- claiming that Clinton's third place Iowa finish has already killed her campaign, even if she has yet to realize it. Clinton's campaign is already working to downplay expectations in NH, saying she would be satisfied with just "a good showing" in the state. Despite those sentiments, most pundits agree Clinton would be seriously damaged is she suffered another embarrassing third place finish on Tuesday.
P2008 - THE REPUBLICANS. Not that

it is drawing any attention, but the Wyoming GOP Presidential Caucuses are set for Saturday. Unlike the attention lavished upon Iowa, the GOP sanctioned the state by halving the number of convention delegates for breaking the official schedule with the early date. Mitt Romney, Fred Thompson, Duncan Hunter and Ron Paul were the only GOP hopefuls to visit Wyoming in recent months -- and none are expected there for Saturday's caucuses. Former Wyoming Governor Jim Geringer is backing Mike Huckabee, while State Auditor Rita Meyer is supporting Romney. The absence of active campaigning -- except for some modest spending by the Romney campaign -- has rendered the Wyoming contest largely irrelevant. In other related GOP news, Fred Thompson announced Friday his campaign will not make a major effort in the New Hampshire primary and instead sees the South Carolina primary on January 19 as his make-or-break state. Nearly all polling from New Hampshire during this final weekend continues to confirm John McCain moving into the lead here over former NH frontrunner Romney. A significant McCain victory in the Granite State would likely end the national viability of Romney's big-spending campaign.
MISSISSIPPI: Former Governor Ronnie Musgrove (D) is jumping into this year's special election for US Senator. He will oppose Congressman Roger Wicker (R), who was appointed to fill the vacancy earlier this week. Musgrove will make his formal announcement on Monday. Wicker will be sworn-in as the interim Senator on January 22. It is still unclear whether the special election -- in which all candidates run in an open contest without party designations -- will be help in March/April or November. Democrats are expected to bring a legal challenge to Governor Haley Barbour's (R) efforts to delay the vote until November. Attorney General Jim Hood (D) recently opined that state law requires the special election be held within 100 days of the vacancy occurring. Race rating: GOP Favored.
Posted by Ron Gunzburger - 01.05.08 | Permalink |
FREE SPEECH ZONE.
Odds are that there is at least one national political journalist in the nation more inept, superficial and vacuous than senior political columnist Beth Reinhard of the Miami Herald ... only I just cannot imagine how that would be possible.
Posted by Ron Gunzburger - 01.05.08 | Permalink |
OBAMA, HUCKABEE WIN BIG IN IOWA; BIDEN, DODD & GRAVEL QUIT PREZ RACE; PETERSON RETIRES.
IOWA - THE DEMOCRATS: Senator Barack Obama scored a significant victory in Thursday's Iowa Caucuses, finishing comfortably ahead of both John Edwards and

Hillary Clinton. The final results: Obama - 38%, Edwards - 30%, Clinton - 29%, Bill Richardson - 2%, Joe Biden - 1%. Clinton's third place finish -- an embarrassing result her campaign had wanted to avoid -- seemingly punctured the aura of inevitability that surrounded her campaign for the past two years. While Clinton always knew she would have problems in Iowa, her worst case scenario counted on capturing at least a respectable second-place finish. Voters rejected her her message of experience in favor of Obama's positive message of change. A review of the results also showed that Obama defeated Clinton with Democrats, Independents, self-declared liberals, and younger voters. Clinton handily defeated Obama among senior citizens. Edwards, lacking in the funds enjoyed by Clinton and Obama, needed a first place win to gain momentum for the coming contests. While Edwards' second place finish will enable him to continue forward to New Hampshire's primary on Tuesday, his only realistic opportunity to become the nominee seemingly slipped away in Iowa. In response to weak finishes, Joe Biden, Chris Dodd and Mike Gravel all ended their White House campaigns on Thursday evening. With the contest moving to New Hampshire and South Carolina -- states Obama is now likely to win -- Clinton will make her real stand against Obama in Florida and the 22-state national primary on February 5. Also look for the Clinton campaign to quickly go negative on Obama.
IOWA - THE REPUBLICANS. Former Governor Mike Huckabee won a very comfortable win in Iowa, buoyed by the enthusiastic support of the state's large evangelical community.

Huckabee won despite being on the receiving end of weeks of negative attacks paid for by former frontrunner Mitt Romney. The attacks did not help Romney make up the ground he lost in recent weeks. Romney also reportedly spent in excess of $10 million in Iowa over the past two years, versus Huckabee's shoestring budget. The only surprise of the night -- if it can be called a surprise -- was Fred Thompson's third place finish. According to The Politico, Thompson had apparently been planning a Friday withdrawal speech -- and John McCain endorsement -- in anticipation of a weak fourth place finish in Iowa. Instead, Thompson's Iowa finish will keep his campaign going at least until next Tuesday's Granite State primary. The results: Huckabee - 34%, Romney - 26%, Thompson - 13%, McCain - 13%, Ron Paul - 10%, Rudy Giuliani - 4%, Duncan Hunter - 0%. Giuliani did not run an active campaign in Iowa. With the campaign moving on to New Hampshire, Romney runs the risk of a major upset at the hands of a resurgent McCain. Recent polling and newspaper endorsements point to a close race in the state where Romney once held a commanding lead. A New Hampshire defeat for Romney could inflict a fatal injury upon his campaign. Giuliani, by contrast, is banking on a Clinton-like strategy focusing on Florida and the February 2 primaries.
PENNSYLVANIA: Congressman John Peterson (R) unexpectedly announced on Thursday that he will not seek re-election this year to a seventh term. "Although still young at heart, a few chronic, non-threatening health issues have to be addressed at home, requiring me to devote more time to my family -- time and presence which would not be possible if I sought reelection," explained Peterson. The CD-5 seat is heavily Republican.
Posted by Ron Gunzburger - 01.04.08 | Permalink |
FREE SPEECH ZONE.
As promised, I just posted some pix from my Israel trip in an album on my Facebook page ... Also, there may well be some typos in my Iowa report, and the writing style may be more choppy in style than usual, but please forgive me as I was very tired from the jet lag.
Posted by Ron Gunzburger - 01.04.08 | Permalink |
LANTOS RETIRES, WICKER APPOINTED TO US SENATE, ... AND RON IS BACK FROM VACATION.
CALIFORNIA: Congressman Tom Lantos (D-CA), Chair of the House Foreign Affairs Committee, announced this week he will not seek re-election to a fifteenth term in 2008 because he was recently diagnosed with having cancer of the esophagus. "It is only in the United States that a penniless survivor of the Holocaust and a fighter in the anti-Nazi underground could have received an education, raised a family, and had the privilege of serving the last three decades of his life as a Member of Congress. I will never be able to express fully my profoundly felt gratitude to this great country," said Lantos on Wednesday in his retirement statement. The CD-12 seat is solidly Democratic, and State Senator Jackie Speier (D) appears to be the initial frontrunner to replace Lantos.
MISSISSIPPI. As expected, Governor Haley Barbour on Monday appointed Congressman Roger Wicker (R) to fill the vacancy left open by the December 19 resignation of US Senator Trent Lott (R). A special election will be held in the spring for Wicker's open CD-1 seat, which is a safe GOP district. Expect a legal battle, however, as to the special election date for when Wicker must defend his seat: March/April 2008 or November 2008.
POLITICS1: Yup, I'm back from my first ever visit to Israel -- just in time for the Iowa Caucuses. Got to see a lot: the Israeli-Syrian border in the Golan Heights; the Dead Sea valley and the southern desert region; Mediterranean coastal cities; Jewish, Druze, Christian and Palestinian communities; IDF security checkpoints; and had opportunities to visit some of the holiest Jewish, Christian and Muslim sites. I'll get around to writing something up on it in a few days ... and I'll post some of the pix in an album on my Facebook page.
Posted by Ron Gunzburger - 01.03.08 | Permalink |
RON'S OPEN THREADS TO KEEP YOU BUSY UNTIL HE'S BACK FROM VACATION.
Next Update: January 3, 2008 (Iowa Caucus Day)
I'm on vacation with Dana and others in my family, visiting Israel and the West Bank. I've never been to the Middle East before, so I'm looking forward to it (and not bringing my laptop). To keep you busy during this very brief lull, I've created several threads with designated dates. Please try to stick to the suggested dates, as it will make your interaction with other readers more lively. Thanks!
THREAD FOR JANUARY 1-3, 2008.
Happy New Year!
Posted by Ron Gunzburger - 1.1.08 | Permalink |
JOIN THE POLITICS1
FACEBOOK GROUP:



BLOG ARCHIVE:

January 16-31, 2008
January 1-15, 2008
December 16-31, 2007
December 1-15, 2007
November 16-30, 2007
November 1-15, 2007
October 16-31, 2007
October 1-15, 2007
September 1-30, 2007
August 16-31, 2007
August 1-15, 2007
July 1-31, 2007
June 1-30, 2007
May 16-31, 2007
May 1-15, 2007
April 16-30, 2007
April 1-15, 2007
March 16-31, 2007
March 1-15, 2007
February 16-28, 2007
February 1-15, 2007
January 16-31, 2007
January 1-15, 2007
December 16-31, 2006
December 1-15, 2006
November 16-30, 2006
November 1-15, 2006
October 16-31, 2006
October 1-15, 2006
September 16-30, 2006
September 1-15, 2006
August 16-31, 2006
August 1-15, 2006
July 16-31, 2006
July 1-15, 2006
June 16-30, 2006
June 1-15, 2006
May 15-31, 2006
May 1-15, 2006
April 16-30, 2006
April 1-15, 2006
March 16-31, 2006
March 1-15, 2006
February 17-28, 2006
February 1-16, 2006
January 16-31, 2006
January 1-15, 2006
December 2005
November 2005
October 2005
September 2005
August 2005
July 2005
June 2005
May 2005
April 2005
March 2005
Jan-Feb 2005
December 2004
November 16-30, 2004
November 1-15, 2004
October 16-31, 2004
October 1-15, 2004
September 16-30, 2004
September 1-15, 2004
August 16-31, 2004
August 1-15, 2004
July 16-31, 2004
July 1-15, 2004
June 16-30, 2004
June 1-15, 2004
May 16-31, 2004
May 1-15, 2004
April 16-30, 2004
April 1-15, 2004
March 15-31, 2004
March 1-14, 2004
February 15-29, 2004
February 1-14, 2004
January 17-31, 2004
January 1-16, 2004
December 16-31, 2003
December 1-15, 2003
November 17-30, 2003
---
POLITICAL BLOG ROLL:
KINDA NEUTRAL:
ABC News: The Note
CNN: Morning Grind
CQ Politics
Political Wire
MSNBC: First Read
CJR Daily
Rothenberg Pol. Report
LexisNexis: US Politics
Stateline.org
Governing.com
Political State Report
Hotline On Call
Hotline's Blogometer
Beltway Blog
WatchBlog
Lawmakers Blog
Centerfield Aggregator
Command Post
FactCheck.org
WSJ: Best of the Web
WSJ: Washington Wire
D.C.'s Political Report
2008 Political Perspective
Media Bistro
Larry Sabato: Crystal Ball
PressThink
Politics-Line
TheCapitol.Net: Blog
MyElectionAnalysis.com
DEM/LEFT:
DNC Blog
DCCC Blog
DailyKos
Lefty Blogs
Howard Dean/DFA
OurSenate.com
Frameshop
The Washington Note
Emerging Dem Majority
Think Progress
AmericaBlog.com
Amer Prospect: Tapped
Arianna Huffington
Al Franken
BAG News Notes
Eric Alterman
Senate Majority Project
FishBowl DC
Fired Up! America
TalkLeft
TNR: The Plank
The Raw Story
Blogging of the President
Joe Trippi
Swing State Project
Media Matters
Josh Marshall
Wonkette
MyDD
Working for Change
Crooks & Liars
Mathew Gross
Penndit
Progressive Dems: Blog
Atrios/Eschaton
Off the Kuff
Tom Tomorrow
Mother Jones
Jerry Springer
TruthOut
Dem Bloggers
Liberal Oasis
Penndit
Firedoglake
Good As You
AtariDemocrat
Henry Lewis
BuzzFlash
Brad Blog
Dean Nation
Louise Slaughter
TruthDig
Dem Underground
Jared Hall
Bad Attitudes
The American Street
District Blogs
GOP/RIGHT:
RNC (GOP.com)
Club for Growth
National Review: Corner
C-Log
Real Clear Politics
Andrew Sullivan
John Ellis
StoneZone
Mickey Kaus
Virginia Postrel
RedState.org
WSJ Opinion Journal
Free Republic
Instapundit
Drudge Report
Pajamas Media
Hugh Hewitt
Daniel Drezner
Daily Pundit
Bully Pulpit
Outside the Beltway
Little Green Footballs
World Mag Blog
Right Wing News
Volokh Conspiracy
Brothers Judd
David Frum
Mister Politics
Enter Stage Right
Right Wing News
PoliPundit
Power Line
Hedgehog Report
Right Voices
Booker Rising
Don Singleton
Save the GOP
OTHER:
ThirdPartyWatch.com
Centrist Coalition
Kn@ppster
Green Commons
News for Greens
---
For those who would like to track Politics1 with a newsreader, we publish a RSS feed:
---

---