BLOG ARCHIVE: JANUARY-FEBRUARY 2005

MONDAY OPEN THREAD. Nothing new from Lt. Crabtree and the 1/23 Marines today ... and nothing particularly noteworthy this weekend in the world of politics ... so "have at it" with this open thread.
Posted by Ron Gunzburger - 2.28.05 |
FRIDAY OPEN THREAD. Yet another report about the 1/23 Marines in Iraq. Sadly, correspondent Lt. James Crabtree writes about another loss as their time there is rapidly winding down. In political news, it is pretty clear that US Senate Majority Leader Bill Frist (R-TN) is going to run for President in 2008. Why else would he be making two trips to

NH over the next three weeks! Massachusetts Governor Mitt Romney (R) this week made a visit to SC, another early contest state. US Senator Joe Biden (D-DE) also confirmed his interest seeking the White House next time. "I'm sounding it out," said Biden to the San Francisco Chronicle. However, he also conceded that Senator Hillary Clinton (D-NY) will be "the overwhelming, prohibitive favorite" to win the nomination if she runs. Meanwhile, there is also an active draft group -- DraftRuss.com -- that is operating to encourage my favorite hopeful, Senator Russ Feingold (D-WI), to run for President. In Los Angeles, a new independent poll shows that City Councilor/former State House Speaker Antonio Villaraigosa (D) holds a wide lead in the looming non-partisan primary for Mayor. Incumbent James Hahn (D) appears to be lagging far behind -- and struggling to even win the second spot needed to qualify for the run-off. In Virginia, former Attorney General Jerry Kilgore (R) is leading Lieutenant Governor Tim Kaine (D) by a 33% to 26% vote in the open race this year for Governor, according to a new Emerson College poll. Suprisingly, the same poll shows that outgoing Virginia Governor Mark Warner (D) has a decent shot at ousting US Senator George Allen (R) in 2006. The numbers: Warner-48%, Allen-41%. A re-election defeat for Allen would certainly derail his 2008 Presidential ambitions.
Posted by Ron Gunzburger - 2.25.05 |
PRESIDENT'S DAY OPEN THREAD. Lt. James Crabtree of the 1/23 Marines sent another update from Iraq -- and, fortunately, it was good news again this week. In political news, a new independent poll in Alabama shows that Lieutenant Governor Lucy Baxley (D) would easily win the Dem gubernatorial nomination next year, and would also currently defeat either incumbent Governor Bob Riley (R) or former "Ten Commandments Judge" Roy Moore (R) in a general election matchup. In Rhode Island, a new poll shows that moderate US Senator Lincoln Chafee (R) is trailing his most likely Democratic opponent by a double-digit margin. In Vermont, US Senator Jim Jeffords (I) looks to be a sure bet to win re-election next year. On the Dem side, Howard Dean endorsed Jeffords. On the GOP side, Governor Jim Douglas announced last week that also likes Jeffords and would not support any GOP candidate who challenges Jeffords next year.
Posted by Ron Gunzburger - 2.21.05 |
WEDNESDAY OPEN THREAD. In Tuesday's non-partisan primary for Wisconsin Education Commissioner, incumbent Libby Burmaster (D) and State Senator Gregg Underheim (R) advance to the April run-off. Burmaster had 61% and Underheim had 29%, with two others far behind. In Virginia, State Senator Russell Potts (R) has hired consultants and is apparently gearing up to imminently jump into this year's gubernatorial race -- as an Independent. In DC, the Washington Post reported rumors that Senator Joe Lieberman (D) could be the White House's leading candidate to replace Don Rumsfeld as Defense Secretary when he likely departs (expected date: sometime over the next 12 months).
Posted by Ron Gunzburger - 2.16.05 |
MONDAY OPEN THREAD. Happy Valentine's Day to everyone. And, in celebration of the day, we have a special Valentine's Day update from our 1/23 Marines in Iraq. In political news, we've got deja vu all over again (to quote Yogi Berra) in that it appears a musical instrument playing, Arkansas Governor -- who even hails from "a place called Hope" -- is going to run for President in 2008: Mike Huckabee (R) ... Congressman Mark Kennedy (R-MN) officially jumped into the '06 open seat contest for US Senate, setting of an open seat scramble for his House seat ... and Columbus Mayor Michael Coleman (D) kicks off his campaign this week for Ohio Governor. Former Cincinnati Mayor -turned-TV celebrity Jerry Springer (D) -- who is trying to become more serious and political these days -- also looks likely to enter same race later this year.
Posted by Ron Gunzburger - 2.14.05 |
FRIDAY OPEN THREAD. Howard Dean formally becomes DNC Chair this weekend ... Al Franken (D) says he will not run for US Senator in Minnesota next year, but former US Senator Rod Grams announces he will run ... fake White House "reporter" Jeff Gannon quits after being outed as a GOP attack dog in a bizarre gay web scandal (hmmm, in these days of post-9/11 security measures, how did he even get Bush White House media credentials under a fake name and with apparently no real background check?) ... and, hey, it's been days since I mentioned Senator Russ Feingold as a Presidential candidate for 2008.
Posted by Ron Gunzburger - 2.11.05 |

THURSDAY OPEN THREAD. Vulnerable and quirky freshman US Senator Mark Dayton (D-MN) made a surprise announcement on Wednesday that he would not seek re-election in 2006 ... a new University of Massachusetts poll shows Governor Mitt Romney (R-MA) trailing likely opponent Attorney General Tom Reilly (D) by a 45% to 41% vote ... a new Siena New York Poll shows New York Governor George Pataki (R) appears headed towards defeat if he seeks a fourth term next year. The poll showed Attorney General Eliot Spitzer (D) would defeat him today by a 51% to 35% vote. In related news, a new Quinnipiac University poll shows US Senator Hillary Clinton (D) would defeat Pataki in a Senate race by a 2-to-1 margin.
Posted by Ron Gunzburger - 2.10.05 |
TUESDAY OPEN THREAD. Howard Dean is now officially the last man standing in the race DNC Chair, as Tim Roemer quit the race Monday ... former Christian Coalition Executive Director Ralph Reed launched his bid for Georgia Lieutenant Governor ... former US Senator Rod Grams (R-MN) announced he is considering making a comeback bid next year against Senator Mark Dayton (D), the guy who ousted him ... and a new independent poll shows that US Senator Jon Corzine (D) is holding a lead of at least 2-to-1 over any of his GOP rivals in this year's open race of NJ Govenor.
Posted by Ron Gunzburger - 2.08.05 |
WEEKEND OPEN THREAD. We've got a new report -- this time, more upbeat news -- from Lt. James Crabtree and the 1/23 Marines. Im political news: Donnie Fowler and Simon Rosenberg both quit the DNC Chair race on Friday, so get used to saying "Democratic National Chairman Howard Dean" for the next four years ... embattled California Secretary of State Kevin Shelley (D) resigned amid a massive political corruption probe ... and former HUD Secretary Tommy Thompson (R) told an audience that he may try to regain his old job as Wisconsin Governor next year.
Posted by Ron Gunzburger - 2.05.05 |
FRIDAY OPEN THREAD. Howard Dean appears to be within a handful of votes of mathematically locking up the DNC Chair race ... it appears that Senator Evan Bayh (D-IN) is quickly building a campaign team so that he can attempt to position himself as the centrist alternative to Hillary Clinton ... and former VP Al Gore is also apparently putting out feelers about entering the '08 race. Don't laugh, as the eight-year hiatus worked pretty well for defeated former VP Dick Nixon in 1968. BTW, did I mention -- yes, yet again -- that my preferred choice for President in 2008 is Senator Russ Feingold?
Posted by Ron Gunzburger - 2.04.05 |
WEDNESDAY OPEN THREAD. With Martin Frost and David Leland also now out of the DNC Chair race, it looks like its down to Dean vs. Fowler ... and I'd bet on Dean (well, I guess I actually did bet on Dean, as I gave another contribution to his DFA group yesterday). There were around 700 comments in less than 24 hours in yesterday's open thread, so here's another to keep it going.
Posted by Ron Gunzburger - 2.02.05 |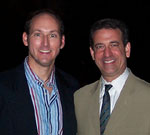 TUESDAY OPEN THREAD. The 1/23 Marines lost four more men this week, but the battalion was able to ensure a safe election day in their region. Lt. James Crabtree offers his reflections in a new report on these sad days. In other stuff, Governor Dick Codey (D-NJ) announced that he will not challenge Senator Jon Corzine in the '05 NJ Gov race. Howard Dean won the support this week of former DNC Chair candidates Wellington Webb and Harold Ickes and the Association of State Democratic Chairs. US Senator Sam Brownback (R-KS) is now floating his name as a P2008 hopeful -- and US Senator Russ Feingold (D-WI) confirms he's interested in the next White House contest, too. FYI: I got to chat with Feingold when he was in South Florida this past weekend. Dean as DNC Chair and Feingold for President ... that's a combination I'd enthusiastically embrace.
Posted by Ron Gunzburger - 2.01.05 |
TUESDAY OPEN THREAD. Lt. James Crabtree of the 1/23 Marines gives us a new report today with some news ... about news. In other stuff, Congressman Rob Andrews (D) has decided to stay out of the '05 NJ Gov race.
Posted by Ron Gunzburger - 1.25.05 |
FRIDAY OPEN THREAD. We've got a new report today on the 1/23 Marines -- and, fortunately, we finally have good news again from Lt. Crabtree.
Posted by Ron Gunzburger - 1.21.05 |
THURSDAY OPEN THREAD. Howard Dean picked up endorsements this week of the state Dem chairs in Mississippi, Utah and Oklahoma ... and the entire Florida delegation of voting DNC members. Potential '08 White House candidate Russ Feingold is already speaking in Florida next week. Oh yeah, and Dubya has got something or other going on in DC today.
Posted by Ron Gunzburger - 1.20.05 |
TUESDAY OPEN THREAD. In the news today ... umm, actually, I didn't watch or read any news today ... so you guys can just fill it in today in the blog.
Posted by Ron Gunzburger - 1.18.05 |
MONDAY OPEN THREAD. We've got a new report from the 1/23 here (sadly, the battalion lost two more men). In political news, the Committee for the Study of the American Electorate reported over the weekend that the final tally for voter turnout shows that 122 million people -- 60.7% -- cast ballots. That's the highest turnout since 1968.
Posted by Ron Gunzburger - 1.17.05 |
SPIN-OFFS. The Jeffersons was to All In The Family what these guys are to us. Yup, check out these Politics1 alumni sites: NewPolitics1, The Kentucky Democrat, and PoliticsVT.
WEEKEND OPEN THREAD. The Hotline did a fairly extensive survey of DNC member (i.e., the only people who get to vote for Dem National Chair). The results: Howard Dean holds a solid lead, while former Congressman Martin Frost is a clear second. All others trail far behind.
Posted by Ron Gunzburger - 1.15.05 |
FRIDAY OPEN THREAD. "The last thing this country needs is two Republican parties" - Ted Kennedy, speaking about those Dems who want the party to move more to the right.
Posted by Ron Gunzburger - 1.14.05 |
THURSDAY OPEN THREAD. We've got a new update from the 1/23 Marines in Iraq here ... .Lawton "Bud Chiles (D) announces for Florida Governor in 2006 ... Howard Dean announced for DNC Chair, but former DFA Campaign Manager Joe Trippi endorsed Simon Rosenberg for DNC Chair ... and another P1 alumni site can be found here.
Posted by Ron Gunzburger - 1.13.05 |
TUESDAY OPEN THREAD. Well, reading the nice comments in yesterday's blog made me feel a lot like Tom Sawyer, when he secretly attended his own funeral when the town mistakenly thought he had been killed. I was approached today by a pro-Dem PAC that said they may be interested in hiring someone to keep the site running and updated for the next year or so. There were also two inquiries from political consulting firms and one relating to a university program taking over the day-to-day operations for a while. No guarantees anything will come of these, but stay tuned. Also: you can find some of our P1 alumni here and here.
Posted by Ron Gunzburger - 1.11.05 |
JANUARY 10, 2005 - LAST CALL (or: "It's not you ... it's me.") For a while now, I could tell it was time for me to move on to other projects. I finally made the decision to do so on New Year's Day ... and then decided to wait a week or so to be really certain this was what I wanted to do.
I loved my experience in creating and running Politics1. I launched this one-person, public service educational project in late 1997 and it grew rapidly, gaining a loyal and sizable following. It also successfully operated "in the black" for the entire run. I'm rather satisfied with the accomplishments of Politics1 over the past 6+ years. Still, all good things must come to an end.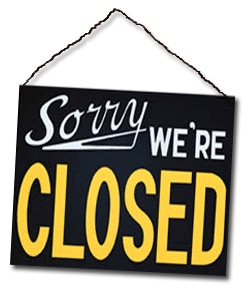 The reason I know it is the right time do this is because I've had this gut feeling for several months now. I first ruminated on the concept months ago in mid-2004 in the blog. The more I've thought about it, the more it is clear what I want to do.
When what was once "fun" has become dreaded now as hours of "work" each week, it is time for me to move on. (Remember, my publishing of Politics1 comes in addition to holding down a very full-time job as General Counsel & Director of Administration of a government agency.)
Likewise, when I feel my writing and humor are losing their edge, then it is also time to move on. Frankly, I'm finding it very hard these days to see humor in the sad state of American politics.
Most importantly -- as appalled and disgusted as I currently am with our political system at nearly all levels -- I understand the need for a real vacation away from everything political. That's why I also turned down every campaign consulting opportunity that I've been approached with over the past few months for the 2005-06 cycle. Is this a permanent departure for me from professional politics? Probably not, but I don't know.
So, what's next for Politics1?
I'll keep the site online and continue to own it, but without posting any new updates for at least one year. The only exception will be the continuing updates on the 1/23 Marines from my friend Lt. James Crabtree in Iraq. I will continue to post these reports here until they return home in March 2005, as I understand how important these are to the 1/23 families. Then, after the 1/23 Marines return home, I don't plan to post any more updates until at least January 2006 at the earliest. That is when I will reassess this decision and see if I want to start it up again.
Until then, I'll keep checking my email (so feel free to keep in touch).
I'll get to catch up on a huge pile of books (mainly 20th Century French, Eastern European and Soviet history) ... spend more time outside and with friends ... and hopefully get back to having a relatively normal and more quiet life.
I'm even developing a smaller new web project -- entirely outside of politics -- as the publisher of the official website of French national cycling champion Thomas Voeckler (right). For those who don't really follow much pro cycling -- aside from Lance Armstrong and his yellow bracelets -- Thomas was the little-known 25-year-old in last year's Tour de France race who amazingly captured and defended the yellow jersey for ten days. Now he's viewed as one of the best hopes over the next decade to restore France to greatness in the sport. So, as I wrote above, you can see I'll remain connected -- but in a different way.
So, before I turn the lights off and walk out for the last time, I wanted to thank each of you -- including those who criticized me for my politics or my web design skills -- for helping to create the real sense of community we enjoyed in the blog and on the site.
Likewise, I want to thank those of you who regularly sent me information and news tips, who contributed money or purchased ads on the site, and who helped in so many other ways.
I also owe a debt of gratitude to the curmudgeonly Howard Dean, who got me reconnected with politics again as a "true believer." I was so jaded and cynical for years towards everything and everyone in politics until I got involved in his campaign (and even spent primary week freezing in New Hampshire as a Deaniac volunteer). The Dean campaign ultimately faltered, but through it I found in myself the ability to believe in "the cause" again.
Publishing Politics1 was a wonderful experience. Every day of it. No regrets.
But now it is time to close this chapter and move forward. My best wishes to each of you.
Warmest regards and au revoir,



Posted by Ron Gunzburger - 1.10.05 |
---
FRIDAY OPEN THREAD. I promise new updates this weekend, but this week at work was too hectic to allow much reflection over the past few days.
Posted by Ron Gunzburger - 1.7.05 |
THURSDAY OPEN THREAD. Hint: Ron's job is really keeping him very busy right now ... so talk amongst yourselves.
Posted by Ron Gunzburger - 1.6.05 |
REPORT FROM IRAQ: SOME SOMBER NEWS FROM HADITHA DAM. Our special correspondent Lt. James Crabtree of the 1/23 Marines had the war strike painfully close this week.
Dear Politics1.com Friends,

Hello again from the Haditha Dam. I hope you had a good New Year.

Our battalion has suffered a tragedy since I was last able to write you. On New Yearís Day some of our Marines from the Small Craft Platoon were on a regular river patrol when one of their Marines was shot in the leg. LCpl Fallonís wound was minor and after he was evacuated the platoon continued on with their patrol. Later on, while on the shore, there was an explosion. LCpl Brian Parrello (right), a native of New Jersey, was killed and three others were wounded. Two of the wounded will make full recoveries, but the third, Captain Jon Kuniholm from Durham, NC, was badly hurt. He later lost his right arm from the elbow down.

This is not easy to write about. LCpl Parrello is only the second Marine we have lost here. He was an active duty Marine from the Small Craft Company in Camp Lejeune and his death will not be forgotten by us. We had a memorial service at sunrise yesterday and it looked and felt just like the one we did for Cpl Kolda. Every member of the battalion was present unless they were on duty or on patrol. It was a very nicely done and heartfelt memorial. I just hope that none of us has to see another ceremony like that.

Let me write a little more about Capt Kuniholm. Jon is my best friend in the battalion. Thereís no other way to put it. His being wounded hit me pretty hard and it wasnít until hours later that we knew Jon would live. As the battalion adjutant I did the casualty reports on the Marines, and it was difficult to see his name on them. As Jon's two roommates, Capt Lennon and I had to pack up all of his personal items to mail them home. I know Iíve never experienced something like this before. It was particularly emotional to take down the photos of him with his wife and their 4-year-old son -- and his sonís drawings -- while we still didnít know what the outcome would be. Neither of us knew that the Captain had gone out with the Small Craft Marines and we didnít know heíd been hurt until they had already been medically evacuated. We saw the helicopter with the red cross on it fly off, but only found out minutes later that Jon was on it.


Captain Kuniholm performed for us on New Year's Eve.

Everyone here in the battalion wishes to reach out to LCpl Parrelloís and Capt Kuniholmís friends and families and let them know how honored we are to have served with men like them. This picture of Capt Kuniholm is the only one Iíd ever taken of him. The picture was from the night before the incident when Jon played some songs for us at the New Yearís Eve talent show.

Major Whitnam -- the company commander for the Small Craft Marines -- posts a website with a better account of what happened and who was injured. I donít have the heart to share any more about it on here. The address is http://smallcraft.tripod.com.

In other news, one of our snipers -- Sgt Herbert Hancock (right) -- was recently recognized on the official Marine Corps website for his amazing skills in combat. The story can be found here. Also, Mr Sacco left us today to head home and finish his story for The Guardian newspaper. He enjoyed his stay with us -- and the feeling was mutual. We also picked up a new reporter today -- Mr Joe Giordono -- is a civilian reporter with The Stars and Stripes newspaper and he will be living with us for about five days. We look forward to being able to show him around the dam and our area of operations.

Thank you once more for your thoughts and prayers. They mean a great deal to all of us over here and to all of the families and loved ones back home.

Semper Fi,
James
We appreciate James sharing what was clearly a very personal topic for him. If you'd like to send the 1/23d any care packages, please address the packages to Lt Crabtree, 1/23 H&S Co, Unit 41900, FPO, AP 96426-1900 ... and James will ensure that whatever you ship gets distributed to the Marines in the 1/23. The 1/23 Marines are scheduled to remain in Iraq until March 2005. If you'd like to read more about our adopted 1/23 Marine battalion in Iraq, please click here.
Posted by Ron Gunzburger - 1.5.05 |
WEDNESDAY OPEN THREAD). Whatever you'd like to discuss today.
Posted by Ron Gunzburger - 1.5.05 |