1.16.04
JUST CALL ME LAZARUS.
In what appears to be the making of an amazing political "back from the dead" story, John Kerry continues to move ahead in Iowa over perceived frontrunners Howard Dean and Dick Gephardt. According to the latest MSNBC/Zogby tracking poll, Kerry has moved up to 24%, Dean and Gephardt are tied at 19% each, and Edwards is at 17%. The poll has a 4.5% margin of error. "We're essentially in, as far as I can tell, a four-way tie here," said Dean. All of the campaigns stressed how hard it is to accurately measure support in the caucuses, where many Democrats keep changing between several candidates they all like. Also, most polls are based on registered voter lists, which do not include new voters who register for the first time on caucus night. Many believe that the Dean support is likely underrepresented in the polls, as he is believed to be attracting backing from lots of young, first-time activists with no prior voter history. Iowa Secretary of State Chet Culver predicted that the close race will produce a record high turnout on Monday evening at the caucuses. Over this final weekend, the candidates are all criss-crossing the state in an effort to convince last-minute undecideds. Politics1's predicitions: Order of finish in Iowa - Dean, Kerry, Gephardt, Edwards. Gephardt will quit the Presidential race next week after Iowa.

GEORGIA DEMS FOR BUSH. We've been so focused on the exciting Democratic contest that we haven't mentioned President Bush here for a while. But the President was also making news on the Dem side of the contest this week when he landed the endorsements of a group of Georgia elected officials. Twelve Democratic State Representatives endorsed Bush at an Atlanta fundraiser. Other "Georgia Dems for Bush" announced at the event included former US Attorney General Griffin Bell, former Congressman Doug Barnard and former US Senator David Gambrell. US Senator Zell Miller (D-GA) -- who is retiring in 2004 -- had previously announced his support for Bush.
NEW NUMBERS FROM N.H. A new Boston Globe/WBZ-TV poll from New Hampshire shows Howard Dean still leading, bu the contest is tightening. The numbers: Dean-32%, Clark-23%, Kerry-12%. Today's latest ARG New Hampshire Poll shows: Dean-28%, Clark-23%, Kerry-16%, Lieberman-7%.
AND SOME MORE POLLS... Here are some more independent polls from various upcoming primary states. DELAWARE (WCAU-TV): Dean-27%, Clark-18%, Sharpton-13%, Gephardt-11%, Kerry-7%, Edwards-6%. SOUTH CAROLINA (WCSC-TV): Dean-25%, Clark-23%, Edwards-17%, Sharpton-12%, Gephardt-6%, Lieberman-5%, Kerry-2%, Kucinich-1%. ILLINOIS (WBBM-TV): Dean-29%, Gephardt-16%, Braun-14%, Clark-13%, Kerry-7%, Edwards-6%, Lieberman-5%, Sharpton-4%, Kucinich-1%.
1.15.04
BRAUN DROPS OUT, ENDORSES DEAN. Former US Senator Carol Moseley Braun (D-IL) withdrew from the Presidential race on Thursday morning.

Later in the day, Braun is scheduled to endorse Howard Dean in Iowa. Braun's campaign never got off the ground, and she rarely surpassed the 2% in any state polls. She finished third with 12% in this week's DC primary -- but that happened in large part because nearly every well-financed Dem contender (except Dean) skipped the contest. Braun was hampered from the outset by an inability to raise money -- and raised less than $400,000 in three combined reporting periods. Later, she retooled her message to explain they she was running so that little girls could grow up understanding that women can run for President and -- someday -- win a Presidential election. She apparently approached Dean after the last debate and offered him her support. Dean also picked up the endorsements this week of Congresswomen Grace Napolitano (D-CA) and Diane Watson (D-CA) and Congressman Bennie Thompson (D-MS).
KERRY MOVES INTO NARROW IOWA LEAD.
In stunning news, John Kerry has moved into a very narrow lead in Iowa over frontrunners Howard Dean and Dick Gephardt. Further, according to the latest MSNBC/Zogby tracking poll, John Edwards is also closing in on the lead. The close numbers will likely add to a higher turnout on Monday night. Here are the latest Iowa numbers: Kerry at 22%, Dean and Gephardt at 21% apiece, and Edwards at 17%. The poll has a 4.5% margin of error -- making the contest a virtual four-way tie. State Agriculture Secretary Patty Judge (D-IA) also endorsed Kerry on Wednesday, adding to the momentum he's been building in the state over the past two weeks. Kerry -- by diverting nearly all his national resources into the Iowa contest -- has virtually declared it a "make-or-break" state for him. If Kerry finishes worse than a close second place in Iowa, he'll likely be forced to drop out. He's hoping a strong finish in Iowa will quickly revive his failing campaign in New Hampshire.
DEAN LEAD HOLDING IN N.H. Another new poll from New Hampshire shows Howard Dean's wide lead continuing to hold. The latest poll was conducted by Suffolk University. The numbers: Dean-32%, Clark-17%, Kerry-12%, Lieberman-11%, Gephardt and Edwards tied with 3% each, and Kucinich and Sharpton tied for last place with 1% apiece.
1.14.04
DEAN WINS D.C. PRIMARY.
Despite attacks hurled at him on race issues over the past week, Howard Dean placed first with 43% in DC's largely symbolic Democratic Presidential primary on Tuesday. Al Sharpton was second with 35%, Carol Braun was third with 12%, followed by Dennis Kucinich at 8%. A group of seven others -- ranging from earnest unknowns to colorful gaflies to conspiracy theorists -- divided the remaining votes. Kerry, Clark, Gephardt, Lieberman and Edwards refused to participate in the DC contest out of fear of alienating Iowa and New Hampshire voters. No delegates were awarded, however, per national party rules because the event took place before the IA and NH contests. The early vote, however, was intended to highlight DC lack of real voting rights. In an odd twist, voters were not allowed to cast write-in ballots in these DC races -- even though several city leaders urged residents to do so as a protest vote. In the Green Party primary race, attorney David Cobb placed first by a nearly 30-point margin over his lone opponent. Interestingly, 19% of voters in the Green primary voted for "No Candidate" -- the option expressing the view that the party should not run any nominee in 2004. Click here for the complete primary results.
IOWA CONTEST TIGHTENING. Various new polls out in Iowa show that next Monday night's caucuses could be a very close, three-way -- or even four-way -- contest. The latest Zogby daily tracking poll there shows Howard Dean dropped to 24%. The big news, however, is that Dick Gephardt and John Kerry are now tied at 21% apiece. John Edwards is fourth with 15%. A second or third place finish by Gephardt in Iowa would almost certainly force him to immediately abandon the race -- as his strategy requires a win in Iowa to give him momentum for the upcoming contests elsewhere. Dean could survive a second place finish, as he already has the financial resources and organization in place for the other looming primaries. Kerry is hoping to replicate Gary Hart's 1984 strategy by scoring a strong and unexpected second place in Iowa to energize his supporters and revive his chances in New Hampshire. Wes Clark, by contrast, is skipping Iowa entirely and trying for a McCain-style upset over Dean in New Hampshire on January 27.

NH POLL NUMBERS. What's the current score in New Hampshire? Two new tracking polls show Dean still leading by a comfortable margin, but Clark continuing to move up and Kerry slipping further back. Survey USA/WCSH-TV poll: Dean-35%, Clark-26%, Kerry-13%, Lieberman-9%, Edwards-6%, and Gephardt-3%. American Research Group poll: Dean-34%, Clark-20%, Kerry-11%, Lieberman-9%, Gephardt-4%, Edwards-3%, and Kucinich-1%.
HE SAID, SHE SAID. In the 2002 campaign, Maryland voters were treated to the spectacle of Congressman Albert Wynn's (D) ex-wife campaigning for

Wynn's GOP opponent and waving a sign that read: "Albert Wynn does not respect black women. He left me for a white woman." Despite that, Wynn won an easy victory in his safe district. In 2004, Congressman Charlie Gonzalez (D-TX) now finds himself facing his own ex-wife in his upcoming re-election contest. Gonzalez's ex-wife -- former newspaper columnist Becky Whetstone -- has filed papers to oppose him as an independent candidate. Whetstone's issues are clearly personal, as her campaign website is even named CongressmansWife.com. The Congressman called her candidacy a "publicity stunt" for her upcoming book about life as congressional spouse. "He is the master of making things up and twisting the truth," responded Whetstone in a newspaper exchange. Whetstone believes she was "bullied by people in power" when Gonzelez divorced her. "This is not about revenge. I'm not doing this just because I got a bad deal ... I'm taking action. I really do believe I'd make a much better Congressperson than Charlie Gonzalez," she told one newspaper. Her motives as a candidate "diminishes the valid interest people have in seeking office," retorted Gonzalez. The district is heavily Democratic, so Gonzalez -- like Wynn -- should still cruise to a comfortable win.
1.13.04
D.C. PRESIDENTIAL "PRIMARY" TODAY. Howard Dean, Dennis Kucinich, Al Sharpton, Carol Braun and a group of gadfly unknowns compete in today's symbolic Presidential primary -- but no delegates are at stake (per national party rules). Two Green Party candidates are also competing today in that party's DC Presidential primary.
McKINNEY WON'T MAKE GREEN RUN, WILL INSTEAD SEEK REMATCH.

Controversial former Congresswoman Cynthia McKinney (D-GA) released a statement this week that she will not seek the Green Party's 2004 Presidential nomination. "I have received words of encouragement from every corner of this country and from Green Party supporters beyond our shores. But in the end, a national campaign is not in the cards for me at this time," she wrote. McKinney had spent the past year encouraging the "Draft McKinney" effort by giving occasional speeches at Green gatherings around the country. Meanwhile, McKinney's father -- an equally controversial former state legislator -- told the Atlanta Journal-Constitution on Monday that his daughter intends to seek a primary rematch this year against Congresswoman Denise Majette (D-GA). Majette ousted McKinney in the 2002 primary by a 20-point margin after McKinney suggested that the US government had advance knowledge of specific details of the 9-11 attacks but allowed them to occur to justify a massive US military build-up and global adventurism. With McKinney and Ralph Nader already out of the Green Party contest, little-known attorney David Cobb -- the General Counsel of the party -- now appears to be the favorite to win the GP Presidential nomination.
RESIGNATION CALLS MOUNT FOR CT GOVERNOR. Republican leaders are now adding their voices to the calls for Connecticut Governor John Rowland (R) to resign amidst

the growing corruption scandal. Rowland now admits he allowed state contractors to pay for improvements on his vacation home, although he lied about it and denied the allegations for several months in a failed cover-up attempt. Federal prosecutors are investigating the matter. Congressman Rob Simmons (R-CT) directly called on Rowland to resign, saying that the Governor has lost his "moral authority" to lead. Congressman Chris Shays (R-CT) also said the he could no longer support Rowland. "I am not prepared to stand by a Governor, even a friend, who has done wrong, lied about it, and then refused to account for his actions," said Shays. Additionally, 11 of the 15 Republicans in the State Senate have also called for Rowland to resign. The Governor's spokesman said Rowland was "disappointed on a personal level" by the calls for him to resign. He added that Rowland wants to finish serving the three years remaining in his current term. A University of Connecticut poll out this week shows that a solid majority of state residents support impeaching Rowland, while nearly two-thirds think he should resign. Our prediction: Despite his official spin, Rowland will soon quit.
1.12.04
IOWA UPDATE.
With just a week to go until the Iowa Caucuses, John Edwards enjoyed a good weekend in the state. He scored a solid performance in Sunday's debate and -- more importantly -- he won the endorsement of the Des Moines Register. The latest polls in the state still have Edwards running fourth. John Kerry is also making a major effort in the state but, thus far, seems to be getting little return on his investment. Polls continue to show Kerry in third place and still outside of striking range for his target of second place. Kerry's massive reallocation of resources into Iowa has also enabled Wesley Clark to pass Kerry in New Hampshire for the second place spot there behind Dean. The real contest in Iowa, however, continues to be Howard Dean versus Dick Gephardt -- just as it has been for months. The two men are locked in a close race, with Dean continuing to lead Gephardt by a very narrow margin. As had been recently anticipated, US Senator Tom Harkin (D-IA) endorsed Dean on Friday. In late news: Iowa First Lady Christie Vilsack made a surprise endorsement of Kerry on Monday morning -- even though her husband is officially remaining "neutral."
D.C. PRESIDENTIAL "PRIMARY" TOMORROW. Not that it matters -- as most of the candidates are ignoring it entirely -- but the District of

Columbia is holding a Presidential primary on January 13. Because it comes before Iowa and New Hampshire, national party rules prohibit the primary from playing any role in the delegate selection process. Thus, it quickly became a mere beauty contest, despite DC's attempt to use the primary as a vehicle to garner attention for DC statehood. See the DC First website, which touts the vote as "A Freedom Primary to Bring Equal Rights to DC." The District would like the event to promote voting representation in Congress and "full local self-government" for DC residents. Howard Dean, Dennis Kucinich, Al Sharpton and Carol Braun have all campaigned in local DC neighborhoods seeking votes for the primary. Seven other little-known Dems are also on the DC ballot. Dean is expected to win by a decent margin. Gephardt, Edwards, Clark, Lieberman and Kerry all demanded that DC officials remove their names from the ballot, as they did not want to even create the impression they supported any weakening of the "first-in-the-nation" status of Iowa and NH. Two candidates competing in the Green Party's Presidential primary are also on the ballot.
TAKE TWO. The American Party selected new nominees for President and Vice President this weekend, replacing their previous nominees who withdrew last fall.

The party's national committee -- by a 7-6 vote -- selected attorney Diane Templin of California as the replacement Presidential nominee. Templin -- a frequent candidate for office -- was the AP's nominee for President in 1996 (1,900 votes). Templin's political and religious beliefs are entirely intertwined, as she explained that she would only belong to a political party that "acknowledges God as creator and the Lord Jesus Christ as our Savior." Describing her uncompromising social conservative campaign platform, she said: "I support Biblical and Constitutional Principles of Life, Liberty and Property." Templin has done some odd things in the past as a candidate. For example, at the 1996 US Taxpayers Party Presidential Convention, Templin unsuccessfully sought the nomination by dressing up as the Statue of Liberty. If Templin -- who is already on the 2004 California ballot as a Congressional nominee of another conservative party -- can secure ballot status somewhere for the AP Presidential ticket, she will already be guaranteed a better finish than the AP did in the last election. The 2000 AP ticket did not gain ballot status anywhere, marking the first time that happened since the party was launched in the 1970s. AP National Vice Chair Al Moore of Virginia -- who lost to Templin for the replacement Presidential nomination -- was unanimously selected to be Templin's VP runningmate. Moore was previously the party's VP nominee in 2000. The original 2004 AP nominees withdrew because they found they did not have the time needed to devote to running for President.
MISSISSIPPI FILING CLOSES. Candidate filing closed in Mississippi on Friday and none of the Congressional incumbents appear to be facing any serious challengers. While all drew opponents -- including some who will wage aggressive races -- few at this time appear likely to pose major threats to the incumbents. See our Mississippi page for all of the candidate names and links.
"YOU LIKE US, YOU REALLY LIKE US." We're doing our Sally Field routine here because we just received our latest site traffic report and -- thanks to all of you -- we're recording a very high level of traffic these days. Our stats: Over 419,000 unique user sessions, 928,000 page views, and 10.6 million hits per month.
1.9.04
IOWA ENDORSEMENTS IMMINENT. John Kerry's campaign appears to be is on the rise again in Iowa, in part because he redirected much of his resources from New Hampshire to Iowa. Kerry appears to be trying to score a surprise second place finish behind Dean in Iowa -- an outcome that would knock
Dick Gephardt out of the race. Kerry's campaign said he will be endorsed Friday in Iowa by "a prominent state leader." Most believe the endorser to be Congressman Leonard Boswell (D-IA) -- a fellow Vietnam War veteran -- who has been making pro-Kerry comments for months. Meanwhile, influential US Senator Tom Harkin (D-IA) is expected to make his preference known sometime before the end of this weekend. Speculation is that Harkin will endorse Dean, as the two share a populist agenda and fiesty campaign style. Another major Dem leader in the state -- Governor Tom Vilsack -- has repeatedly said he will make no endorsement. In related news, Gephardt's campaign on Thursday accussed Dean of trying to cheat in the January 19 Iowa Caucuses. Gephardt Campaign Manager Steve Murphy said that Dean plans to "violate caucus rules and send out-of-state supporters to pose as Iowa residents" to vote on caucus day. Dean's campaign quickly responded by calling Murphy's comments "ridiculous" and a "sleazy tactic" intended to falsely hurt Dean's reputation. A new WHO-TV poll out Thursday has Dean leading in Iowa with 29%, followed by Gephardt at 22%, Kerry at 21%, John Edwards at 17%, and all others with a combined total of 8%. A new KCCI-TV poll also released yesterday, however, showed very different numbers: Dean-29%, Gephardt-25%, Kerry-18%, and Edwards-8%.
TENNESSEE CONTEST CLOSE. A new WBIR-TV poll out Thursday shows that Howard Dean and Wesley Clark are locked in a tight race in Tennessee. The numbers: Dean-27%, Wesley Clark-26%, Joe Lieberman-9%, Gephard-8%, Edwards-6%, and Kerry-4%. The Tennessee primary is set for February 10.

HARRIS, HART EDGE TOWARDS US SENATE RACES. Two well-known political figures -- former US Senator Gary Hart (D-CO) and Congresswoman Katherine Harris (R-FL) -- both appear to be moving towards making US Senate runs this year. Both are expected to announce their plans by the end of next week. Sources who have spoken with Harris believe she has already decided to enter the race for the open seat being vacated by retiring incumbent Bob Graham (D). The White House is reportedly trying to discourage Harris from making the race, as her candidacy could remind voters daily of the 2000 Presidential recount and polarize the race in Florida. Hart, meanwhile, has been holding meetings with top DSCC officials in DC and Democratic leaders in Colorado -- a sign that he is actively considering making the race against incumbent US Senator Ben Nighthorse Campbell (R). In related news, former Governor David Beasley (R-SC) appears to be leaning towards entering the open US Senate race in his state.
PAGES UPDATED TODAY: Georgia, Iowa, Kentucky, New York, P2004: Dean, P2004: Clark, and Calendar.
FRIENDS OF POLITICS1. Politics1 is largely reader supported by generous contributions. Thank you to today's donor: Glenn C. If you'd like to make a donation to help support our work, please click here.
1.8.04
TEXAS FALLOUT. Since a federal panel of judges ruled Tuesday that the GOP-led Congressional redistricting plan was constitutional, a lot has happened.

Congressman Jim Turner (D) announced he would not seek re-election, as it would be impossible for him to win under the new lines. President Bush stepped into the crowded CD-4 race by strongly endorsing Congressman Ralph Hall (R), who just switched parties on Saturday. The Bush endorsement is likely to prod several of Hall's GOP primary opponents to exit the race. Congressman Martin Frost (D) -- the former DCCC Chair and one of the top targets of the redistricting plan -- vows that he will seek re-election, only he hasn't decided where yet. "If Republicans think I'm just going to disappear from the scene... they're sadly, sadly wrong," said Frost. Finally, Congressman Nick Lampson (D) announced that he may jump into the race against US House Majority Leader Tom DeLay (R), the architect of the redistricting plan. "In response to the the many people who have been asking me if I'm going to run against Tom DeLay, I will tell them this: Anybody that is going to run in any of these district is running against Tom DeLay," said Lampson. DeLay seemed amused by the prospect, as his district appears reliably Republican. Other endangered Dem incumbents include Congressmen Charlie Stenholm, Chet Edwards and Max Sandlin. Congressman Chris Bell (D) -- who is white -- could face problems in his primary from black opponents in his new, minority district.
HELL NO, HE WON'T GO. In the wake of rapidly growing corruption scandal, pressure is increasing on Connecticut Governor John Rowland (R) to resign.

Rowland recently admitted he allowed state contractors to pay for improvements on his vacation home -- after lying about the work for several months. Democrats in the legislature are talking impeachment. Federal prosecutors are looking into possible criminal charges. Even GOP elected officials in the state are fairly silent when given the opportunity to offer words of support for Rowland. A new Quinnipiac University poll shows that CT voters -- by a 56% to 34% margin -- want Rowland to resign. The poll also found that only 13% thought Rowland "was honest and trustworthy." The Governor, meanwhile, says he has no plans to quit. Speaking live on TV on Wednesday night, Rowland apologized and said he never provided any favors in exchange for those gifts. "I humbly ask for a renewed opportunity to earn back your trust, to redeem myself in your eyes and to continue to lead this state," he pleaded. If Rowland departs, Lieutenant Governor Jodi Rell (R) would become Governor.
PAGES UPDATED TODAY: Arizona, Connecticut, Iowa, Louisiana, Mississippi, Missouri, North Carolina, Oklahoma, South Dakota, Texas, Virginia, P2004: Bush, P2004: Green Party, and Jobs.
1.7.04
WAIT,
KERRY IS STILL RUNNING? It seems unlikely that things could get any more dire for Senator John Kerry's Presidential campaign. Since Summer 2003, Howard Dean has been leading Kerry in New Hampshire. In December, three separate polls showed Dean even beating Kerry in Massachusetts -- Kerry's homestate. Now, a new independent poll is showing that Kerry could possibly finish third in New Hampshire. According to the latest American Research Group tracking poll out Tuesday, Kerry barely edges out Wes Clark for a distant second place finish. The numbers: Dean-39%, Kerry-14%, Clark-12%, Dick Gephardt and Joe Lieberman tied at 6% each, and the rest are ... well ... entirely irrelevant. In related news, WMUR TV-9 in New Hampshire reported Tuesday that a poll conducted "for one of Clark's competitors shows Clark has passed ... Kerry for second place" in the state.
TEXAS GOP REDISTRICTING PLAN APPROVED. A three judge panel of federal judges Tuesday ruled that the GOP-led Congressional redistricting
plan was constitutional. The plan -- inspired by US House Majority Leader Tom DeLay (R-TX) -- is expected to eliminate the Democrats' current 17-15 advantage in the Texas delegation and instead result in a likely lopsided 22-10 GOP majority. "We decide only the legality of [the plan], not its wisdom," wrote the court, in holding that the plan did not violate minority voting rights. Democrats were incensed by the decision. "By judicial fiat, a three-judge federal panel has effectively repealed the Voting Rights Act and turned back the clock on nearly 40 years of progress for minority voters," griped Congressman Marty Frost (D-TX), who is likely to lose his seat under the ruling. The ruling was unanimous, except as to the new CD-23 district lines (which was approved by a 2-1 decision). The court decision almost entirely eliminates any Democratic chance to recapture control of the House in 2004.
DRAFT CLARK 2004. A group of Democrats who were active in the original "Draft Wesley Clark for President" effort are now launching a new "Draft Clark" bid in Iowa. You see, they support Clark and are unhappy that he has decided to pass on participating in the upcoming Iowa caucuses on January 19. They are encouraging Democrats to show up at the caucuses and vote for Clark. Now, if only they could do the same in the other early contest states where Clark is already campaigning.
PAGES UPDATED TODAY: Maine, Massachusetts, Montana, Nevada, South Dakota, Texas, Vermont, and West Virginia.
1.6.04
BRADLEY
TO ENDORSE DEAN. Former US Senator and 2000 Presidential candidate Bill Bradley (D-NJ) is set to endorse Howard Dean on Tuesday. The announcement is set for New Hampshire. Of course, in the Dean press advisories, Bradley isn't named. He's just called "a special guest." In somewhat related news, a new independent poll shows Dean is holding a small lead in Arizona. The numbers (Arizona Republic poll): Dean-22%, Wes Clark-19%, Joe Lieberman-7%, and the rest trailing behind. Meanwhile, General Clark said on Meet the Press: "I'm running to be the President of the United States, not the Vice President, and I will not accept that nomination." The Dean folks keep insisting that they never offered it to Clark, anyways. "He can repeat the story 500 times, but that still doesn't make it true," said a Dean spokesperson.
GOD ENDORSES BUSH.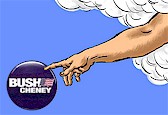 Not that God told me his views on the P2004 race, but God apparently shared his political preferences with televangelist Pat Robertson. In remarks on Friday's edition of The 700 Club, Robertson said: "George Bush is going to win in a walk. I really believe I'm hearing from the Lord [that] it's going to be like a blowout election in 2004. It's shaping up that way ... I mean, [Bush] could make terrible mistakes and comes out of it. It doesn't make any difference what he does -- good or bad -- God picks him up because he's a man of prayer and God is blessing him." Robertson has claimed in the past to have received messages from God, but with very mixed accuracy. For example, God has yet to destroy Orlando, Florida by "some serious hurricanes ... terrorist bombs ... earthquakes, tornadoes and possibly a meteor" -- which, Robertson claimed in 1998, God told him was going to occur after Disney permitted "Gay Days" parties to take place in the theme park.
DASCHLE DRAWS TOP-LEVEL OPPONENT. GOP dreams were answered Monday night in South Dakota when former Congressman John Thune (R) announced that he will run against US Senate Minority Leader Tom Daschle (D) this year. Thune -- who very narrowly lost a US Senate race in 2002 to a Daschle protege -- had been heavily recruited for the race by the White House.
PAGES UPDATED TODAY: California, Delaware, Florida, Michigan, New Hampshire, Ohio, Pennsylvania, Texas, P2004: Peace & Freedom Party.
FRIENDS OF POLITICS1. Politics1 is largely reader supported by generous contributions. Thank you to today's donor: Paul S. If you'd like to make a donation to help support our work, please click here.
1.3.04
TEXAS CONGRESSMAN BOLTS TO GOP. Facing a tough re-election fight in an increasingly Republican leading district -- especially after the new reapportionment --

Congressman Ralph Hall switched from Democrat to Republican on Friday. "I've always said that if being a Democrat hurt my district I would switch or I would resign," explained Hall to the AP. He claimed that GOP leaders recently refused to fund projects in his district and -- when he asked a colleague why -- "the only reason I was given was I was a Democrat." Even before the switch, Hall had built one of the most conservative voting records in Congress. "I don't think this is going to upset the Democratic Party. I haven't been voting with them in 10 or 15 or 20 years," joked the Congressman. Hall, 80, is currently serving his 12th term in Washington. Congressional candidate filing in the state ends January 16.
HE'S NEVER HEARD OF YOU, EITHER. We continue our series on the more obscure Presidential candidates with our profile of perennial candidate Ed O'Donnell (D-NH). He recently moved to New Hampshire and qualified for the Presidential primary ballot there as part of his latest White House campaign strategy. O'Donnell's Democratic run for President this year is designed to garner him some

attention that, he hopes, he can parlay into making a viable Independent run for President in November 2004. "I don't need to win in New Hampshire. I just have to become an overnight sensation on January 27th or I'm finished [as an Independent candidate]," he explained. O'Donnell previously ran for President in 1984, 1988, 1992, 1996 and 2000. During his 2000 run -- when he finished 16th place in the primary with just 35 votes -- he promised to slash the President's salary to $25,000 if elected (because, he said, that's what George Washington was paid). He also vowed to turn Camp David into an alcohol rehab facility. "I am physically fit. I'm a teetotaler. I don't smoke. I won't even use caffeine," said O'Donnell. He believes the police in the US are generally abusive to the public -- and says the police have a history of profiling and harrassing him personally. He advocates curing that problem through the use of "a Nuremberg-like trial ... about all police mistreatment of private citizens." He also supports terms limits for politicians, the media, religious leaders, etc. "Everyone in the media has to go, and I'm on record as saying that the greatest tyrants in society today are Brokaw, Jennings, Rather, Couric, and Russert," said O'Donnell. He also specifically wants to remove Pope John Paul II and Rev. Billy Graham from any positions of public influence. O'Donnell also supports calling a constitutional convention in Williamsburg, Virginia ("a very inspiring place") and wants to ensure that a bunch of the delegates are "milk men and garbage men and maids and waitresses -- we don't want it to be an academic elitist group." He supports "total gun control" and is also opposed to knives, too. "Now I'm also asking if I were to speak before the National Academy of Sciences, I've got some requests for them. One, with all our scientific brilliance can we devise -- well first we're going to have a knife turn-in day as well as a gun turn-in day. I want every knife that can do harm to a human being turned in -- can our scientists design a kitchen utensil which will not do the damage that these knives that people stab [with] ... A gun turn-in day and a knife turn-in day and even if we get twenty to thirty percent of these out of circulation, that would help," he explained in a newspaper interview. Hey, he's got a point, as there's no Second Amendment right to own steak knives. But, let's get back to the media: "You have 54 wars going on right now, and the media is covering that up ... The national press hates me because I want them removed and essentially put in a Nuremberg-like trial." We almost forgot: he advocates cutting Medicare costs by having healthier people and less use of medicines. And -- if you don't agree -- he'll probably have "a Nuremberg-like trial" idea for you, too.
1.2.04
THE CHECK IS IN THE MAIL.

Today is the day that several Democratic Presidential hopefuls have been waiting for: the day the Federal Election Commission gives them their first payment of federal matching funds. On Wednesday, the FEC certified the first checks -- totaling $15.4 million -- that it will pay out today to each of the six candidates currently participating in the Presidential public financing system this year. The latest entrant into race -- retired General Wesley Clark -- is also the person collecting the largest check: $3.7 million. Here is what the others are receiving today: Senator Joe Lieberman-$3.6 million, Senator John Edwards-$3.4 million, Congressman Dick Gephardt-$3.1 million, Congressman Dennis Kucinich-$736,000, and purported cult leader Lyndon LaRouche-$839,000. Carol Braun and Al Sharpton have yet to raise enough money to qualify for matching funds. By contrast, President Bush, Governor Dean and Senator Kerry opted out of public financing in order to avoid the mandatory spending limits that come with the payments.
HE'S NEVER HEARD OF YOU, EITHER. Today we continue our series on the more obscure Presidential candidates with our profile of Vermin Supreme (D-MA) , one of several candidates who qualified for a spot on the January 13 Presidential Primary ballot in the District of Columbia.

And -- before you read any further -- let me assure you we are not making this one up. Vermin's campaign is clearly intended to be humorous, and he uses his campaign web site to make lots of jokes -- but he's really on the ballot. How did he pick his name? "All politicians are, in fact, vermin. I am the Vermin Supreme, therefore I am the most qualified candidate in this race ... Yes, I am a politician, that's my job. Of course, as a politician, I shall lie to you because I am a politician and have no reason not to," he wrote. His campaign theme: "Vermin Supreme represents many abstract emotionally charged buzzwords -- such as freedom, justice, law, order, liberty and democracy -- just to name a few." A large part of his platform relates to promoting better dental hygiene ("Stong Teeth for a Strong America"). To make sure the American people regularly brush and floss, he promises: "Warrantless random no knock dental inspections; Government issued toothpaste containing addictive yet harmless substances; Video surveillance through two way bathroom mirrors; Electronic tracking, moisture and motion sensor devices in all toothbrushes ... or even preventative dental maintenance detention facilities." Our favorite among his proposals: "Gene splicing to create a race of winged monkeys to act as tooth fairies." His other campaign promises include: "To do something about the weather ... Massive and arbitrary censorship of anything found offensive by an appointed truth and morality squad ... Making dangerous weapons available to anyone who wants them ... Polygraph, drug tests and loyalty oaths for all citizens, along with the issuance of citizen identity cards, radio transmitter implants and laser fingerprint tattoos to keep track of you and your children, for your protection ... Legalization of prostitution and gambling along with the promotion of professional sports, video arcades, and crack houses together with other mindless forms of diversion to help you take your mind off what's really going on ... To appoint lots of committees to look into all sorts of things ... To tax the bejeezus out of everything ... [and] Free pizza and beer for everybody."
PAGES UPDATED TODAY: Colorado, District of Columbia, Kentucky, Missouri, Maine, New Hampshire, New York, North Carolina, Texas, Vermont, Washington, P2004, P2004: Clark, P2004: Other Democrats, P2004: Other Republicans, P2004: Green Party, and Jobs.
FRIENDS OF POLITICS1. Politics1 is largely reader supported by generous contributions. Thank you to today's donors: Peter P, and Gail P. If you'd like to make a donation to help support our work, please click here.
1.1.04
Happy New Year from POLITICS1.
PAGES UPDATED TODAY: California, Florida, Georgia, Louisiana, Nevada, Ohio, Oklahoma, Pennsylvania, Washington, and P2004: Dean.