Vice President of the United States:
JOSEPH R. "JOE" BIDEN, JR.
Democrat - Delaware
---
BIOGRAPHICAL FACTS:
POLITICAL: Vice President of the United States, 2009 - present.

US Senator, 1973-2009 (elected 1972, 1978, 1984, 1990, 1996, 2002, 2008). Candidate for President, 1988 (withdrew before first primary). Candidate for President, 2008 (withdrew after the Iowa caucuses). New Castle County Councilman, 1970-72.
PROFESSIONAL: Attorney (practiced law: 1968-72). Adjunct Professor, Widener University School of Law, 1991 - present.
EDUCATION: B.A. (History/Political Science), University of Delaware, 1965. J.D., Syracuse University College of Law, 1968.
PERSONAL: Born November 24, 1942, in Scranton, Pennsylvania. Married to Jill Jacobs Biden. Three children. Roman Catholic.
---
LINKS: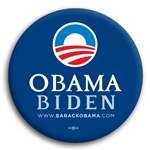 The White House: Office of the Vice President - Government Site.
BarackObama.com - Official Campaign Site.
The White House: Office of Dr. Jill Biden - Government Site
Delaware Attorney General Beau Biden - Official Site (VP Biden's Son)

See our Obama Page for additional links.
---
OFFICIAL CONTACT INFORMATION:
Vice President Joe Biden
The White House
1600 Pennsylvania Avenue, NW
Washington, DC 20500
202-456-1414
Fax: 202-456-2461
Contact page: Click here.
---
Other Useful Vice Presidential Sites
VicePresidents.com - Yup, a site dedicated entirely to the history of 46 men who have served as Vice President of the United States. Did you know that 18 of the 46 either died in office or resigned? More trivia, plus bios, pix, etc.
National Archives: US Electoral College - This site, maintained by the National Archives, is the closest thing there is to an "official" site for the Electoral College -- the folks who actually elect the President of the United States. Just remember: Al Gore won 500,000 more votes than George W. Bush in 2000 ... but Bush was elected President because he won more electoral votes (271 versus 267) than Gore.